---
Tuesday, February 16, 1999



Bronster testifies
on Bishop probes


The attorney general
is questioned today despite
protests this could set a
dangerous precedent

By Rick Daysog
Star-Bulletin

Bishop Estate trustee Henry Peters faced his accuser today as Attorney General Margery Bronster took the witness stand in his criminal trial.

In what could set a precedent for state criminal investigations, Bronster this morning was questioned by Peters' defense lawyer, John Edmunds, about her 17-month investigation of the multibillion-dollar charitable trust and its five board members.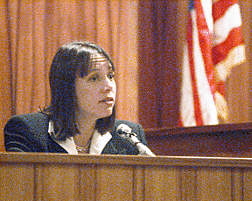 By Craig T. Kojima, Star-Bulletin
Attorney General Margery Bronster
took the stand today.
---
Bronster said that the state took precautions to avoid possible conflicts between her civil investigation of the estate's trustees and her criminal probe of Peters and local businessmen.

Peters was in the courtroom this morning listening to Bronster's testimony.

Last November, an Oahu grand jury indicted Peters on a theft charge for taking part in an alleged kickback scheme involving a Bishop Estate land deal. The secret panel -- convened by Bronster -- also indicted Leighton Mau and local businessmen Jeffrey Stone, a brother-in-law of Bishop Estate trustee Richard "Dickie" Wong, on conspiracy charges.

Attorneys for Peters, Stone and Mau are seeking to dismiss criminal charges against them on the grounds that Bronster has a conflict and that she does not have the primary legal authority for a criminal investigation. All three have denied the allegations.

Until this morning, Bronster's testimony had been in doubt. In court papers filed with the high court Friday, Bronster appealed Circuit Judge Michael Town's Jan. 21 ruling upholding a subpoena for her testimony issued in December.

Bronster's office on Friday also asked the Supreme Court to expedite consideration of its Jan. 26 writ of mandamus seeking to bar Bronster's testimony.

The attorney general's office -- which conducted an investigation into alleged breaches of fiduciary duty by trustees -- has argued that Bronster's testimony could set a dangerous precedent.

Town previously ruled that Bronster must answer questions about possible conflicts of interest that she may have in conducting dual civil and criminal investigations of the Bishop Estate trustees.

Bronster was scheduled to continue her testimony this afternoon.

Town has said that he hopes to wrap up closing arguments in Peters' criminal trial on Thursday.

---



E-mail to City Desk
---
---
© 1999 Honolulu Star-Bulletin
https://archives.starbulletin.com