---
Monday, February 15, 1999



H A W A I I _P R E P _ S O F T B A L L
---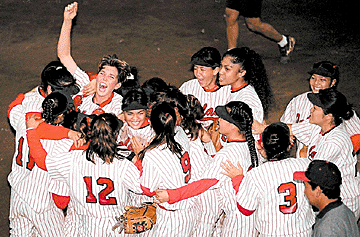 By George F. Lee, Star-Bulletin
The Iolani Raiders celebrate their state high school
softball championship.
---
Iolani saves
best for last


The Raiders romp against
ILH rival Punahou to win the
state softball title

By Cindy Luis
Star-Bulletin

Consider it new math.

Neta Lei's grand slam resulted in just three runs last night. But even with the subtraction of a run due to a base-running error, No. 2-seed Iolani had little problem in winning its first state softball championship.

The Raiders pounded Punahou, 10-0, in front of an overflow crowd at Rainbow Wahine Softball Stadium. Junior pitcher Mitzi Ing held the Buffanblu to just one hit. She allowed just one walk and one runner past first base in facing three batters over the minimum.

"From the beginning I felt everything was working," said Ing, who kept Punahou off-balance with a mix of fastballs and risers. "And Neta's home run set the tone. Everyone fed off of it."

Lei's monster shot set up a banquet table for Iolani. With the bases loaded and no outs in the bottom of the first, the freshman drilled the first pitch from Punahou starter Cheryl Cambra some 220 feet over the left-field fence.

What should have been a 4-0 Iolani lead turned into a 3-0 advantage when Punahou won an appeal, claiming Kacy Nekoba failed to touch home plate when coming in from third. It would be the only mistake the Raiders made in finishing the season 17-2.

Lei credited Iolani's new pitching machine in helping her timing, saying the machine was able to duplicate Cambra's slow drops. It was her third homer of the season.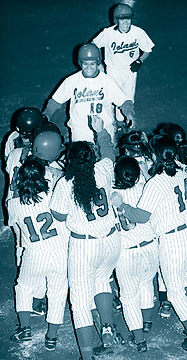 By George F. Lee, Star-Bulletin
Iolani's Neta Lei and Kacy Nekoba score the third and
fourth runs of the first inning against Punahou during the
state championship girls softball game.
---
"We knew Neta had it in her," Iolani coach Chris Shimabukuro said. "Tonight was her big night.

"Mitzi pitched very well and has carried us all year. It was one of our better overall games and we got some lucky bounces. Punahou is a good team, well-coached and well-disciplined. Things just went our way."

Iolani banged 10 singles off reliever Sarah Yamashiro and, helped by eight Punahou errors, added a run in the second and three runs in both the third and fifth innings. Taryn Nagata's sharp single ricocheted off Yamashiro, allowing both Lori Hamano and Nekoba to score for the Raiders' final runs.

Punahou's lone hit came in the fourth, when Erika Miyahira lined an 0-2 pitch up the middle. But the sophomore third baseman was picked off trying to steal second on a failed hit-and-run play.

"We're a much better team than we showed tonight," said Punahou coach Kristl Okuhara, whose team finished the year at 16-4. "We made some very uncharacteristic mistakes. But you have to give Iolani a lot of credit. They really hit the ball well."

The teams split during the regular season, with Iolani cruising to a 21-1 victory and Punahou pulling out a 5-2 win.

It was the second state title in 24 hours for Iolani, which also won the girls' soccer championship, 1-0, Saturday night in double overtime against Kamehameha. Maya Sakamaki scored on a pass from freshman Kara Ishikawa in the 92nd minute at War Memorial Stadium.

Box Score

Iolani 10, Punahou 0

Punahou 	000	000	0-- 0	1	8
Iolani	 	313	030	x--10	13	1

Cheryl Cambra, Sarah Yamashiro (1) and Natalie Fujimoto; Mitzi Ing and Aurea Astro.

WP: Ing (4 KOs, 1 bb).

Leading hitters--Pun: Kacy Nekoba 3-4, RBI; Neta Lei 2-4, HR, 3 RBIs; Taryn Nagata 2-4, 2 RBIs; A. Astro 2-4, RBI; Lori Hamano RBI.
E-mail to Sports Editor
---
---
© 1999 Honolulu Star-Bulletin
https://archives.starbulletin.com