---
Monday, February 15, 1999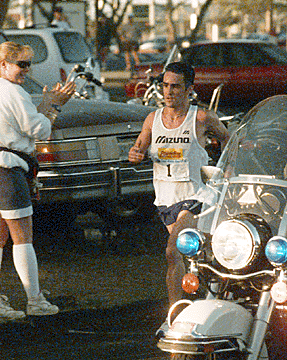 By Craig T. Kojima, Star-Bulletin
Malcolm Campbell was the top finisher today as he
knocked 1 minute, 38 seconds off his winning
time from last year.
---
22,000 run
for great fun


The first to finish a slightly
longer charity race does
so in 41 minutes

By Gregg K. Kakesako
Star-Bulletin

More than 22,000 people, some pushing baby carriages, spent today's holiday exercising in the 15th annual Great Aloha Run.

Malcolm Campbell finished at the head of the pack with a time of 41 minutes, knocking off 1 minute and 38 seconds from his first-place finish last year.

The first female finisher was Olympic runner Linda Sommers Smith, with a time of 46 minutes and 53 seconds.

Greg Hao crossed the Aloha Stadium finish line first in the wheelchair division at 39 minutes and 38 seconds.

About 0.3 of a mile was added to the race along Nimitz Highway. That gave runners a smoother finish as they passed Pearl Harbor Naval Base and the USS Arizona Memorial to get to Aloha Stadium, making an 8.15-mile course.

"It's a little more flatter than the old course," said Vicki Suyat, race spokeswoman.

To date, the largest crowd was in 1990, when 32,000 people participated. The run has raised more than $4 million for entertainer Carole Kai's charities.

Before the race Kai said the number of participants from Japan and the mainland was down this year.

"Normally, we get about 4,000 runners from Japan, and another 2,500 from the mainland.This year, the number has dwindled to less than 1,000 each," Kai said.

She said part of the reason could be that the race didn't have the money this year to promote itself. Kai said although the Great Aloha Run is among the 10th largest race in the country, it donates all its proceeds to charity and starts fund-raising from zero each year.

She said 95 percent of the runners are from Hawaii.

One of the youngest participants today was 12-year-old Bronson Kamaka, a seventh-grader from Waimanalo Intermediate School.

Kamaka and four other members of his track team were accompanied by their physical education teacher, Christian Chinen.

By Craig T. Kojima, Star-Bulletin
Tom Cho gets readt to take off with his sleeping daughter,
Austria, in this morning's Great Aloha Run. More than
22,000 people participated.
---
Kamaka said he had to get up at 3:30 this morning to make the drive from Waimanalo to downtown Honolulu.

"I normally get up at 10 o'clock on weekends," said Kamaka, who is entering his first long-distance race.

"But I'm not nervous at all," he added.

The last time Iolani senior Erin Shima, 17, ran the course, she was 7. Today, she and fellow Iolani senior Lynne Yasui, 17, hoped to complete the course "under two hours."

"I've run the race about five times," Yasui said. My best time was about one hour and 16 minutes, but I don't think I can do it now since I am out of shape."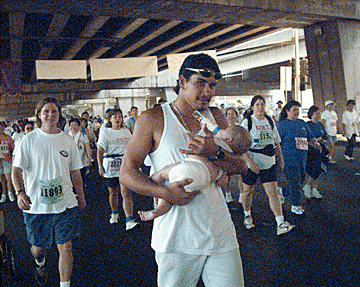 By Craig T. Kojima, Star-Bulletin

Al Smythe works his way along Nimitz Highway
as he feeds his daughter, Tyra, during today's
running of the Great Aloha Run.
---
Bendie Simon, 70, said he has entered each Great Aloha Run since it started 15 years ago.

"My best time was one hour and 10 minutes," said Simon, who said he runs at least 14 miles every day, commuting from Aiea to Hickam Air Force Base where he works.

First-time participants pastor Art Sepulveda and his wife, Kuna, said they thought they'd do more walking than running.

"But I've got high expectations," said Kuna Sepulveda.

The pastor, who gave this morning's opening prayer, said he encouraged several hundred members of his congregation at the Word of Life Christian Center to get involved in today's race.

More than 3,000 volunteers lined the race route as in years past, handing out water, wet sponges and encouragement.

Fifteen minutes before the race began, more than 6,700 military personnel, in formation and carrying their unit colors, took off to what has become known as the "Sounds of Freedom" as the soldiers, sailors, airmen and Marines chanted in formation.

Race organizers estimated more than 250,000 cups and 11,500 gallons of water at the various aid stations along the route, which started at Aloha Tower, and at the stadium would be used today.
E-mail to City Desk
---
---
© 1999 Honolulu Star-Bulletin
https://archives.starbulletin.com