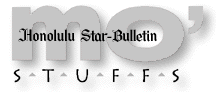 ---
Monday, February 15, 1999




Enter the Star-Bulletin Oscarama contest
and you could win big bucks!
---
It's a tough call
this Oscarama! but your
winning guess is
good for $500

ONCE again, the Star-Bulletin is asking you to predict which films and actors will be named the best at the Academy Awards in our annual Oscarama contest.
You've got your work cut out for you. More than any recent year, the winner seems hard to predict. So we are prepared to reward our winners handsomely. First prize this year for predicting the most winners is $500. Our second place takes $250, and the third, $100.
As always, we have a couple of tie-breaker questions since there are several avid film-goers out there who manage to get every answer right. In the event of a tie in all categories, the winner will be drawn at random. All judges decisions are final. Employees of the News Building and family members are not eligible.
For a little background on the films, "Saving Private Ryan" is still the front-runner, and its leading actor, Tom Hanks, could well become the first actor to win three best-actor Oscars. (Jack Nicholson and Walter Brennan each have three Oscars, but Brennan's are in the supporting category, and Nicholson has two best actor prizes, one supporting.)
But the film was released in early summer and memories are notoriously short in Hollywood. "Ryan" has already lost in the nomination race (its total of 11 nominations puts it second to "Shakespeare," with 13), and its rival WWII picture, "The Thin Red Line," has been gaining momentum since its December-January release. The two war films could cancel each other.
For that matter, "Elizabeth" and "Shakespeare in Love" could also cancel each other. If this happens, the beneficiary in the best picture race will be Robert Benigni's "Life is Beautiful," which also has that most favorite of Oscar subjects -- the Holocaust -- going for it.
However the race goes, the Oscar folks are promising the upcoming, century-ending Oscar-cast will be the splashiest ever. Its theme will be a "celebration of great movie genres." Whoopi Goldberg will serve as host.
This year, the ceremony is on Sunday, not Monday as in most past years, March 21. We will be calling our winners Sunday night, so be there.

Oscarama!

The rules: Mark only one choice in each category; be sure to fill out the tie-breaker questions. Entry form may NOT be duplicated. Only one entry per person. Employees of the Hawaii Newspaper Agency, and their relatives are ineligible. In case of a tie, winners will be chosen by random drawing. Judges' decision will be final.

Buy a paper: If you're not able to get a Star-Bulletin, call 1-808-525-7620 to order a single issue mailed to you ($) (for the original order form).

Deadline: Entries must be in our in our hands on March 15.

Yo-Yo tickets go-go
Since tickets went on sale last week for Yo-Yo Ma's Honolulu Symphony concert March 17, more than 60 percent, or $70,000 worth, have been sold to symphony subscribers.

Tickets will likely be sold out by the time sales open to the public on Feb. 22. And while Ma's hectic schedule makes it unlikely a second date will be added, the symphony is working on it, said symphony executive director Michael Tiknis.

Ma will perform Dvorak's cello concerto, op. 104 and Dvorak's Symphony No. 8, op. 88 with the symphony, and will help announce the orchestra's 100th anniversary season. Tickets are $25 to $100. Call 538-8863.

Ma, who last played with the Honolulu Symphony in 1986, was named the winner of the 1999 Glenn Gould Prize last week. Created by the Glenn Gould Foundation and intended as a tribute by the people of Canada to the life and work of Gould, the Canadian pianist and composer who died in 1982, the accolade for exceptional contribution to music and its communication carries an award of 50,000 Canadian dollars (about $34,000 U.S.).

'Reel'y Big show
Reel Big Fish is head this way with its superturbocharged third-wave ska. The band plays The Beach Hall (formerly The Source) at 7 p.m. March 24.

Tickets go on sale Saturday for the concert, which also will feature local band Go Jimmy Go. Tickets are $16.50 general, available at Hungry Ear Records (Makaloa, Kailua and Wahiawa), Radio Free Music Center, Tower Records (Kahala and Pearl Kai), Tower Video, Pearl Harbor Bloch Arena, Kaneohe MCBH ITT Outlet.

Additional costs are $1 for parking and $5 B.Y.O.B. with valid I.D.

The Beach Hall is at Puck's Alley, corner of King Street and University Avenue. The concert is being presented by Goldenvoice.

Marley tribute cancelled
Due to the cancellation of Alpha Blondy's national tour, the "Bob Marley Birthday Tribute" concert scheduled for Saturday at Waikiki Shell has been canceled.

Ticket holders who purchased their tickets at the Blaisdell Box Office, can get refunds at the box office beginning at 10 a.m. Wednesday. All other ticket holders can get their refunds at the Radio Free Music Center, 1311 Kapiolani Blvd.

Scott Nunotani, promoter for the concert, said no reason was given for Alpha Blondy's cancellation. Call 627-0128.

Town party set in Waimea
Kauai's Waimea Town hosts a community party from 4:30 to 11 p.m. Friday and 10 a.m. to 11 p.m. Saturday with music, games, and food and crafts sales on the site of the old Waimea sugar mill.

In addition, there will be a series of athletic events Saturday, beginning with the 22nd annual Captain Cook Caper 2-, 5- and 10K run beginning at 7 a.m. The Kilohana Long Distance Outrigger Canoe Race starts at 9 a.m., and Paniolo Challenge follows at 11 a.m. behind the new Waimea Technology Center.

New this year is the 1.5-mile Rough Water Swim at Salt Pond Beach Park Pavilion at 8 a.m. And music lovers won't want to miss the 2nd annual Ukulele Competition at 12:30 p.m.

The celebration draws 10,000 people annually. Call the West Kaua'i Main Street Hot Line at 1-(808)-338-9957.

Guitarist Linsky returns
Award-winning guitarist and composer and former Hawaii resident, Jeff Linsky will perform at 7:30 p.m. March 20 at the Honolulu Academy of Arts' Theatre.

Since leaving the islands in 1988, Linsky, known for his blend of classical and jazz music, has composed and released several critically acclaimed recordings varying in style from improvised jazz to contemporary jazz-pop. His "Simpatico" was nominated for "Contemporary Jazz Album of the Year" by the National Association of Independent Record Distributors, while "Solo" made several jazz critics' Top 10 lists.

Linsky has also performed with international artists including Brazilian maestro Carlos Barbosa-Lima and jazz legend Jim Hall.

Tickets are $15 general; $12 for academy members, seniors and students. Tickets are available at the academy front entrance during museum hours, or order by sending a self-addressed, stamped envelope with a check or money order to: Academy Theatre, 900 S. Beretania, Honolulu, HI 96814. Call 532-8700.

PIC grants available
Proposals are being taken for Pacific Islanders in Communications media grants for programs intended for national public television. Documentaries, performance shows, children's or cultural affairs proposals are eligible.

Grants of up to $50,000 are available for works in progress, including production, post-production, marketing and distribution. Those in research and development and scripting phases may receive up to $10,000.

PIC is interested in projects that examine and illuminate the realities of Pacific Islander issues such as diversity, identity and spirituality. Programs less than an hour in length will not be considered, unless it is part of a series.

The application deadline is April 5. For guidelines and an application form, call the PIC office at 591-0059. Or write: PIC, 1221 Kapiolani Boulevard Suite 6A-4, Honolulu 96814. The application is also available at the web site http://www.piccom.org.

PIC will offer a free grant writing workshop from 3:30 to 5 p.m. Feb. 27 at the Linekona Art Center. Seating is limited.

Artists of Hawaii sought
Artists wishing to display works in the 49th annual Artists of Hawaii 1999 exhibit may apply beginning Wednesday at the Honolulu Academy of Arts.

Eligible artists must live in Hawaii; eligible works must be original, created independently in the past two years and not shown before in a Hawaii juried exhibit.

Deadline for entries is at noon on May 1. The exhibit will run from July 22 through Aug. 22.

For entries and information, call Cathy Ng at 532-8715 or contact the academy at 900 S. Beretania St., Honolulu 96814-1495.






Click for online
calendars and events.
---
Send WatDat? questions, stories
or any other story ideas or comments to:
Features, Honolulu Star-Bulletin, P.O. Box 3080,
Honolulu, HI 96802 or send a fax to 523-8509
or E-mail to features@starbulletin.com.
Please include your phone number.
E-mail to Features Editor
---
---
© 1999 Honolulu Star-Bulletin
https://archives.starbulletin.com