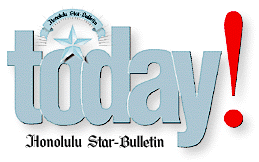 ---
Monday, February 15, 1999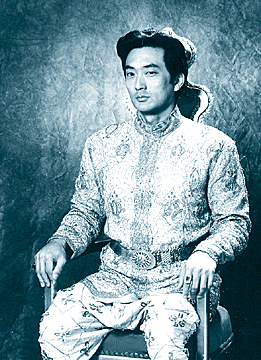 Diamond Head Theatre
The imperious king of Siam is portrayed
by Paul Nakauchi.
---
DHT stages regal
performance of 'King'

---

The King and I: At 8 p.m. Thursdays-Saturdays and 4 p.m. Sundays through March 7 (except March 4), and 2 p.m. Feb. 27 and March 6; Diamond Head Theatre. Tickets: $10-$40. Call 734-0274.

---

By John Berger
Special to the Star-Bulletin

WHO knew Lina Jeong Doo was such a singer? She's been active in local theater for years but almost always off-stage as musical director or vocal coach. Doo is an unexpected delight amid all the wonders of Diamond Head Theatre's glorious production of "The King & I."

Paul Nakauchi stars as the King of Siam. Stefanie Smart is Anna Leonowens, the widowed Englishwoman hired sight unseen to teach his growing army of royal children. Smart has extensive credits at DHT. She's in top form as actress and vocalist in this demanding and complicated role. Call it her best performance since DHT's "Born Yesterday."

The mainland-born Nakauchi has equally extensive credits in national productions of "The King & I." Nakauchi does a wonderful job in one of Rodgers & Hammerstein's best leading-man roles. Nakauchi and director/choreographer Greg Zane present him properly as a great and complicated man who is the product of his society and culture -- an absolute monarch who is aware of his limitations. He sometimes thinks with his heart "and his heart is not always wise," but he faces the "puzzlement" of the rapidly changing world determined to do what's best for Siam. If mainland actors are eligible for Po'okela Awards there's certainly one due Nakauchi for his performance here.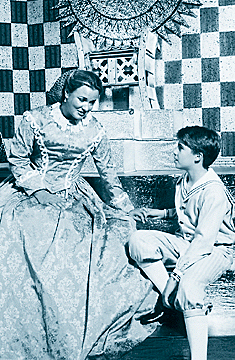 Diamond Head Theatre
Stefanie Smart, above, is Anna, tutor to the royal
children. Ryan Cravahlho shares the role of her
son, Louis, with Kirk Lozada.
---
Doo (Lady Thiang) makes "Something Wonderful" the dramatic anthem it must be to put the King in proper perspective; she rounds out an important character with subtle and effective acting. Kevin W. Yamada, seen two years in a row as abrasive Sam Wainwright in DHT's staging of "A Wonderful Life," shows his versatility in a major romantic role as Lum Tha. He pairs up nicely with petite Vanessa R. Chang (Tuptim) as the Burmese lovers doomed by duty and tradition. Chang sings "My Lord and Master" with haunting poignant beauty; she and Yamada are well-matched on their duets.

Wil T.K. Kahale (The Kralahome) adds another notable performance to his resume in the major non-singing role.

Wally White (set design) and Sukey Dickinson (costumes) add visual impact with colorful fabrics, masks, bright sets and well-crafted props. Dawn Oshima (lighting) does effective work particularly when embellishing Smart's beautiful rendition of "Hello, Young Lovers."

"Shall I Tell You What I Think Of You?," "Shall We Dance," and the elaborate staging of "The Small House of Uncle Thomas" are other highlights. So is every dramatic encounter between Nakauchi and Smart. Both the broad comic bits and the subtler nuances of their prickly yet deeply felt relationship are there to be appreciated.

Of course the story is based on historical fact. Anna Leonowens was retained in the early 1860s to instruct the royal children in Western things at a time when Western imperialists were closing in on Siam. To the west, the English were inexorably humiliating and absorbing Burma. To the south they were establishing protectorates over the sultanates of Malaya. To the east the French were pushing their way into southern Vietnam. The King of Siam -- Rama IV Phra Chom Klao Mongkut -- was determined that Siam would remain free and was willing to modernize the nation to that end.

Rodgers & Hammerstein hint at his success in the final scene. His son, Rama V Phra Maha Chulalongkorn, lost chunks of Siam to the English and French but kept the heartland free. Siam and Japan were the only east Asian nations that did not become colonies, protectorates or economic playthings of the Western powers. (The country's name was changed to Thailand in 1939).

So much for history! Rodgers & Hammerstein's "The King & I" is a crosscultural, interracial, almost love story between a shrewd absolute monarch and an outspoken and confident Victorian Englishwoman. It is rightly rated as one of the greatest Rodgers & Hammerstein musicals and thus one of the greatest musicals in American theater. The characters of Anna and the king are vivid and complex. The songs are instantly memorable. The personal relationships and cultural conflicts touch the heart and soul. DHT -- Zane, Smart, Nakauchi, and the talented cast and crew -- does the rest.






Click for online
calendars and events.
E-mail to Features Editor
---
---
© 1999 Honolulu Star-Bulletin
https://archives.starbulletin.com