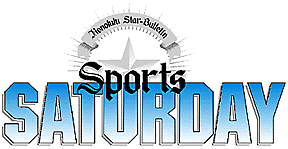 ---
H A W A I I _ S P O R T S

Notebook



Saturday, February 13, 1999

R A I N B O W _ B A S K E T B A L L
---



Rainbow playbook

Vs. Utah Utes

Coach: Utah, Rick Majerus (10th season, 228-63). UH, Riley Wallace (12th season, 181-169).

Season: Utah, 19-4 (9-0 WAC). UH, 5-17 (2-8 WAC).

Top players: Alex Jensen, 6-7, junior forward (11.6 points per game, 7.4 rebounds per game); Hanno Mottola, 6-10, junior forward (14.8 ppg. 5.7 rpg); Andre Miller, 6-2 senior guard (16.0 ppg, 6.4 rpg).

Interesting facts: The Utes have won 14 straight since losing at Texas on Dec. 12 ... Utah is ranked 14th in the Associated Press poll and 16th in the USA Today/ESPN poll ... Miller received his degree in sociology last June ... Majerus has won six WAC titles and made six trips to the NCAA Tournament, reaching the "Sweet 16" four times, the "Elite Eight" twice and the "Final Four" once ... The Utes lead in the series with the Rainbows, 46-9, including the last eight. The last Rainbow win was a 72-56 victory in 1994 in Honolulu ... Wallace said he has no doubt Miller will go in the first round of this year's NBA draft ... Wallace said Mottola "can handle the ball and he shoots the 3, so he gives you a completely different look for a big man."

Tip-off: Today, 4:30 p.m. Hawaii time; Huntsman Center, Salt Lake City.

On the air: Live on KCCN (1420-AM) and KFVE (channel 5).
W A H I N E _ B A S K E T B A L L
---



Wahine playbook

Vs. Utah Utes

Coach: Utah, Elaine Elliott (16th season, 318-137). UH, Vince Goo (12th season, 238-105)

Season: Utah, 17-4 (7-1 WAC). UH, 14-8 (6-4 WAC)

Top players: Lori Red, 5-11 forward, (11.1 points per game); Lauren Beckman, 6-2 forward/center (10.9 ppg, 6.6 rebounds and 1.9 blocks per game); Tiana Fuertes, 5-3 guard, 5.0 assists per game.

Interesting facts: It's "Pack the House Night" -- buy one ticket, get one free. Girl scouts in uniform are also admitted free. Each ticket holder gets a free bag of popcorn ... The Utes have won eight consecutive games since losing their league opener to BYU ... The Utah-UH series is tied at 1-1 ... The game is a rematch of former Iolani School teammates BJ Itoman and Tiana Fuertes. Fuertes got the best of the first confrontation this season in Salt Lake City.

Keys to the game: The Utes want a victory to stay in the driver's seat in the WAC's Pacific Division, while Hawaii needs a win to position itself for upward advancement in the division ... The Wahine have to start the game with the same intensity they displayed in the second half against BYU and maintain it for 40 minutes ... Utah can score from inside or outside, so UH's dilemma is which one to focus the defense on ... Wahine have to stay under control on offense and take good shots. There won't be many second chances with Utah's decided height advantage.

Tip-off: Today, 7 p.m. at the Stan Sheriff Center

On the air: Live on KHNL-TV (Channel 5).
E-mail to Sports Editor
---
---
© 1999 Honolulu Star-Bulletin
https://archives.starbulletin.com