---
Friday, February 12, 1999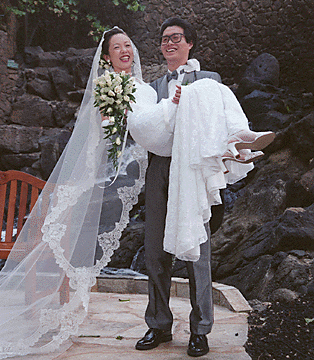 By Craig T. Kojima, Star-Bulletin
Azusa Tamura and Yoshihiro Fuwa ham it up
for photographers before their wedding
at the Kahala Mandarin onWednesday.
---
Lovebirds flock
to Hawaii to
say 'I do'


Marriage among residents
is on the decline, but more visitors
are taking their vows

By Richard Borreca
Star-Bulletin

Hawaii: Love capital of the Pacific?

The latest statistics show couples love to get married in Hawaii -- except for those already living here.

"I tell people if they want to get married, they might as well," said the Rev. Frank Chong. "If they have questions, then don't"

Despite the pro-marriage encouragement in such advice, matrimony among residents in Hawaii is on a decline, decreasing 14 percent in seven years.

Resident marriages went from a high of 10,407 in 1990 to just 8,878 in 1997.

Yet total marriages in Hawaii last year broke the 20,000-a-year barrier, with 20,774 couples exchanging vows.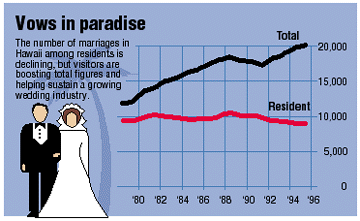 The state Health Department has yet to tally how many of those were resident marriages. But thanks to couples coming from out of town, the Census Bureau reports Hawaii is the second most marrying state in the nation, with a rate of 15.8 marriages per 1,000 population, according to 1998 figures.

Nevada is the country's marriage capital, with a huge 88.1 marriages per 1,000.

Hawaiian marriages and honeymoons have always been popular. Marriage consultants and wedding planners say many couples see a wedding here as a way to relax and sidestep some of the pressures of the big day.

"They do the whole eloping honeymoon thing -- it is much more romantic and more inexpensive," explained Lisa Sugiyama, co-owner of Always Yours: The Wedding Connection, a wedding arrangement service.

For others, it relieves the stress of dealing with the relatives from two families.

"A lot of people are choosing not to go through all the hoopla," said the Rev. Julia McKenna-Dubin. "This is not a performance."

Today, she noted, you can have a service in the islands and have a video made to show the folks when you get home.

Marriage in Hawaii, however, doesn't have to be simple. You can get married 30 feet below the ocean with the aid of Tradewind Charters, or you can have hundreds of monarch butterflies released during the ceremony, courtesy of Wings Over Hawaii, Butterflies For Your Special Occasions.

Sugiyama recalled one couple that wanted to tie the knot while sky diving.

"When they said, 'I do,' they jumped," she said.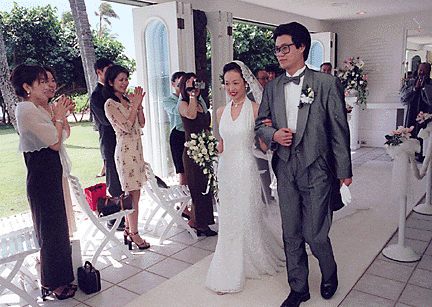 By Craig T. Kojima, Star-Bulletin
Azusa and Yoshihiro Fuwa , walk back down aisle a
married couple at the Kahala Mandarin.
---
McKenna-Dubin once had to marry a couple in a Chevy station wagon.

"The bride was very shy and when she saw the wedding party all waiting, she wouldn't get out of the car," she said.

"So I sat in the car with the bride and groom and the best man and the maid of honor and a couple of children. Lucky it was a big station wagon."

While the locations sometimes may be unusual, the wedding business itself is steady and building.

Since 1990, there has been a 58 percent increase in the number of people commissioned to perform marriages in Hawaii, going from 362 to 574, according to the Health Department.

"This is a growing business," Sugiyama said. "People are still getting married despite hard economic times."

Dianna Shitanishi, director of weddings at the Kahala Mandarin Oriental, estimated that weddings represent about half of the upscale hotel's total catering. The weddings are nearly evenly divided between Japanese and other nationalities.

"This is a busy time with Japanese weddings," she said this week. "We had five today."

The hotel gets a lot of repeat business -- one couple returns every five years to renew their vows.

"They have been back four times now," she reports.

Repeat business is the phrase Tony Vericella, president of the Hawaii Visitors and Convention Bureau, wants to hear.

"We take an active role in marketing the romance category: weddings, renewing vows and honeymoons," he said.

The HVCB's marketing strategy is to link the exchange of vows with the creation of a symbol or marker here in the islands that will prompt the couple, or perhaps the entire family, to return.

"They can plant a tree, put their name somewhere, so you would have a reason to return and maybe show the children or whomever," Vericella said.
E-mail to City Desk
---
---
© 1999 Honolulu Star-Bulletin
https://archives.starbulletin.com