---
Friday, February 12, 1999
PRESIDENT ACQUITTED

Hawaii senators
voted no


Akaka and Inouye found
Clinton's actions did not
warrant his removal

By Pete Pichaske
Phillips News Service

Hawaii's two senators helped salvage Bill Clinton's presidency today, voting against the two impeachment articles pushed by House Republicans.

In comments to their colleagues, the two Democrats argued that the president's actions, however offensive, did not warrant removal from office. They expressed hope that the year-long impeachment debate was now over and Congress could return to its usual business.

"I cannot overstate my disappointment with the actions of the president," said Sen. Daniel Akaka, in his statement made during Senate deliberations this week. "However, I have concluded that the two articles of impeachment . . . fail to meet the level of high crimes and misdemeanors."

Added Akaka: "Impeachment is not a constitutional means to punish a president when he gets out of bounds."

Sen. Daniel Inouye argued that Clinton's mistakes posed no danger to the nation and therefore did not rise to the level of impeachment.

He said Clinton's behavior was not nearly as serious as that of former President Richard Nixon during Watergate, which he called an attempt to rig an election carried out with Nixon's knowledge.

"The impeachments of Presidents Nixon and Clinton cannot be compared," said Inouye.

Inouye, an attorney, also dismissed the notion that lying under oath, as Clinton was accused of doing, is always an impeachable offense.

"It may sound absurd, but what if a future president lied under oath about being charged and found guilty 20 years ago of exceeding the speed limit?" he said. "Would we be required to find this future president guilty of an impeachable crime?"

Rep. Neil Abercrombie, D-Honolulu, who voted against impeaching Clinton in the House last year, praised today's decision. "The vote reflects the clearly expressed will of the American people," he said.

In an interview shortly after the vote, Akaka expressed relief that the trial was over and that "the Constitution works."

He echoed the sentiments of other senators who insist the divisiveness of the month-long trial will not cloud the collegial, cordial atmosphere that is a hallmark of the Senate.

"If anything, I think the Senate kind of came together and we ended up with a little more respect for each other," said Akaka. He also said he suspected Clinton would not, as reported earlier this week, turn his energy to defeating the House members who led the impeachment effort. "He's got such a great (legislative) program. If he focuses on that, I think it will be best for him."

Inouye, meanwhile, said he was anxious to return to the normal Senate business after the "nightmare" of impeachment.

"Our agenda is full," he said. "Let us get on with our business."

---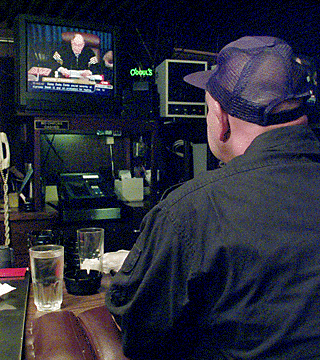 By Dean Sensui, Star-Bulletin
Nick Vacarro sits at Columbia Inn while watching the
Clinton impleachment vote on CNN this morning.
---
Local reaction mixed:
Relief to outrage

'It's OK to lie in court now?
This sets a bad precedent for kids'

By Susan Kreifels
Star-Bulletin

The Senate vote to keep Bill Clinton president created little stir among breakfast-eaters at McDonald's restaurant this morning as they quietly watched the numbers tallied on TV.

No one at the Richards Street restaurant seemed surprised. Still, opinions ranged from happiness and relief to disgust and quiet outrage -- reflecting the national dilemma about how to judge a president accused of lying about his sexual affair yet leading a country through some of its best times.

"What he did was just inexcusable," said Jack Houtz of Kapolei. "He did lie to the country, but in my mind it wasn't a high crime.

"The country is doing great. This is not the time to get rid of a great quarterback."

Boat captain Peter Ishiki heard about the votes as he gulped down breakfast on his way to sea. "I think it's great," said the 31-year-old man from Kailua. "I don't think we should have invaded his private life."

Ishiki said he still believes Clinton is a "great president. He cut the budget deficit. But as president he should watch himself. He should have done a better job of covering up, I guess."

A disgusted John Sawyer strongly disagreed. The 44-year-old student at the University of Hawaii-West Oahu said Clinton should have been tried in a regular court for alleged crimes like any other American.

"His conduct is irresponsible and horrible," Sawyer said. "It's OK to lie in court now? This sets a bad precedent for kids."

Debra Saavedra's feelings fell somewhere in between as she rushed to the TV to see the vote results. "I'm the typical scorned kind of woman thinking he deserves to be canned," said Saavedra, 29, of Ewa Beach. "As a mother and wife, I'm disappointed. But my husband is in the Persian Gulf right now. There are things that need to be taken care of, not taking care of oral sex with a woman. Let's get on with it."

Despite the controversy, Saavedra, whose Navy husband is aboard the USS Fletcher, said she's still "very confident in the president. Other past presidents have been just as derelict."

Paul Pladera was quietly pleased as he watched TV between bites of fast food. "It doesn't rise to the level of high crimes at all," said Pladera, a 64-year-old state government employee from Pearl City. "Censuring would have been better. We've wasted all this time."

While Pladera believes Clinton "lied technically, I have no problem with that. In the legal world they do that all the time."

But Sam Ustare, a 32-year-old architect from Ewa Beach, has a big problem with it. He wanted the impeachment articles to pass, and is fed up with the partisan politics surrounding the charges. "I still think Clinton is a liar. I definitely think he was guilty."
E-mail to City Desk
---
---
© 1999 Honolulu Star-Bulletin
https://archives.starbulletin.com