---

Newswatch



By Star-Bulletin Staff
Friday, February 12, 1999
---
Man with cerebral palsy plans continental trek

Waikiki resident Edward Thompson, stricken with cerebral palsy at birth, will attempt to pedal his way across the mainland to show that handicaps can be overcome.

Thompson has difficulty communicating, has limited use of his hands and will fall if not holding onto something.

But he can ride a three-wheel bicycle and does it for 20-25 miles a day on a route that takes him from Waikiki to Hanauma Bay and back.

Thompson, who celebrates his 52nd birthday today, is now ready for something longer.

On April 19, he'll begin a 3,000-mile cross-country trek in Redding, Calif., that will end sometime this summer in Boston.

The idea was inspired by Dave Plymouth of California, who helped locate bicycles with speeds on them to enable Thompson to ride up mountains more easily, said Abilities First president Rich Miano.

Thompson will be raising funds for his cross-country journey by cycling around Oahu from Feb. 18-22. Anyone wishing to contribute may contact Miano at 955-7494.

Extra parking available for events at Blaisdell

Motorists driving to the Blaisdell Center today and over the weekend are advised to arrive early since parking is expected to be in short supply due to multiple events. Overflow parking also will be available at:

Hawaiian Electric Co., 820 Ward Ave.

Academy of Arts Linekona Annex, 1111 Victoria St.

First Methodist Church, 1020 S. Beretania St.; enter from Victoria Street.

NCR Building, 720 Kapiolani Blvd.

Care program talks on adopting siblings

Adopting siblings ages 2-12 under the Casey Family Program will be the topic of a free meeting from 5:30 to 8 p.m. Thursday at 1848 Nuuanu Ave.

The private foundation's Honolulu Division provides quality care for young people unable to return home.

Kuhio Avenue narrows for water-main repairs

A Waikiki water-main break closed several lanes of Kuhio Avenue all morning, causing slowdowns.

The water main at Kuhio Avenue and Kanekapolei Street broke at 12:58 a.m. today, said a Board of Water Supply spokeswoman, but a cause had not been determined. It is part of the same water main that broke in September during the Waikiki Ho'olaule'a festivities.

By midmorning, the Diamond Head-bound lanes of Kuhio Avenue reopened, but crews were expected to be replacing the damaged main through early evening.

Three honored for help in capturing suspects

Police Chief Lee Donohue was to give three Oahu residents the Certificate of Merit today.

Walter Egami, Felix Hernandez Jr. and Henry Thomas received awards for their roles in pursuing and capturing three robbery suspects downtown.

The Certificate of Merit is given to a citizen who "performs a meritorious act or service that furthers the achievement of the department's goals of preserving the peace, protecting life and property and enforcing the law."

Presidents Day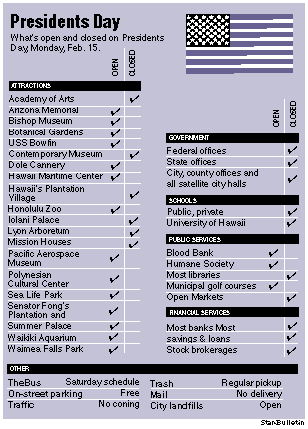 CORRECTIONS

Attendance at major Hawaii attractions fell to 9.55 million in 1998 from 9.68 million in 1997. The numbers were reversed in a Hawaii Inc. story yesterday.

Food Pantry Corp. is not part of Foodland Super Market Ltd. A Business Brief in Wednesday's Star-Bulletin had incorrect information.




See expanded coverage in today's Honolulu Star-Bulletin.
See our [Search] [Info] section for subscription information.





---




Police, Fire



By Star-Bulletin staff



POLICE/FIRE

Ireland investigators find a second man

HILO -- Police have located the second of three men wanted in connection with the 1991 murder of Big Island visitor Dana Ireland, according to police logs.

The person found yesterday was identified only as a 37-year-old man. Earlier in the week, the first of the three was located and identified as Wayne Nasario, 35, of Mountain View. The third man, 31, is still being sought.

The man located yesterday was not arrested -- unlike Nasario, who was arrested for a charge unrelated to the Ireland case.

A court order prevents officials from discussing reasons why the three men are being sought.

But the action is believed to be linked to another court order which requires certain people to give saliva samples for DNA testing and to supply bite marks for comparison with marks on Ireland's body.

Armed men rob visitor in Waikiki hotel room

Police are searching for two men who robbed a woman from Canada in a Waikiki hotel room -- the first of two hotel-room robberies in two days.

The woman was resting in bed with her baby when two men entered her hotel room at 201 Ohua Ave. at about 4:15 p.m. Wednesday, police said. One pointed a gun at her head; the other took money and jewelry.

The woman also reported being sexually assaulted.

Yesterday, three suspects robbed a woman at the Pagoda Hotel.

Help sought to find two in pawn shop robbery

Police are seeking the public's help in identifying two men who robbed Easy Money pawn shop near the airport on Feb. 5. They fled with jewelry in a blue Chevy Blazer after assaulting the owner. Anyone with information can call CrimeStoppers at 955-8300.

Tips from public help nab 4 wanted by police

Four CrimeStoppers suspects have been arrested after police received tips from the public.

David Kaluhiokalani, Alan Kimura, Andrea Pang-Kee and Patrick Antolin were apprehended, CrimeStoppers said.

COURTS

Man charged in 1997 robberies

The last of three men charged in a string of burglaries and robberies at restaurants and businesses in East Oahu and Kalihi during 1997 has pleaded not guilty to reduced charges.

Harry Cabrera, 42, yesterday, was charged with six counts each of second-degree burglary and kidnapping and second-degree robbery. But a hearing has been set for a possible change of plea on Feb. 26, said his attorney, Clifford Hunt.

The charges stem from two robberies on July 14, 1997, of McDonald's outlets at School and at South King streets, and burglaries at the Kahala Moon Cafe and Lung Fung Restaurant in Niu Valley.

Witness in Wimberly killing case testifies he heard shots

A preliminary hearing for Matthew James Clement, charged in the shooting death of Eleanor "Ellie" Wimberly, was continued to Tuesday in District Court.

Deputy Prosecuting Attorney Vince Kanemoto called two witnesses yesterday. Phil Tagaro Jr., a Pearl City High freshman who lives next door to Wimberly's Hoono Street home, testified that he heard seven shots between 4 and 5 p.m. on Feb. 3, the day the woman was killed. "They weren't so loud, pretty soft like from a .22-caliber. It didn't phase me because there was always a lot of arguments at the house." In response to a question from Hayden Aluli, Clement's attorney, the boy said he recognized the sound of .22-caliber gunfire from his hunting experiences.

Clement, charged with second-degree murder, first-degree burglary and firearm offenses, is being held in lieu of $500,000 bail.

Police criminologist Curtis Kubo also testified, saying he tested the .22-caliber revolver that police believe is the murder weapon. He said rounds that were test-fired had similar markings when compared with two bloodstained bullets recovered from Wimberly's body. But he could not say for certain that the bullets were fired by that gun.




See expanded coverage in today's Honolulu Star-Bulletin.
See our [Search] [Info] section for subscription information.




E-mail to City Desk
---
---
© 1999 Honolulu Star-Bulletin
https://archives.starbulletin.com