---
Thursday, February 11, 1999



H A W A I I _P R E P _ S P O R T S
---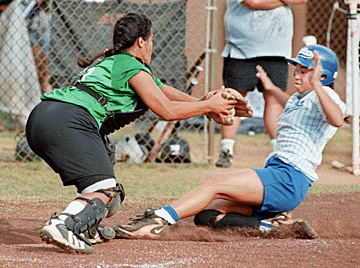 By Dennis Oda, Star-Bulletin
Kailua's Shelly Featheran slides under the tag of
Konawaena's Joleene Canda Alvarez during the state high
school softball tournament at Roosevelt High
School stadium last night.
---
Kailua still
in hunt for state
title No. 10


The unseeded Surfriders
get off to a good start in the
state softball tournament

By Cindy Luis
Star-Bulletin

Hang 10?

That's the plan.

The journey to a 10th state championship began yesterday for unseeded Kailua. The Surfriders (12-2) shut out Konawaena, 5-0, in one of four opening-day games in the Bank of Hawaii State Softball Tournament at Roosevelt High stadium.

Kailua advanced to today's 2:30 p.m. game against second-seeded Baldwin (13-1).

In other first-round games yesterday, Leilehua topped Kapaa, 7-2; Punahou blanked Lahainaluna, 8-0, and Castle shut out Roosevelt, 6-0.

In today's other championship quarterfinals, fourth-seeded Waiakea meets Punahou at 4 p.m.; No. 1 seed Mililani takes on Leilehua at 5:30 p.m., and second seed Iolani has the 7 p.m. game against Castle.

Kailua 5, Konawaena 0: Senior pitcher Hauoli Kaaihue-Hughes tossed a one-hitter, striking out seven and walking one in the complete-game victory. She faced just two batters over the minimum, giving up a lead-off walk to Nikki Kane in the first and a lead-off single to Wildcat pitcher Shyanne Telles to open the fourth.

"Hauoli did her usual job," said Kailua coach Bernard Victor. "I worry about every team we play, especially when we haven't seen them before. Konawaena's come down with some good teams before. And so has Baldwin."

The Surfriders were nursing a 1-0 lead when Telles began having problems. She gave up consecutive singles to Kanani Piimauna and Kaaihue-Hughes to open the second and, one out later, walked two in a row, forcing Piimauna in from third.

Shannon Celoza's long sacrifice fly to left scored Kaaihue-Hughes for a 3-0 lead. Shylena Pullen then broke open the game with a line shot to shallow right-center that scored two for the final 5-0 tally.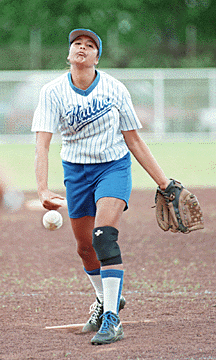 By Dennis Oda, Star-Bulletin
Kailua's Hauoli Kaaihue-Hughes pitched a 5-0
shutout over Konawaena in the first round of the
girls state softball tournament.
---
"I have a hard time hitting outside pitches but I went with the pitch," said Pullen, the senior third baseman. "When you have a lead, it's easy to be relaxed.

"Plus, Hauoli was pitching good. We have such a young team. We need to keep calm."

Konawaena	000	000	0--0	1	1
Kailua		104	000	x--5	6	0

Shyanne Telles and Joleene Canda Alvarez; Hauoli Kaaihue-Hughes and Shannon Celoza.

WP: Kaaihue-Hughes (7 KOs, 1 bb)

Leading hitters--Kona: S. Telles 1-2. Kail: Shylena Pullen 2 RBI; S. Celoza RBI; Shelly Featheran RBI; H. Kaaihue-Hughes 2 runs.

Punahou 8, Lahainaluna 0: Cheryl Cabra tossed a three-hit shutout as the Buffanblu (14-3) downed the Lunas (12-3).

Cabra did not have a strikeout or a walk in getting the Lahainaluna hitters to ground out 18 times. Erika Miyahira had two hits, three steals and scored three times for Punahou.

Punahou		301	001	3--8	8	1
Lahainaluna	000	000	0--0	3	0

Cheryl Cambra and Natalie Fujimoto; Noelani Rickard, Shyra Smith (7) and Charlene Lived.

WP: C. Cambra.

Leading hitters--Pun: Erika Miyahira 2-3, 3 runs; Natalie Fujimoto 2-3. Lah: Mari Finn 2b.

Castle 6, Roosevelt 0: Heather Berinobis scattered four hits, striking out two, as the Knights (11-2) blanked the Rough Riders (9-4).

Berinobis also went 3-for-3 and scored two runs. Roosevelt, which committed three errors, had a runner on base just six times.

Roosevelt	000	000	0--0	4	3
Castle		120	300	x--6	6	1

Kristin Fujii and Trisha Kadooka; Heather Berinobis and Kealoha Yamaguchi.

WP: H. Berinobis.

Leading hitters--Roos: Courtney Pang 2-3. Cast: H. Berinobis 3-3, 2 runs.

Leilehua 7, Kapaa 2: Kehau Kahana held the Warriors (7-7) to four hits and also scored a run for the Mules (10-4).

Sherris Richards went 3-for-4 and scored twice in Leilehua's 12-hit attack.

Leilehua	110	320	0--7	12	3
Kapaa		000	020	0--2	4	3

Kehau Kahana and Kayla Kahuli; Tiffany Laranio and Russlyn Morita.

WP: K. Kahana.

Leading hitters--Lei: Sherris Richards 3-4, RBI, 2 runs; Heidi Garcia 2-4, 1 run; K. Kahana 2-4, 1 run; Lorena Clifton 2-4, RBI. Kap: None.
E-mail to Sports Editor
---
---
© 1999 Honolulu Star-Bulletin
https://archives.starbulletin.com