---
Island Images



Wednesday, February 10, 1999

Sports Hall Inducts
Photography by Dennis Oda, Star-Bulletin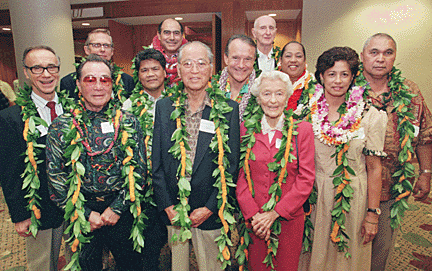 Hawaii Sports Hall of Fame inductees who attended the induction
banquet last night at the Sheraton Waikiki. included, front, left to right,
Emerick K. Ishikawa (weightlifting), Hiroto "Hiro" Hirashima
(Bowling), Aileen Riggin Soule (swimming and diving), Rachel
Kealaonapua O'Sullivan (diving); Middle, left to right: Dr. Peter
T. George (weightlifting), Ben Villaflor (boxing), Fred Hemmings Jr.
(surfing), Fanny Hopeau (volleyball), Pedro "Pete" Velasco Jr.
(volleyball); Back row: James Austin (skeet shooter), Rockne C.
Freitas (football) and Ephraim J. "Red" Rocha (basketball).
E-mail to City Desk
---
---
© 1999 Honolulu Star-Bulletin
https://archives.starbulletin.com