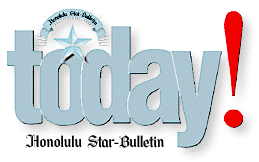 ---
Hawaii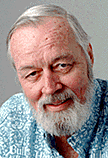 By Dave Donnelly
Wednesday, February 10, 1999
---
A first time for
everything

AS author Ron Martin was preparing to address the Sunrise Rotary's "Business Gameplan '99" breakfast meeting, he began sweating profusely and found he was drawing a blank on his upcoming talk. This was something unheard of to a man who made his living as a public speaker and author. He couldn't very well attribute it to his upcoming nuptials with longtime friend Masae Yoshii, not with this being his sixth trip to the altar. True, he'd been up all night moving from his Haleiwa home to another on Tantalus 24-hours earlier, and had been unpacking. He made it through the talk with no one the wiser, but suffered a seizure about midnight and was rushed to Queen's. On waking, Martin's first concern was missing a training session with the Wyland staff in Kona. You see, according to Martin it was the first day of work he'd missed in his life! It took him nearly a week, but true to form, he was there yesterday ...

Pro Bowl me over

DON'T know if Denver Broncos owner Pat Bowlen is aware of it, but his star running back, Tyrell Davis, who sat out the Pro Bowl to ward off any injury, went aloft with Seabreeze Parasailing at Koko Marina the day before the game. He and teammate Byron Chamberlain didn't seem worried about injury, and also took turns driving glass bottom boats with A Reef Adventure ... Taking in the Polynesian Cultural Center show were Pro Bowlers Junior Seau, Randall McDaniel and Jamal Anderson of the Falcons, who had to be flattered when Tongan drummer Vili did his version of the "Dirty Bird" dance. Also in the park was the group 'N Sync, and judging from its Pro Bowl performance at half-time, it ought to change its name to Lip Synch ...

NOT all the football players in town played in the Pro Bowl -- Troy Aikman of the Dallas Cowboys, for example. The last time he did play in the game, he left early -- before the game was over -- to catch a plane. This year he wasn't voted in, but came and stayed late, showing up at Carelli's on the Beach in Maui ... Adrian Murrell was another NFL'er who didn't play in the Pro Bowl, but he did show up at the Topps Card Show at the Blaisdell Exhibition Hall on Saturday. When he spotted Trinidad Peltier, who more or less runs the Star-Bulletin newsroom, Murrell said, "I know you. You're Oscar's mom." Sure enough, he remembered Peltier's son from the latter's day as a high school soccer standout ...

IT was like old Waikiki in a couple of places the past few days. Sean Wilkinson, the smiling Irishman who used to play vibes with Don Ho when he as at the Polynesian Palace, dropped into the latter's Island Grill Monday at lunchtime, but just missed Ho, who'd whisked in and out. Sean was in from the Big Isle where he plays at the Royal Kona Resort ... And when Gary Sterling performed Saturday at Sand Island R&B, he brought back memories from his days at the old Jolly Roger. He's been performing in Australia for the past seven years. A local Japanese woman had seen Sterling there and brought a busload of folks to see his show on Sand Island. Bossman Brad Coles says he hopes the woman and her friends return, adding, "Those guys can really drink up the sake." ...

Elektra-fication

SINCE they're studying the Trojan War in school, 25 Kamehameha students banded together to get a block of seats to see and hear "Elektra," this weekend's opera offering at the Blaisdell Concert Hall. They figured being exposed to things Greek can't hurt, and Luryier Diamond ("Mr. Opera") will escort the students backstage to see the sets up close and meet the performers ...

---




Dave Donnelly has been writing on happenings
in Hawaii for the Star-Bulletin since 1968.
His columns run Monday through Friday.

Contact Dave by e-mail: donnelly@kestrok.com.
E-mail to Features Editor
---
---
© 1999 Honolulu Star-Bulletin
https://archives.starbulletin.com