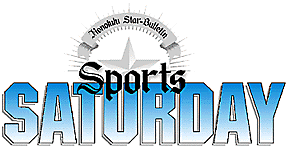 ---
H A W A I I _ S P O R T S

Notebook



Saturday, February 6, 1999

R A I N B O W _ B A S K E T B A L L
---



RAINBOW playbook

Vs. New Mexico Lobos

Coach: UNM, Dave Bliss (11th season, 238-104). UH, Riley Wallace (12th season, 180-168).

Season: UNM, 17-5 (4-3 WAC). UH, 4-16 (1-7 WAC).

Top players: Senior Kenny Thomas, 6-8 center (17.3 points per game, 10.5 rebounds per game); junior Lamont Long, 6-4 guard (18.6 ppg); sophomore Kevin Henry, 6-3 guard (11.9 ppg).

Interesting facts: The Lobos are No. 17 in the A.P. poll and No. 18 in the USA Today/ESPN poll ... Damion Walker, who scored 17 points in the Lobos' 82-59 victory over Hawaii at The Pit on Jan. 9, has been suspended indefinitely for a violation of team rules ... New Mexico lost for the third time in four games Monday as Utah demolished the Lobos, 57-39, in The Pit ... This will be New Mexico's last visit to Hawaii before it departs the WAC for the Mountain West Conference.

Keys to the game: Hawaii's leading scorer, center Marquette Alexander, has 63 points in his last three games ... Freshman forward Philipp Czernin's 15-point night against UTEP was only his third double-digit game as a Rainbow ... Bliss is 16-8 in his career against Hawaii, but only 5-5 in Honolulu.

Tip-off: 7:07 p.m.; Stan Sheriff Center.

On the air: Live on KCCN (1420-AM) and KFVE (channel 5).
W A H I N E _ B A S K E T B A L L
---



WAHINE playbook

Vs. New Mexico Lobos

Coach: UNM, Don Flanagan (4th season, 73-37). UH, Vince Goo (12th season, 237-104)

Season: UNM, 15-5 (6-2 WAC). UH, 13-7 (5-3 WAC)

Top players: Junior Sonya Bryant, 5-11 guard, 11.5 points and 3.9 rebounds per game; sophomore Jennifer Williams, 6-0 forward, 11.2 ppg, 5.6 rpg; senior Katie Kern, 6-2 center, 10.1 ppg, 6.1 rpg.

Interesting facts: The series is tied at three victories each ... In a "Pack the Pit" promotion with rival UTEP on Jan. 23, the Lobos had their first sellout (18,018) for a women's game. It was the largest WAC women's crowd ever and ninth-largest regular-season NCAA crowd ... UNM has an 18-game home winning streak, the fifth-longest active streak in the nation ... UH is scheduled to return tomorrow on Delta flight 1577 at 11:32 p.m.

Keys to the game: Flanagan says BJ Itoman is the best point guard in the WAC. In the last meeting, the Lobos used a soft full-court press to slow the UH offense and take time off the 30-second clock. UH must counter to allow sufficient time to generate an offense ... The Wahine will have to hit better from the perimeter to open up UNM's packed zone defense ... The Lobos are concerned with UH penetrating, then kicking ball out to the open shooter ... UNM's top scorers, Jennifer Williams and Sonya Bryant, got into foul trouble here, but probably won't in The Pit ... Wahine should play in front of biggest crowd since last visit to UNM and the fans won't be friendly ... It will be another "heart over height" game for UH.

Tip-off: 9 a.m. Hawaii time tomorrow, at the Pit in Albuquerque, N.M.

On the air: Live on KCCN (1420-AM).
E-mail to Sports Editor
---
---
© 1999 Honolulu Star-Bulletin
https://archives.starbulletin.com