---
Friday, February 5, 1999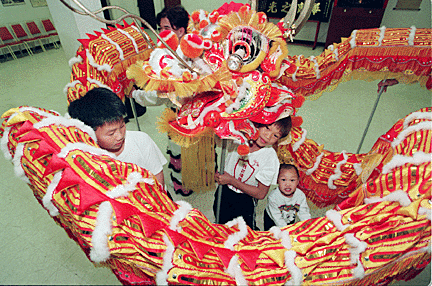 By Dennis Oda, Star-Bulletin
With the Lunar New Year coming Feb. 16, these children
have been chasing away evil spirits in Chinatown and elsewhere
with their dragon. From left are Cody Hua, 9, Chase
Pacupac, 8, and Colby Pacupac, 2.
---
Chinatown celebrates
Lunar New Year in style

By Susan Kreifels
Star-Bulletin

Youngsters Cody Hua and Chase Pacupac have a month of long hours ahead of them.

Being lions and dragons isn't easy -- prancing for hours, holding 20 pounds-plus of colorful creature heads, amid firecrackers, gongs and crowds.

But what could be more important than chasing away evil spirits and bringing good luck to people?

Lunar New Year is the biggest event of the year for the Chinese. The boys will be performing tomorrow at the "Night in Chinatown" celebration preparing for the Year of the Rabbit, which begins Feb. 16. They also will spend the next few weeks dancing at businesses and homes to bring them luck.

"It's fun scaring all the ghosts away," Chase said about the traditional lion and dragon dancing.

The two belong to the Kuo Min Tang Physical Culture Association, a martial arts club that will be performing at the street festival this weekend. Sponsored by the Chinatown Merchants Association and the city, festival events include a parade at 4 p.m. on Hotel Street, food booths, and entertainment on three stages at Pauahi and King streets and Kekaulike Mall.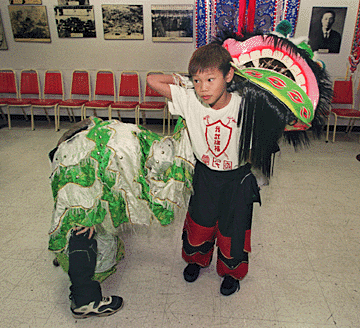 By Dennis Oda, Star-Bulletin
Chase Pacupac, 8, the front part of the lion, and Cody Hua,
9, the back part, take a break from practicing their routine
at the Kuo Min Tang Physical Cultural Association.
---
The festival, open from 9 a.m.-11 p.m., provides free lessons for anyone wanting to know more about the Chinese and their New Year traditions. A sample:

What is your greatest wish this year? Wealth? Promotion? Good health? Ask one of the street calligraphy artists to write that wish, called a New Year couplet, on red paper, and hang it in the doorway of your home or business for the next 12 months. Then burn it and get a new one for next lunar year.

Chinese foods are a double-deal: not only tasty but a boost to your good fortune. Try jin dui, a dumpling made of sugar and sticky-rice flour with sesame seeds. They can bring money and children into your family this year.

The Chinese take their jin dui seriously. According to Yuk Pang Law, who runs the Hawaii Immigrant Services in Chinatown, grandparents making the dumplings at home will chase out children who might say the wrong thing during cooking time and spoil the jin dui.

Try the Chinese New Year pudding called nian gao, which symbolizes "reaching new heights every year," Law suggests.

Or jai, a vegetarian stew. Traditionally Chinese don't eat meat on the first day of the new year, Law said.

Hear the firecrackers and gongs? Lions will be dancing in front of businesses this month to ward off evil spirits. Lee si, or money in red envelopes, will go to the lion in turn for bringing good luck. Relatives give lee si to children as well.

Law predicts the lions will be busy this year. "When you start the New Year you want more business, especially now with the economy so poor," she said.

The festival is one way of showing off Chinatown and bringing more business to the area.

For the Kuo Min Tang Physical Culture Association, it's an opportunity to keep Chinese traditions alive, something that worries the Rev. Duane Pang. "It's a sad thing," Pang said. "Kids don't want to learn."

Eight-year-old Chase is a living tradition. He's the fourth generation in his family to learn kung fu and traditional dancing. His great grandfather, Kwock Moy Chun, was one of the founders of the association, which celebrates its 40th anniversary this year.
E-mail to City Desk
---
---
© 1999 Honolulu Star-Bulletin
https://archives.starbulletin.com