---
Thursday, February 4, 1999



P R O _ B O W L
---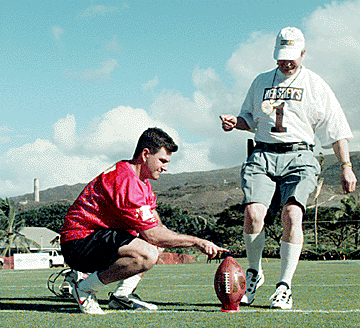 By Ken Sakamoto, Star-Bulletin
Denver Broncos kicker and UH alum Jason Elam holds
the ball for William F. Simmons Jr., who will attempt a
$1 million field goal from 40 yards during halftime of
Sunday's Pro Bowl. Simmons said Elam offered him
this tip: "Keep your eyes on the sweetspot
of the ball and give it a rip."
---
Kickin' back
in Hawaii


Former UH and now Denver
place-kicker Jason Elam is taking
the time to enjoy his second
trip to the Pro Bowl

By Pat Bigold
Star-Bulletin

Jason Elam was giving the Hershey's candidate for the $1 million Pro Bowl kick on Sunday some tips yesterday at the Ihilani Resort practice field.

"I just told him where to hit it on the ball, where the sweet spot is, and other than that I just talked about his backswing," said the 28-year-old former Hawaii kicker.

"Just the very, very basic fundamentals of a kick," he said.

Elam, a two-time Pro Bowler, said he hopes William Simmons Jr. from Ft. Wayne, Ind., makes it. But he said Simmons is up against longer odds than previous Hershey kickers.

"It used to be 35 yards, but now they've moved it back to 40 yards, and that makes it just about impossible for the average person to make it," said Elam.

"I guess they're tired of losing their money because the last two guys have won it."

Don't expect to see much of Elam except at practice before Sunday.

He is keeping a promise to himself and laying low during this Pro Bowl week.

"Last time I was in the Pro Bowl (1995), I got shuttled from one event to another and never got a chance to enjoy it," he said. "I promised myself that if I ever got back I would hang out with my wife and my little boy. Maybe golf a few times."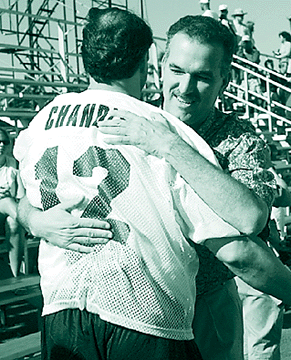 By Ken Sakamoto, Star-Bulletin
UH head football coach June Jones greets Atlanta
Falcons quarterback Chris Chandler at the practice field
at the Ihilani Resort yesterday.
---
So, Elam and his wife, Tammy, skipped yesterday's Pro Bowl kickoff rally at Tamarind Park and the soiree aboard the U.S.S. Missouri. Instead, he played golf and picked up his snapper, David Diaz-Infante, at the airport. His holder, Tom Rouen, is coming in tomorrow, along with the rest of his entourage.




Elam in '98-99

Regular season:

Extra points: 58-for-58
Field goals: 23-for-27
Longest:63 yards (tied NFL record

Playoffs/Super Bowl:

Extra points: 11-for-11

Field goals: 6-for-8




That includes his brother, sister-in-law and special teams coach, Rick Dennison.

He's paying for all of them out of his own pocket.

"This is kind of like found money," he said. "It wasn't something I counted on. I just took the money I was going to get for the game and brought over the people who helped me out this year. Then I got to thinking my brother and his wife hadn't been over here, and I figured, what the heck, this will be their Christmas present."

Elam will be kicking Sunday in the same shoe that booted a 63-yard NFL record-tying field goal against the Jacksonville Jaguars.

It's a shoe that will be sent to the Football Hall of Fame in Canton, Ohio, after Elam returns to Denver.

He had cancelled his contract with Nike after the company refused to make him another Tiempo, the ultra-thin kangaroo leather kicking shoe he's always used. Nike claimed the mold was lost in a fire.

Elam had said his backup pairs had holes in them.

But stories about Elam's plight that ran late last year apparently brought some response.

"A few kickers who aren't kicking anymore, like a former Air Force Academy kicker called and said he has one. One of the University of Tennessee kickers said he has one. People have been sending me stuff to see if it's the right thing. And one of them actually was, and so I do have a backup now. Right size (10) and everything," Elam said.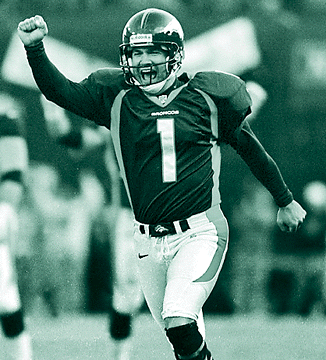 Associated Press
Tying the NFL record for longest field goal with a
63-yarder against the Jacksonville Jaguars on Oct. 25
was one of many highlights of Jason Elam's sixth season.
---
Elam, a six-year NFL veteran, said he has no idea how much longer he will kick. "Maybe until they throw me out," he said.

But asked if he thinks Super Bowl MVP quarterback John Elway will return, Elam was a little more definite.

"If you had asked me that question a week ago, I would've said no way. He's done. But from what he said in the locker room and what he said in public, I'd now say, yeah, I think he's coming back.

"He's such a competitive guy. Even if you play ping pong with him, he'll play you until he wins -- at anything. But what a great way it would be to go out."




Pro Bowl events

Today

AFC Team Practice Aloha Stadium, 8 a.m. Free. Enter through Gates 3 and 4.

Hawaii Sports Hall of Fame Opening NFL stars, Pro Bowl Cheerleaders at the official opening of the new Hawaii Sports Hall of Fame. Bishop Museum, noon. Free.

Topps Card Show and Pro Bowl Experience Free autographs from NFL stars and Pro Bowl Cheerleaders, prizes, interactive games and more. Blaisdell Exhibition Hall, 1 to 9 p.m. Single-day tickets, $5 for adults, $3 for children under 12. Three-day passes, $12.50 for adults, $5 for children under 12.

Tomorrow

NFC Team Practice Aloha Stadium, 9 a.m. Free. Enter through Gates 3 and 4.

NFL Rookie Beach Bowl Four-on-four flag football game with ESPN celebrities, cheerleaders. Hilton Hawaiian Village/Fort DeRussy Beach, 11 a.m. to noon. Free.

NFL Charities Pro Bowl Golf Classic Play golf with NFL personalities. Ko'Olina Golf Course. Registration 11 a.m. to 12:15 p.m., play begins at 12:30. Advance registration required. Information: 233-4635.

Topps Card Show and Pro Bowl Experience Blaisdell Exhibition Hall, noon to 9 p.m.(See Thursday).

Pro Bowl Pau Hana Party Music, free autographs from NFL stars and the Pro Bowl Cheerleaders, and "Taste of the Pro Bowl" food festival. Aloha Tower Marketplace, 5 p.m. to midnight. Free.



E-mail to Sports Editor
---
---
© 1999 Honolulu Star-Bulletin
https://archives.starbulletin.com