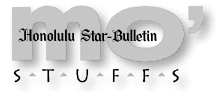 ---
Thursday, February 4, 1999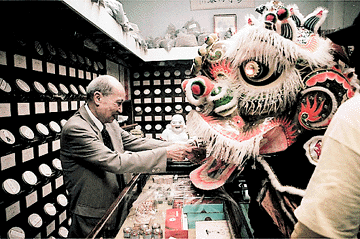 By Craig T. Kojima, Star-Bulletin
Lau Yin Tak offers money to the lion for luck in his herb shop
during last year's celebration at the Chinese Cultural Plaza.
---
Chinatown celebrations
ring in year of the Rabbit
Lions and dragons and bunnies!

Oh my. Must be Chinese New Year.

Yes, the Year of the Rabbit begins Feb. 16, but the celebrating starts NOW. It promises, as always, to be joyful and quite loud.

Chinatown's two big festivals are lined up for this weekend and next.

Plan on enjoying all the trappings of the new year, from good-luck noodles to your rabbit T-shirt.
Night in Chinatown
The city and the Chinese Merchants Association join forces for this outdoor party on Maunakea Street.

Look for vendors selling new year's food and all manner of souvenirs. Entertainment will be held on several stages and there will be firecrackers aplenty.

The festival runs 9 a.m. to 11 p.m., with a parade at 4 p.m. from the State Capitol to River Street, featuring Miss Chinatown Queen Stephanie Ching and her court.

A Tien Mien Banquet will be held at the Sea Fortune Chinese Restaurant on North King Street at 5:30 p.m. Sunday. Tickets are $20. Call 595-6417.
Chinatown Cultural Plaza
The Chinese Chamber of Commerce sponsors this event Feb. 12 and 13. Expect more vendors and food, plus entertainment on the Moongate Stage -- including the Chang Brothers, acrobats from Taiwan, and an appearance by the Narcissus Court.

The festival runs 5-11 p.m. on Friday the 12th and noon to 11 p.m. the 13th. A lion dance with firecrackers will be held at the chamber office, 42 N. King St., at 6:30 p.m. on the 12th. Call 533-3181.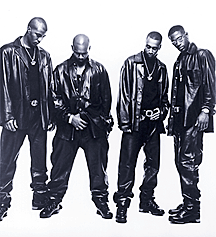 Arista
112, from left, Daron, Michael, Slim and Q.
---
R&B stars land in big Bowl of jam

Warm up for the Pro Bowl at Bowl Jam II, a concert taking place tomorrow at World Cafe.

On the bill are Bad Boy recording artists 112 and Faith Evans, Uncle Sam, and local performers Natural Vibrations and Sharon Sanchez.

112 is known best for its hit song "Love Me and Cupid." Puff Daddy protege Evans -- who was married to the late Christopher Wallace a.k.a The Notorious B.I.G. -- makes her Bowl Jam debut with smooth R&B, and we'll hear live the sultry voice of Uncle Sam, currently dominating the I-94 play list with his hit, "When I See You Smile" from the "Touched by an Angel" soundtrack.

The jam is open to an 18 and older audience. Tickets, at $20 advance, are available at World Cafe, Tower Records Video and Bloch Arena. Tickets are $22 at the door, which opens at 9 p.m. The show scheduled to start at 10 p.m.






Click for online
calendars and events.





---





Send WatDat? questions, stories
or any other story ideas or comments to:
Features, Honolulu Star-Bulletin, P.O. Box 3080,
Honolulu, HI 96802 or send a fax to 523-8509
or E-mail to features@starbulletin.com.
Please include your phone number.
E-mail to Features Editor
---
---
© 1999 Honolulu Star-Bulletin
https://archives.starbulletin.com