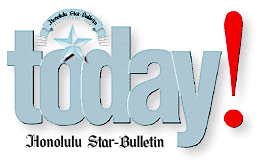 ---
Hawaii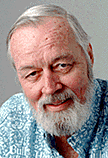 By Dave Donnelly
Thursday, February 4, 1999
---
Skins viewers
starved for sun

WIN some, lose some: The weather during the Hooters Hula Bowl on Maui was so lousy most people there probably wished they were inside one of the sponsor's eateries rather than out in the rain. But Mother Nature made up for it during the Senior Skins from the Mauna Lani. The HVCB ran a 30-second spot on the ABC telecast "live" during the miserable mainland weather people were enduring and the local visitors bureau's president Tony Vericella says its Internet site got more than 1.2 million hits -- visitors -- during the week-long tourney. On the day of the telecast, 995 viewers called the 1-800 number in the ad to request the bureau's Islands of Aloha vacation planner ...

AND while Arnie Palmer didn't win a single skin during the weekend tourney, he showed a load of courage. Chatting with TV host Emme Tomimbang, Arnie revealed that on the last day of his chemotherapy for prostate cancer a few months back, his wife Winnie was diagnosed with cancer. Emme had interviewed Arnie last year and he revealed then that his daughter was helping him get through his ordeal. She'd just finished her round with cancer as well. Palmer and fellow pro Jim Colbert, yet another victim of prostate cancer, have teamed up to help researchers find a cure for the disease and educate men about it ...

Incognita

WHEN Janet Jackson was looking for a place to dine where she could go unnoticed, an official at the Kahala Mandarin suggested Matteo's. She and a companion arrived rather late, were seated at an out of the way spot where no one seemed to notice her or pay any attention. (And in case you're wondering, "incognita" is the feminine version of "incognito." Dr. Donnelly's language lesson is finished for the day) ... Jackson's musical director, Rex Salas, and his wife, Reebie Jackson Salas (Janet's sister), took a ride on the Navatek a couple of days after the big Aloha Stadium show. They went primarily to see old friend Nohelani Cypriano, who entertains on the boat. Salas plans to work with Nohe on a new CD ...

THE revitalized "Boat Day" celebration took place yesterday when the Arcadia, carrying 1,300 passengers, docked at Pier 10, gave passengers a day in Honolulu, and set sail 11 hours after its arrival. Hula dancers, the Royal Hawaiian Band, et.al. greeted the ship along with City Councilwoman Rene Mansho, who's the motivating force behind the re-emergence of "Boat Days" ...

PRO Bowlers here for Sunday's game will be on hand tomorrow evening at Aloha Tower Marketplace. You can get a gander at them in the VIP Lounge next to Gordon Biersch ... Meanwhile, Eric Dickerson is having a private party of his own at David Paul's Diamond Head Grill tomorrow night for new inductees into the Pro Football Hall of Fame ... And if you're looking for tickets to the game, Don Murphy still has some for his Pro Bowl package beginning at Murphy's Bar & Grill Sunday morning ...

Radio roulette

IT'S the same the country over -- radio station execs are looking for that perfect D.J. or team that works. KSSK has been happy with Perry & Price for 15 years, Tom Moffatt is a fixture at 107.9 FM and now Star 101.9 is keeping Hudson, the mono-monikered female jock (jockette?) but adding Scott Blaisdell, ex-KIKI D.J., to the morning mix. Scott has been morning host at KQMQ. In addition, Kimo Kahoano, who has been doing a country show at KKHN, 102.7 FM, is about to hang up his cowboy hat to segue into easy listening music at KORL ...

---




Dave Donnelly has been writing on happenings
in Hawaii for the Star-Bulletin since 1968.
His columns run Monday through Friday.

Contact Dave by e-mail: donnelly@kestrok.com.
E-mail to Features Editor
---
---
© 1999 Honolulu Star-Bulletin
https://archives.starbulletin.com