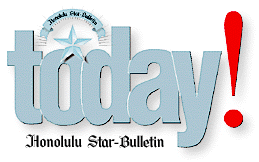 ---
Wednesday, February 3, 1999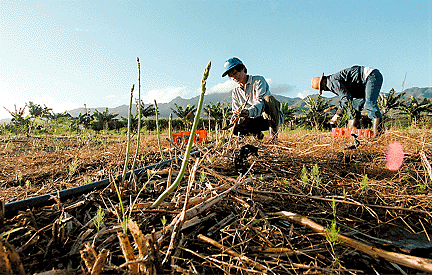 By Dennis Oda, Star-Bulletin
Milton Agader stands in a 6-month-old field of
asparagus ferns. In another six months or so this
crop will be ready to produce asparagus for market.
---



Asparagus is a promising crop
for Hawaii's farming future

By Betty Shimabukuro
Star-Bulletin

It's green like sugar cane, thin like sugar cane and it's out there where the sugar cane grows. Must be asparagus.

On a half-acre of what used to be sugar land in Waialua, Milton Agader is harvesting spears of asparagus. It's a small-scale thing -- he brings in just enough each day to sell out of the liquor store he owns (the Brown Bottle, near Waialua Library) -- but it has vast potential for making something out of Hawaii's acres of ex-sugar land.

"Eventually it could be an export crop," says Susan Schenck, plant pathologist with the Hawaii Agricultural Research Center. "We're thinking of Japan."

The center has a three-year federal grant to study asparagus on Agader's little plot of dirt. Eight varieties were planted, and Schenck is keeping tabs on them to evaluate yield and growing conditions.

This is Agader's third crop. His summer crop last year yielded enough to sell some to Safeway, and he's hoping to build to that point again.

Agader leases his farmland from Dole Food Co. Hawaii, along with several other farmers who make up the Waialua Farmers' Cooperative. Beans, eggplant, okra, bananas, corn, tapioca and basil are grown here, but Agader is the first to grow asparagus. (Schenck says one farmer on Maui and another on Kauai have also started growing asparagus commercially).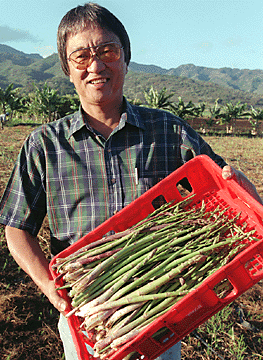 By Ken Sakamoto, Star-Bulletin
Milton Agader says farmers working in cooperation
could keep local markets stocked with asparagus through
the months when mainland asparagus is unavailable.
---
Agader plans to expand to other acreage he's leasing, and his goal is to have other farmers join him. "The ideal thing is to expose this so more people catch on to this in Waialua. It's a good crop."

With crops properly staggered, Agader says, Waialua farmers could be harvesting asparagus just about year-round, through the months when the mainland crop is sidelined. California asparagus is just now showing up in stores; the season runs roughly January through May.

"We can time the harvest so we have a constant supply to the supermarkets," Schenck says.

The asparagus plant is a wispy, billowy fern that reaches maturity in just over a year. In temperate climates, the plant dies back in winter, leaving the shoots to push out in the spring.

Here, Schenck says, that period of deprivation is simulated by cutting back on water. "Instead of having winter we just dry down."

Agader mows the ferns down and mulches them into the ground. In a week, he says, the shoots start coming out. That's when things take off.

Agader points out the tip of an asparagus spear, poking just an inch out of the ground. By tomorrow, he says, it will be tall enough to harvest, about a foot long. The shoots will keep coming for a couple of weeks (in the warmer summer months the crop lasts longer).

Agader's asparagus ranges from pencil-thin to the thickness of a man's thumb. Thickness of a spear has nothing to do with how long it's left to grow, he says -- once they break ground, the spears only grow taller, not wider.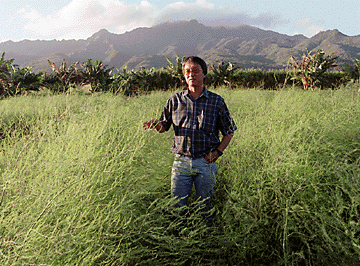 By Ken Sakamoto, Star-Bulletin
Alfredo Bagasol, left, and Mariano Barayuga harvest
mature asparagus spears on a small Waialua farm.
---
He even has a purple variety, "Purple Passion," which turns green when cooked.

The asparagus is a very neat crop. No husk, no roots, no pods, no peels. Except for a little dirt around the base, the spears are cut from the ground clean.

Agader is harvesting 50 to 60 three-quarter-pound bunches a day, and selling them for $2.50 each at his liquor store.

When the crop is yielding only very thin spears, he'll stop harvesting. The spears will then grow into ferns and the cycle will begin again. In another six months he'll mow them down and claim another harvest.

Schenck says the original plants should yield for 15 to 20 years. "It looks like a really excellent crop for Hawaii."

The plants have had few problems with disease and pests, she says, which should make them attractive to organic farmers. Her research, in fact, is sponsored by a branch of the Environmental Protection Agency.

Agader says he was drawn to asparagus because it is low-maintenance. "Once I have it in the ground I just gotta cut it, irrigate it, fertilize."

He still has a full-time job handling irrigation for Dole, which ran Waialua Sugar until it shut down in 1996. Thus the need to keep farming to a part-time pursuit.

"Sometimes I don't even come up for a couple weeks," he says.

"Some people call me a gentleman farmer. I'd rather have them call me a recreational farmer."




Know your asparagus

The name: Greek for sprout or shoot

Family history: Member of the lily family, first cultivated more than 2,000 years ago in the eastern Mediterranean. Prized by Greeks and Romans for its flavor, texture and alleged medicinal qualities. They ate it fresh and dried it to use in winter.

Around the world: Ancient writings depict asparagus use in Egypt; it has been grown in Syria and Spain for centuries. Reached France and England in the 16th century. Early colonists brought it to America.

Asparagus basics: Pick bright green asparagus with closed, compact, firm tips. If tips are slightly wilted, freshen them by soaking in cold water. Store cool and moist.

---




Cooking tips

Times are based on spears just over 1/4-inch in diameter at thickest point. Snap off tough bottoms.

Boiling: Place whole, trimmed spears in a large skillet with about 1-1/4 inches of water. Bring to a boil, then simmer briskly, uncovered, 3-5 minutes.

Steam: Place on a rack over rapidly boiling water. Or, bundle spears and place upright in a pot, with water covering the bottom half of stems. Cover and steam 5-7 minutes.

Microwave: Arrange in glass baking dish, with tips overlapping in center. Cover and microwave on high, 6-9 minutes for a pound. Let stand 3-5 minutes.

Stir-fry: Cut spears into 2-inch diagonal slices. Stir-fry in oil 3-5 minutes.

Source: California Asparagus Commission




Bringing asparagus
to the table

The first of the year's California asparagus crop is showing up in supermarkets. Regular prices are close to $5 a pound, but there are specials at different markets every week. Safeway has this week's bargain: $1.59 a pound for club members.

Once you have your precious green spears, here are some ways to fix them, courtesy of the California Asparagus Commission:

Scallops and
Asparagus Stir-Fry

1/4 pound asparagus, in 2-inch diagonal pieces
3/4 cup reduced-sodium chicken broth
1 tablespoon cornstarch
1 teaspoon light soy sauce
3/4 pound sea scallops, halved
1 cup sliced button mushrooms or 3 to 4 oyster mushrooms
1 teaspoon sesame oil
1 clove garlic
1 cup cherry tomato halves
2-3 thin green onions, sliced
2 cups hot cooked rice

Cook asparagus until crisp-tender, about 3 to 5 minutes. Drain and rinse under cold water.

Combine chicken broth, cornstarch and soy sauce and set aside. Stir-fry scallops and mushrooms in oil with garlic until scallops are just cooked through, about 4 minutes. Stir in cornstarch mixture. Cook, stirring, until sauce thickens.

Add drained asparagus, tomatoes and green onions; heat. Add pepper to taste. Serve over rice. Makes 4 servings.

Approximate nutritional analysis, per serving: 270 calories, 3 g total fat, 0.5 g saturated fat, 30 mg cholesterol, 300 mg sodium. *

Asparagus, Papaya and
Shrimp Pasta Salad

1 pound asparagus
1 medium papaya seeded, peeled and halved
1/3 cup light sour cream
1/4 cup papaya or mango nectar
1-1/2 tablespoon bottled mango chutney
Peel of 1/2 lemon, grated
6 ounces fusilli, rotelle or other curly pasta, cooked, rinsed and drained (about 3 cups cooked)
1/3 pound small shelled and cooked shrimp
1/4 cup green onions
8 Boston or bibb lettuce leaves

Trim tough ends off asparagus spears and rinse. Cook in a small amount of water until crisp-tender, 3 to 5 minutes. Do not over cook. Drain and rinse in cold water. Set aside 12 spears to chill; cut remaining asparagus into 1 inch pieces.

Cut half of papaya into eight thin, lengthwise slices; chill. Cut remaining half into bite-size pieces.

Combine sour cream, nectar, chutney and lemon peel. Add cooled pasta, mix well. Stir in asparagus and papaya pieces, shrimp and green onions. Chill briefly.

To serve, spoon pasta mixture on lettuce leaves and arrange papaya and asparagus spears around. Garnish with lemon twists or wedges and fresh mint, if desired. Makes 4 servings.

Approximate nutritional analysis, per serving: 330 calories, 5 g total fat, 3.5 g saturated fat, 70 mg cholesterol, 130 mg sodium.*

Asparagus Casserole

1-1/2 cup water
1-1/2 cups chicken stock
1 teaspoon salt
1 pound asparagus
2 tablespoons butter
1 small onion
3 cloves minced garlic
1 cup uncooked long-grain rice
1/2 cup diced red bell pepper
1/2 cup grated Parmesan cheese

Mix all ingredients, pour into 2-quart casserole and cover. Bake at 400 degrees for 20 minutes. Stir and bake another 20 minutes.

Approximate nutritional analysis, per serving: 330 calories, 11 g total fat, 6 g saturated fat, 25 mg cholesterol, 1,200 mg sodium.*






Click for online
calendars and events.
E-mail to Features Editor
---
---
© 1999 Honolulu Star-Bulletin
https://archives.starbulletin.com