---
Wednesday, February 3, 1999
Auntie Pasto's
serves up 2nd
isle outlet


The Italian restaurant will be
opening another location
on Kapahulu Avenue

By Peter Wagner
Star-Bulletin

You might call Auntie Pasto's a victim of its success. Lines got so long outside the popular Italian restaurant, on the corner of Beretania and Pensacola streets, that some customers began to drift away.

But owner Ed Wary hopes to win them back with a second Auntie Pasto's -- sporting the same noisy atmosphere and affordable food -- on Kapahulu Avenue.

"All I'm doing is adding seats to the existing restaurant, except it's across town," Wary said.

The new Auntie Pasto's, to open in May or June, is at 559 Kapahulu Ave., formerly occupied by the Internet Cafe. Wary has a 10-year lease on the property and is spending about $500,000 on renovations.

The new location will seat about 110 and have 75 to 80 employees, compared with 84 seats and 50 workers at the Makiki restaurant, Wary said.

"It's going to be simple, no pretensions, but we're going to do some new things," Wary said.

Look for a longer menu, a bar, a closed kitchen and some new items -- including fried stuffed olives.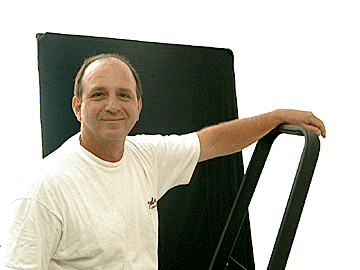 By Craig T. Kojima, Star-Bulletin
Auntie Pasto's owner Ed Wary, whose restaurant features
low prices and informality, will be moving into the site
previously occupied by the Internet Cafe.
---
But Wary, who grew up in an Italian neighborhood in New England, won't give up the tumblers he uses for wine glasses.

"That's part of the personality and character of a true neighborhood Italian res-taurant," he said.

"There's a lot of informality. You don't go on pretentiousness."

Auntie Pasto's hit its peak about five years ago, averaging close to 500 diners a night. Business has since dropped to under 400 diners a night, still brisk but disappointing.

"It was phenomenal," Wary said. "Lines went down the sidewalk for half a block."

Wary is a partner with Barry Silverman in Silverware Inc., which owns and operates Rodeo Cantina at Aloha Tower Marketplace, Dixie Grill on Ward Avenue, and food service at the Elks Lodge in Waikiki.

Auntie Pasto's is a separate venture owned and operated by Wary, who opened three Auntie Pasto's restaurants in Houston, about five years ago. One of the Texas restaurants has since closed.

Wary, who graduated from the University of Hawaii School of Travel Industry Management, started out in 1979 with the Bishop Street Cafe, in the Dillingham Transportation Building downtown. He opened Auntie Pasto's in 1983, looking to fill a niche with hearty Italian fare with entrees below $10.

"There's not much in the reasonably priced category in this town," he said. "I still can't believe people will go out and spend $100 on a dinner."

Wary sees no point in a hostess greeting customers -- you wouldn't have one greet guests in your home, he says -- and he's dispensed with table menus, relying on a large board hung on a wall.

"It always annoyed me to go into a restaurant and you really couldn't let loose and be yourself," he said. "I want people to have the ability to laugh out loud if they want to and not worry if they're disturbing someone at the next table."
E-mail to Business Editor
---
---
© 1999 Honolulu Star-Bulletin
https://archives.starbulletin.com