---
Tuesday, February 2, 1999



P R O _ B O W L
---
Fu's havin' fun


The Steelers' running back
has returned home to enjoy
Pro Bowl week

By Pat Bigold
Star-Bulletin

None of the 10 NFL players in Friday morning's Rookie Beach Bowl will feel more at home in the sand than Kalihi's Chris Fuamatu-Ma'afala.

The 5-foot-11, 255-pound running back for the Pittsburgh Steelers will get to catch passes from Indianapolis Colts quarterback Peyton Manning, the No. 1 draft pick of 1998, in a four-on-four flag football game starting at 11 a.m. at Ft. DeRussy Beach.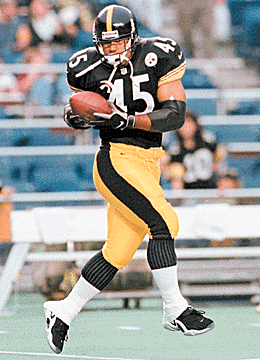 Associated Press
Chris Fuamatu-Ma'afala says his rookie NFL season
"Wasn't as hard as I thought it would be."
---
Fuamatu-Ma'afala has wanted nothing more than to be home again, even though a promising rookie year in Pittsburgh earned him a devoted fan following and the affectionate nickname, ''Fu."

As soon as the Steelers finished their season, he hustled back to his family's residence in Mayor Wright Housing. He wanted to surprise his mother, said his older brother, Tenari Ma'afala.

While other Steeler players went out to clubs in their spare time, Fuamatu-Ma'afala spent lots of money on long-distance calls to his family, fiancee (Adriana Wilson of Waianae), and friends. That's just the way he is, and Steelers public relations manager David Lockett said Fuamatu-Ma'afala's genuineness was not lost on Pittsburgh's working class fans.

The former St. Louis School all-state selection remembers the first time the Steelers sent him out alone to sign autographs at a mall function.

''I said to the lady setting things up for me that I was kinda embarrassed to do this because there's gonna be only four people waiting in line to get my autograph," said Fuamatu-Ma'afala.

A few hundred showed up, and he developed writer's cramp signing his full name on copies of his picture, magazines, footballs, helmets and other souvenirs.

''The fans ask all kinds of questions," he said. ''The little kids want to know why my name is so long. The adults might tell me what they think about Kordell (Stewart, the Steelers' quarterback)."

Fuamatu-Ma'afala said he was expecting a tough first year learning the plays in the NFL. But things went a lot better than he expected.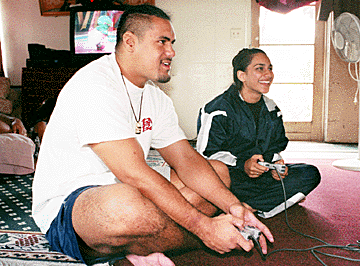 By Kathryn Bender, Star-Bulletin
Chris Fuamatu-Ma'afala plays video games with his
girlfriend, Adriana Wilson, at his home.
---
''It was shocking because it wasn't as hard as I thought it would be," he said. ''After a while of getting used to playing at that level, it started getting easier."

Fuamatu-Ma'afala was used primarily as a blocker on third down and on special teams. But he actually tied four-time Pro Bowl running back Jerome Bettis in touchdowns last season with three.

The difference was that Bettis had 290 carries (1,046 yards) and 12 receptions (66 yards), and Fuamatu-Ma'afala touched the ball only 16 times -- seven times on rushes (30 yards) and nine times on receptions (84 yards).

Two of Fuamatu-Ma'afala's touchdowns were rushes and the other came on a 26-yard pass play.

He scored two touchdowns during the exhibition season and another in a scrimmage against the Washington Redskins.

The Steelers have already told Fuamatu-Ma'afala that, while Bettis is still the franchise, they will put the ball in his hands more often next season.

''They said they're going to get me more involved with the offense," he said. ''Like on third down, they'll try to get me the ball a little bit more."

Fuamatu-Ma'afala said that the highlight of his rookie season was his 5-yard touchdown burst out of the shotgun formation against the Green Bay Packers on Monday Night Football, Nov. 9, at Three Rivers Stadium.

It was special to him because of who he had to beat to get into the end zone: 13-time Pro Bowl defensive end Reggie White.

White, the NFL's all-time sack leader, plans to retire after playing in Sunday's Pro Bowl.

''It came on a draw play," said Fuamatu-Ma'afala. ''I took the handoff and I remember cutting to my right side, and Reggie plays left end, so he was on my right side. I saw him, and, oh, I was kinda panicking but then I knew my tackle had him locked up. He came off the block and was still able to get an arm on me but by then I was on the goal line so I just dove in."

The NFL highlight film shows Fuamatu-Ma'afala diving deep into the end zone past White, who seemed to get only a piece of his ankles.

''That was one awesome moment just knowing that Reggie White tackled me," he said.

Fuamatu-Ma'afala said Bettis has been like a big brother to him.

In a nationally televised game against the Carolina Panthers, that was obvious to viewers as Fuamatu-Ma'afala ran and hugged ''The Bus" after demolishing a safety on his first run into the secondary.

''I was frustrated during camp and I was having a hard time learning the plays," he said. ''So I told Jerome that if I ever got in the secondary, I was gonna let out my frustrations. When I did, I saw him getting all excited so I ran over to him."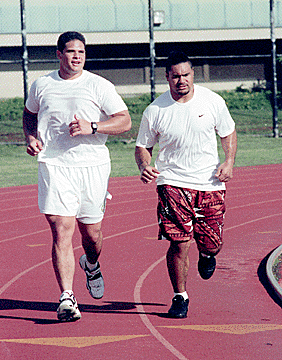 By Ken Sakamoto, Star-Bulletin
Chris Fuamatu-Ma'afala, right, works out with Olin Kreutz
of the Pittsburgh Steelers at the UH track last week.
---
Fuamatu-Ma'afala said that was the hardest hit he took all year.

''I was hurting and dazed after the game," he said. ''I was trying to cut. But at last moment when I knew I couldn't beat him to the outside, that's when I lowered my shoulder. I remembered the stadium was going crazy."

Fuamatu-Ma'afala said Bettis looked out for him.

''If I ever needed anything, he was ready to help," he said. ''When my mom was coming over to visit, he said he knew a guy at a limo service who could pick her up at the airport."

Fuamatu-Ma'afala shied away from that offer.

''I don't like to bother people," he said.

But one day when he had to get to a talk a show appointment, and had no transportation, Bettis made sure he went in the limo.

''He also helped me with the defenses, what to read, the players, who likes to come hard, who likes to juke, who likes to swim, when to cut," said Fuamatu-Ma'afala.

He said the big difference next training camp will be his comfort level.

''Last year, it was scary for me," said Fuamatu-Ma'afala, who left Utah for the NFL draft during his junior year. ''I didn't know what I was getting into. Now I believe I can play with the big boys."




1999 Pro Bowl events

Wednesday

Pro Bowl Kickoff Rally Pro Bowl players, the Pro Bowl Cheerleaders and mascots at Tamarind Park, noon to 1 p.m. Free.

No Hope in Dope Youth Clinic NFL stars help local youth football participants with football skills and lessons on life. Kaneohe Marine Base, 3 to 5 p.m. Advanced registration required, 233-4635.

Thursday

AFC Team Practice Aloha Stadium, 8 a.m. Free. Enter through Gates 3 and 4.

Hawaii Sports Hall of Fame Opening NFL stars, Pro Bowl Cheerleaders at the official opening of the new Hawaii Sports Hall of Fame. Bishop Museum, noon.Free.

Topps Card Show and Pro Bowl Experience Free autographs from NFL stars and Pro Bowl Cheerleaders, drawings for prizes, interactive games and more. Blaisdell Exhibition Hall, 1 p.m. to 9 p.m. Single day tickets, $5 for adults, $3 for children under 12. Three day passes, $12.50 for adults, $5 for children under 12.

Friday

NFC Team Practice Aloha Stadium, 9 a.m. Free. Enter through Gates 3 and 4.

NFL Rookie Beach Bowl Four-on-four flag football game with ESPN celebrities, cheerleaders. Hilton Hawaiian Village/Fort DeRussy Beach, 11 a.m. to noon. Free.

NFL Charities Pro Bowl Golf Classic Play golf with NFL personalities. Ko'Olina Golf Course. Registration 11 a.m. to 12:15 p.m., play begins at 12:30. Advanced registration required. Information: 233-4635.

Topps Card Show and Pro Bowl Experience Blaisdell Exhibition Hall, noon to 9 p.m.(See Thursday).

Pro Bowl Pau Hana Party Music, free autographs from NFL stars and the Pro Bowl Cheerleaders, and "Taste of the Pro Bowl" food festival. Aloha Tower Marketplace, 5 p.m. to midnight. Free.

Saturday

Pro Bowl Cheerleader/Dance Competition and Free Clinic High school cheerleaders and dancers from Hawaii and the mainland compete. Waikiki Shell and Kapiolani Park Bandstand, 9 a.m. to 11 a.m. Also free clinic. Competition tickets $5 at Waikiki Shell Box Office.

Practices and Media Photo Day Final practices and team photo shoots. Aloha Stadium, 10 a.m. Free.

Topps Card Show and Pro Bowl Experience Blaisdell Exhibition Hall, 10 a.m. to 8 p.m.(See Thursday).

Pro Bowl Family Day Afternoon appearances by NFL Pro Bowl players and cheerleaders. Sea Life Park, 9:30 a.m. to 5 p.m. Kamaaina rates for residents and military are $12 for adults and $6 for children 4 to 12 years of age. Information: 259-7933.

Sunday

Pro Bowl Tailgate Party Official Pro Bowl Tailgate Party, 10 a.m. to 12:30 p.m., inside Aloha Stadium. Advanced purchased tickets and game tickets required. Information: 488-0924.

AFC-NFC Pro Bowl Game Kickoff at 1 p.m., Aloha Stadium.



E-mail to Sports Editor
---
---
© 1999 Honolulu Star-Bulletin
https://archives.starbulletin.com