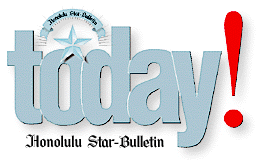 ---
Hawaii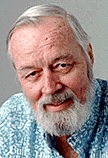 By Dave Donnelly
Tuesday, February 2, 1999
---
Mo' festivities
to come

THERE was much hoopla in the air before, during and after the grand opening of the Battleship Missouri Memorial at Pearl Harbor Friday. Navy Captain Lee Klass, the Missouri's last commanding officer, was keynote speaker at the opening ceremony. While here, he stayed at the Waikiki Prince Hotel, which was a thrill for marketing manager Liana Mulleitner since her dad, Sergio Domondon, a retired Air Force major, volunteers as a crew member tour guide on the "Mighty Mo." ... And when KSSK's Michael W. Perry and Larry Price did their radio show one day last week, 44 listeners enjoyed breakfast and got a tour of the ship. It was broadcast on the birthday of Gen. Douglas MacArthur and among those interviewed was Walter Lassen, a member of the ship's first crew. His son, local artist Christian Lassen, was on board for the first time in his life, getting a feel for the war stories his father had told him when he was a kid ...

ONE final Missouri note: The Masons will be holding their 1999 National Conference of Grand Masters and Grand Secretaries of North America on board the ship Feb. 20, and the public is invited to attend. Ceremonies will involve both the Missouri and the USS Arizona Memorial, the first such commemoration aboard both sites. More information on attending, call 531-9050 ... I thought surely that the NBC movie starring Shelly Long which aired last night, "Vanished Without a Trace," would explain what happened to the actress after she left "Cheers," but no such luck ...

Eclectic music

DON'T ask Symphony principal pops conductor Matt Catingub what he does in his spare time away from the orchestra. For starters, he just completed producing and recording the Society of Seven's new album. And after his upcoming concert with Hapa and Kenny Loggins on Feb. 9, he'll begin preparations for recording another album for Concord Jazz on Feb. 22. Matt and a big band will do a new swing album called "Big Kahuna's Copa Cat Pack." It'll be recorded at George Lucas' Skywalker Sound in California and with Matt involved, is sure to have an island flair. Oh yes, in March Catingub will tour with Jack Jones in England and in May will join Jimmy Borges in New Zealand for a performance of their salute to Frank Sinatra with the Auckland Philharmonia ...

SPEAKING of the SOS, they're hopping on the 30 year bandwagon and celebrating three decades in the Outrigger Main Showroom. And just a day after tomorrow's "Stir Fry" of Yours Truly at the Hawaii Theatre to mark 30 years of three-dotting, Communications Pacific is holding its own 30th anniversary party. They're now a part of Hill & Knowlton. Former Comm-Pac boss Bill Cook is flying in from the Big Isle with wife Patti for both celebrations ...

West of L.A.

TALK about extremes: Jim West spends half of the year in L.A. and the other half in Hana, Maui! He's a slack-key guitar artist and since wife Jan's family home is in Hana, commuting seemed the perfect way to live. West, who studies the Hawaiian language both here and in L.A., will be releasing a new slack-key CD called "Coconut Hat" in a couple of weeks. All but two are original compositions. West also writes and produces music for film and TV, and did the slack-key background music for the Honda commercial where tourists pile off a bus to take a picture of -- a Honda! One of his more interesting clients is "Weird Al" Yankovic, who fell in love with Hana when invited over for a visit. Doesn't sound like Al is so Weird to me ...

---




Dave Donnelly has been writing on happenings
in Hawaii for the Star-Bulletin since 1968.
His columns run Monday through Friday.

Contact Dave by e-mail: donnelly@kestrok.com.
E-mail to Features Editor
---
---
© 1999 Honolulu Star-Bulletin
https://archives.starbulletin.com