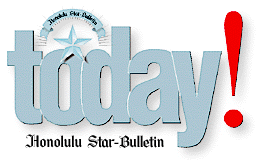 ---
Monday, February 1, 1999

By Dean Sensui, Star-Bulletin
Tyrannosaurusrex, above, was the big little guy that gave
Michael Furuya recognition in the world of dinosaur
models and magazines.

At one time dinosaurs like Tyrannosaurus rex
roamed the earth, and now the mighty beast
can inhabit your back yard or den --
in miniature form, of course,
thanks to artist Mike Furuya

Story By Burl Burlingame
Star-Bulletin

MIKE Furuya wasn't the kind of kid who glued together model kits. Nor was he the kind of kid who was minutely obsessed with the seance-science of paleontology, imagining what dinosaurs must have looked like, able to rattle off names like Archaeopteryx, Procompsognathus, Ornitholestes, Corythosaurus, Deinonychus, Pterodon.

But no kid is completely immune from the echoing call of prehistoric beasts.

"Triceratops," says Furuya dreamily. "I really liked Triceratops. Something about those three horns, that aggressive, rhino-like design."

So it's kind of ironic that Furuya is now a creator of dinosaur model kits. The second "kit" from Furuya Studios is of a Stegosaurus, and has been well-reviewed in the model-dinosaur trade press.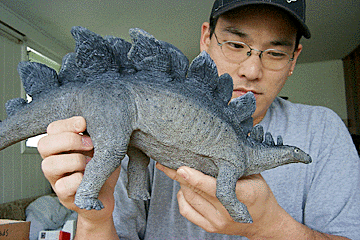 By Dean Sensui, Star-Bulletin
The Stegasauraus sculpture Michael Furuya
holds is a 1/20th scale model.
---
Model-dinosaur trade press? You mean you don't read Prehistoric Times or the Fossil Record? Model dinosaurs are now an industry. Used to be, sonny, that the only toy dinosaurs available were clunky, waxy figures or mushy plastic models that resembled lumps of clay rather than living creatures. No more. An explosion of interest in the subject, coupled with advances in casting model pieces in epoxy resin rather than melted styrene, have attracted scientist/sculptors to recreate the largest creatures on Earth as tiny works of art.

"Man, I remember looking at pictures in Life magazine of dinosaurs and building Palmer-brand kits of dinosaur skeletons," said Pearl City master modeler Dennis Sienkiewicz. "I used plenty of glue, which melted the plastic and the whole thing would droop. Kind of discouraging. But the new kits are really good, and really accurate -- so far as we know."

Over the last decade, dinosaur sculptures have become a niche collectible. Whether they're a model kit for a few dollars or an original, hand-painted limited work of art costing several thousand dollars, dinosaurs are back, big-time. Serious, knowledgeable collectors include Slash, the guitarist for Guns 'N Roses, whose mansion is a veritable prehistoric museum.

But back to Furuya. Already a known Honolulu artist -- he's the illustrator of Lisa Matsumoto's "B-52 Cockroach" book -- he had dabbled in sculpting animals for years. Then came "Jurassic Park" and "The Lost World."

"Wow, they really rekindled my interest!" said Furuya. "I was inspired to do a T. rex sculpture."

Tyrannosaurus rex -- the king of the meat-eaters, that 40-foot, multi-ton land shark -- is what people think when they think dinosaur, if they aren't visualizing the Sinclair Oil sauropod.

Furuya puttered about with his sculpture and then discovered Prehistoric Times at the local magazine rack. "It was exactly the same sort of thing I was doing, so that helped too. I wasn't alone," he said.

Furuya decided his T. rex needed to be about 2 feet long, which worked out to 1/20th scale. He worked out the bone structure from drawings of the real thing, then padded it up with chunks of balsa wood, recreating muscle, gut and sinew. The final layer is a skin of a polymer clay called Super Sculpey, which gets hard when it's fired in a kitchen oven.

Details are sculpted with his favorite tool, the knob atop an old television aerial. Skin textures are pressed in with organic stamps, including lychee skin.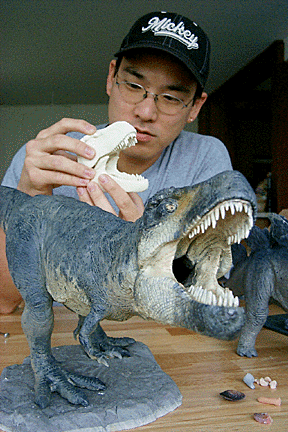 By Dean Sensui, Star-Bulletin
Mike Furuya's Tyrannosaurus rex was reviewed
glowingly in specialty publications and
online dinosaur-model sites.
---
"I spent a lot of time at the zoo taking pictures of things, like close-ups of lizard skins," said Furuya, who has a general interest in wildlife. His library is also chockablock with dinosaur and nature books. Lizard-like details, like scutes, were added to the sculpture. It was then taken apart and room-temperature-vulcanizing rubber molds were made of the various parts.

"I had trouble getting the RTV mixture to 'kick' properly. I think it's the humidity in Nuuanu," said Furuya.

He "slosh-molded" the parts, swishing resin around inside the molds, winding up with hollow parts when the resin hardened. Not happy with the surface detail, he's now farmed out the production end to a Texas manufacturer called Alchemy Works. The company uses pressure molding to ensure the parts cast perfectly.

He priced the kit competitively with others of the same size -- $158 for the basic parts, $518 for one professionally assembled and painted. For that price -- which includes postage -- you know you're dealing with original art work, not a toy.

Furuya took out full-page color ads in Prehistoric Times and then waited for the big money to start rolling in. It hasn't. So many dinosaur sculptors now crowd the field that sales have spread thinly for all of them.

His T. rex, however, was enthusiastically reviewed in several publications and online dinosaur-model sites, which was encouraging. Enough so that Furuya created the stegosaurus, also in 1/20th scale. Although it's not as large as the T. rex, it's much more difficult to put together because of all of its plates and spikes.

Accuracy matters. "You'll hear from experts if the proportions are off," said Furuya. "I redid the stego's head a couple of times. As I was working on the T. rex, new discoveries indicated that the tail was shorter than we thought, so I had to change the master sculpture to reflect that."

While individual modelers can paint their dinosaurs any way they want, Furuya goes for a palette of muted grays and browns. "Large mammals like rhinos and elephants are like that, and I figure large dinosaurs were similar. The T. rex colors and skin patterns are also based on that of the monitor lizard."

"The fun thing about building dinosaur models is you can paint them any way you want. You can go crazy, and who's to tell you you're wrong?" said Sienkiewicz.

The jury's still out on whether Furuya Studios will become a leading dinosaur-model manufacturer. At any rate, Furuya will next sculpt a triceratops, his favorite dinosaur. "I'm going to make one, even if it's a single copy just for myself," said Furuya. "And I'm going to paint it just like a rhino!"

---

(Furuya Studios, 247-6343 or mike@ohia.com)






Click for online
calendars and events.
E-mail to Features Editor
---
---
© 1999 Honolulu Star-Bulletin
https://archives.starbulletin.com