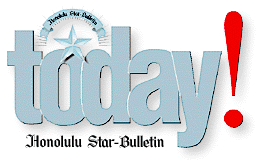 ---
Friday, January 29, 1999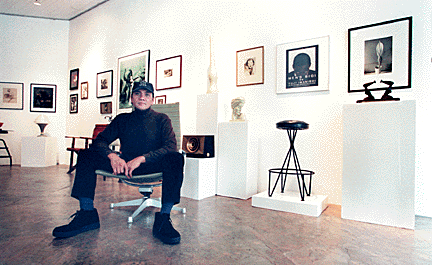 By Dennis Oda, Star-Bulletin
Errol Aczon is displaying a varied collection of items
assembled through decades of hunting and gathering.
---



If not for collectors,
much of our heritage
would be lost

By Nadine Kam
Features Editor

Pack rats put up with a lot of garbage. They are forever doomed to listen to the jeers of neatness freaks who can't comprehend the existence of boxes filled with unused "stuff."

If not for pack rats, however, our sense of history would be considerably duller. There would be no Titanic-era baubles to marvel over, and the printed word doesn't even come close to capturing the delicacy of Etruscan gold jewelry or the rich color of old tapestries.

Pack rats are therefore being saluted at Sisu Gallery, where artist Errol Aczon shares "A Collector's Passion." This avid collector describes his fellow pack rats in heroic, swashbuckling terms as "patrons of the art, archaeologists, historians, preservationists and time capsules all rolled into one.

"If you look at museums, most of their contents come from private collections."

Pack rats, then, are the Indiana Jones of the modern world, some exploring vast oceans in search of treasure-laden galleys. Of course, most pack rats confine their search to less romantic scenarios -- thrift shops, garage sales and garbage dumps.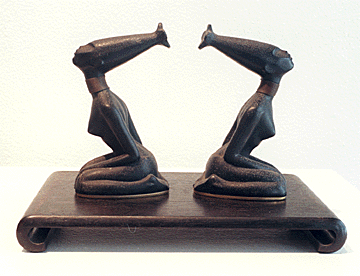 By Dennis Oda, Star-Bulletin
The sculpture "Female Nude" is part of Errol Aczon's
collection on display at Sisu Gallery.
---
A roving eye is almost a curse, Aczon said. "It's an addiction. Your eyes want so much.

"That little shop across the street -- I go there three times a day. You can never have enough money, even though most of the things I collect are inexpensive."

The show is the result of 25 years of collecting, and represents one-twentieth of Aczon's treasures. Best known around Honolulu as a fashion photographer, Aczon found himself concentrating on old photos over the past 10 years, and this passion is reflected in about half of the items on display. On view will be photographs by Bruce Weber, who was

responsible for helping to create the Ralph Lauren and Calvin Klein images; and Joe Rosenthal's "Flag Rising Over Iwo Jima," considered to be one of the Top 100 images of the 20th century.

Also on view are Arts & Crafts vases, examples of Art Deco work and small metal statues.

Although he's been accused by friends and strangers of being materialistic, and his parents keep asking when he's going to stop collecting, he said, "I don't spend much money and they know I don't go to Korean bars and waste my money that way.

"Maybe I don't have the kind of fun other people have going to bars and nightclubs, but I create great places to hang out."

Aczon said he got the idea for the show about two months ago after listening to yet another friend complain about living in a crummy apartment.

"I tell them, 'Let's go shopping.' It's possible to go to Goodwill, pick up a few nice nice things and arrange them in a way so that their place is transformed and they feel good about it. When you put effort into your surroundings, life becomes livable."

He also wanted to share his pieces because collectors learn a lot from each other.

"I have a friend in San Francisco who collects Lucite purses. She pays hundreds of dollars for them, and when I first saw them I said, 'This is just a toy bag. It's just plastic! Did women really use these?' Now when I look at them I can appreciate them. They're really little pieces of art."

Through such pieces, Aczon gains more insight into how people lived. One of the pieces in his exhibition is a silver bonbon dish, and it constantly reminds him of how casually we live today.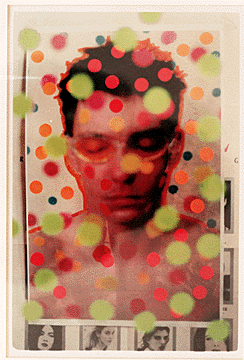 By Dennis Oda, Star-Bulletin
"Polka Dots," a photograph by Errol Aczon.
---
"We're more likely to get bonbons wrapped in foil and plastic, but that dish was once one of several presented as one course to each guest at a dinner table."

Aczon's passion developed at an age when most kids were interested only in collecting phone numbers of the opposite sex. Like typical teens, he was into his music posters, Jimi Hendrix and Pink Floyd records and sports cards, but he also passed by an antique store on his way home from school everyday, and one particular goblet caught his eye every time.

"Not knowing what it was, its color and shape attracted me. I saved for a long time to come up with the $20 to pay for it. Later on I found that it was an Art Nouveau design in a rare combination of pewter and copper." The piece is among the items being displayed.

Those who collect tend to gravitate to a few types of items, but Aczon said he collects objects that celebrate man's creativity and artistic achievement. That covers just about everything from plastic trinkets to vintage radios or Arts & Crafts vases.

However, even he can draw the line at such mass phenomenons as Beanie Babies and Furbies.

"You know, I don't understand that, but at the same time I do. There's always the prospect of something ordinary becoming valuable someday.

"Most people I know collect something, whether it's cars, clothes or music. Even people who are intellectuals could be said to collect thoughts. I wouldn't understand somebody who doesn't collect anything. I don't think I would hang out with them. Collecting is part of being human."

A Collector's Passion
on Display

Place: Sisu Gallery, 1160A Nuuanu Ave.
Dates: Through Feb. 18
Admission: Free
Call: 537-5880






Click for online
calendars and events.
E-mail to Features Editor
---
---
© 1999 Honolulu Star-Bulletin
https://archives.starbulletin.com