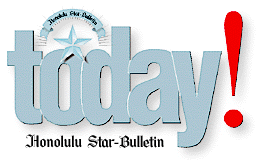 ---
Thursday, January 28, 1999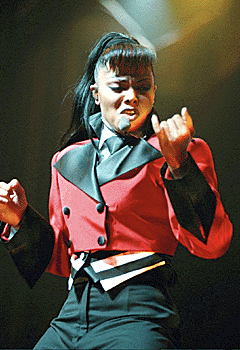 Associated Press
Janet Jackson plays the stadium Saturday.
---
Four very
visible men


Opening for Janet Jackson
is one in a series of
victories for 98°

By Tim Ryan
Star-Bulletin

"Hi I'm Drew, thanks for calling. What's up?"

That's Andrew John Lachey, one of the four members -- along with brother Nick, and friends Justin Jeffre and Jeff Timmons -- of the harmony-driven Ohio foursome 98°, one of the hottest guy groups on the planet. The group will open for Janet Jackson's "Velvet Rope" concert Saturday at Aloha Stadium. Lachey, 23, calls it "the biggest act (98°) has ever been associated with."

"She's a superstar and definitely more out there about her sexuality than some others we've toured with," Lachey said in a telephone interview from New York City. "That's kinda cool to us. We don't act like perfect goody-two-shoes either."

For the last two years, 98° has performed worldwide thanks to the success of a self-titled debut album on Motown, which spawned the gold hit "Invisible Man." A second album, "98° and Rising," spans styles from hip-hop-influenced R&B, to pop, to Euro dance.

Performing music has always been a dream for Lachey.

Motown
The members of 98° are, from left, Jeff Timmons,
Nick Lachey, Andrew Lachey and Justin Jeffre.
---
"How I got to the place where I'm actually living it, I don't know," said Lachey. "I wake up almost every morning thinking I have to go to a real job. We've been blessed and we know it."

98° started several years ago when Timmons moved from Ohio to L.A. to start a vocal group. A former member of that group, a classmate of the Lacheys from the Cincinnati School for Creative and Performing Arts, suggested Nick Lachey would be a perfect counterpart. Nick packed his things to head west. Jeffre joined the group next, followed by Andrew Lachey, who was working as an emergency medical technician in Brooklyn when he got the call.

"When I was a senior in high school I decided to go into emergency medicine," Lachey said. "I was doing that and loving it, then this opportunity presented itself. I knew I had to do it."

Since the July 1997 release of "98°," the group has been featured on several television programs, including "The Tonight Show," performing "True to Your Heart" with Stevie Wonder.

"That's the most fun song we've ever done," Lachey said. The song also appeared on Disney's "Mulan" soundtrack.

The group's rapid rise in popularity is "very weird," Lachey admits. "I was watching a quiz show recently and the answer to some question was 98°!" he said. "That people actually know my name, who I am, all kinds of stuff about me is flattering, but weird."

Lachey said his nickname is "Sprout," and fans can file this bit of trivia away. "When I was in the ninth grade a friend started calling me that because of those Jolly Green Giant commercials. See, the giant's sidekick was a sprout. And I am a little bit on the short side," said the 5-foot-6 singer.

The group hopes its fan base will reach beyond teen-agers. Music that is definitely not 98° is playing in the background at Lachey's apartment.

"That's Nina Simone," he said. "You can't listen to one type of music and expect to grow."

Janet Jackson

Opening Act: 98°
Date: 7:30 p.m. Saturday
Place: Aloha Stadium
Tickets: Only $65 seats remain, available at the stadium. Or charge by phone at 484-1122 or (800) 291-3999.
Call: 486-9300






Click for online
calendars and events.
E-mail to Features Editor
---
---
© 1999 Honolulu Star-Bulletin
https://archives.starbulletin.com