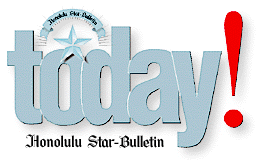 ---
Thursday, January 28, 1999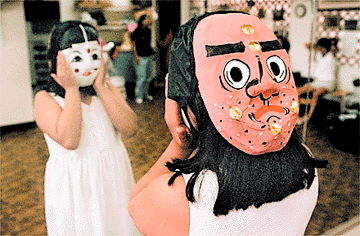 By George F. Lee, Star-Bulletin
Ashley Han, age 8, tries on a mask that has male
and female faces on its two sides.
---



Performers draw on Korea's
long tradition of
dramatic dance

Story by Stephanie Kendrick
Assistant Features Editor

Like Japan and China, Korea has its own mask dance tradition. But you'd be mistaken if you think all mask dances are created equal. It all comes down to attitude.

Most mask dances in Japan and China were part of classical or court traditions. But Korean mask dances were born of the folk dance tradition and were almost always performed outdoors by peasants, according to Halla Huhm Korean Dance Studio director Mary Jo Freshley.

"Korean mask dances were the common people's way of satirizing the upper class and kind of poking fun at them."

Some of these dances will be performed when the studio stages its fifth memorial recital Saturday at the University of Hawai'i at Manoa's Orvis Auditorium.

The event celebrates the work of Halla Pai Huhm, a dancer and choreographer who taught Korean dance in Hawaii from 1950 until she died in 1994.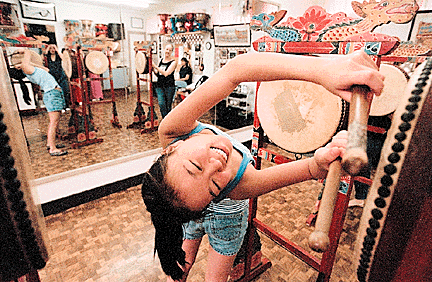 By George F. Lee, Star-Bulletin
Randi Ozaki leans way, way back to reach the
drum during a recent rehearsal.
---
Drawing on Korea's long tradition of dance drama, the performance will include four dances that use masks, three of them non-traditional dances choreographed by Huhm and one traditional dance called pongsan t'al ch'um.

The emphasis on vertical movement is so strong in Korean dance the performers almost seem to float suspended, like marionettes. Hands point upward, props are raised toward the ceiling. Gestures are large and the extension of limbs is exaggerated, as in Western ballet.

Modern dance fans will also notice some familiar features in Korean dance, Freshley said. Many students of the breath rhythm have commented on similarities. And Korean dance tends to have something of a swing quality because of an underlying triple meter.

A drum dance to celebrate the harvest has the air of a Native American powwow about it. The rapid rhythm of the music is coupled with slow, deliberate movements that build in intensity. Featherlike appliques on the dancers' hats further the parallel.

The recital also will feature a samulnori number. Samulnori is a lively 20-year-old Korean dance tradition that is gaining in popularity. It involves four dancers playing four different instruments.

The troupe also will perform a fan dance and three Huhm dances set to the popular Korean folk songs "Arirang," "Toraji" and "Pomtahryung."

Because Huhm traveled much of the time, Freshley has largely run the Halla Huhm Korean Dance Studio since 1989. Years ago, she began taking notes on Huhm's choreography. "I never throw anything away," she said.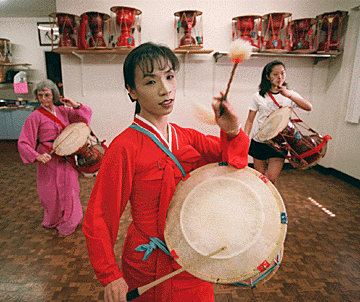 By George f. Lee, Star-Bulletin
Rehearsing for Saturday's recital are, from left, studio
director Mary Jo Freshley, her assistant, Jia Kim, and
student Jennifer Cho. Freshley studied dance with
the studio's founder, Halla Huhm.
---
Evidence includes a well-organized archive of documents and photographs that fills several shelves in the studio, as well as the main prop used in the studio's most recent boat dance performance at St. Louis school's Mamiya Theatre in 1997. The group had last done a boat dance in 1976 and Freshley had stored the boat under her house for 21 years, knowing it would be needed again.

Freshley moved to Hawaii in 1961 to teach health and physical education at Kamehameha Schools. She had always enjoyed dance and considered it to be an integral part of physical education. So in the summer of 1962, she signed up for the Japanese, Korean and Filipino dance classes offered at the UH.

Her Korean dance teacher was Halla Huhm, who was born in Pusan, Korea, and was recognized in 1979 as the first Outstanding Korean in Hawaii for her efforts to promote and perpetuate the Korean culture. She immigrated to Hawaii in 1949 but returned to Korea often to study with a variety of dance masters.

"Mrs. Huhm was a very charismatic lady and she had this great mission, to expose people to the Korean culture," said Freshley.

Freshley started teaching Korean dance in 1973, and following the death of Huhm in 1994, she retired from Kamehameha to devote herself to the studio.

For Saturday's recital, the troupe will consist of 40 dancers ranging in age from 8 to 60 and older. At 64, Freshley said she believes she's the oldest dancer at the studio.

Most of her students are adult women from Korea whose children have gotten old enough to allow their mothers free time for cultural pursuits.

Halla Huhm Korean
Dance Studio

Recital: 7:30 p.m. Saturday
Place: Orvis Auditorium, UH Manoa
Tickets: $5
Call: 949-2888






Click for online
calendars and events.
E-mail to Features Editor
---
---
© 1999 Honolulu Star-Bulletin
https://archives.starbulletin.com