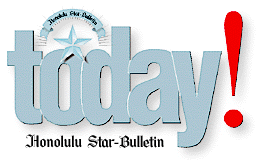 ---
Hawaii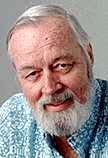 By Dave Donnelly
Thursday, January 28, 1999
---
Eroica trio
draws crowd

STORIES here about the "babes" in the Eroica Trio did wonders for attendance. So many phone calls were generated that Orvis Auditorium was sold out with a stand-by waiting list. Amazing how interested in music certain people become when they find out the cellist doesn't look like Yo-Yo Ma, or "Yo mama," for that matter. Sara Sant'Ambrogio, my pick of a lovely litter, was also singled out by the L.A. Times who called her "the Garbo of the cello." She did some bravura swoops at Orvis that haven't been seen here since the late Jacqueline DuPre, as depicted in "Hilary and Jackie." Incidentally, the stand-by audience members' patience was rewarded when a Punahou-exit crash tied up the freeway for hours, causing some 30 ticket holders to be stuck in traffic until well after 9 p.m. The "babes" are on a statewide tour that includes Kauai, Hilo, Kahilu in Waimea and the Lanai Visiting Artist Program, as well as the Orvis concert ...

Pro Bowlen

DENVER Broncos owner Pat Bowlen, who also owns Nick's Fishmarket, plans to spend a lot of time at his restaurant here during Pro Bowl Week Feb. 1-7, especially with nine Broncos in town for the game. But he has some more important business prior to that, inasmuch as the Super Bowl is Sunday and his team is taking on the Atlanta Falcons. Bowlen is hoping that Atlanta coach Dan Reeves doesn't get in the last laugh. You see, earlier in the season, Bowlen wrote a note to Reeves, whom he'd previously fired, congratulating him that the Falcons were boasting a 5-1 record at the time. He added that perhaps they'd meet in the Super Bowl one day, adding "Ha ha." That day has now come, and Bowlen has to be hoping big time that he comes out a winner ...

NICK'S is also among the restaurants providing food for those attending the "Stir Fry" Feb. 3 where a dozen or so ingrates will say awful and I'm sure untrue things about me. Others include, alphabetically, Auntie Pasto's, Brew Moon, Chai's Island Bistro, Chart House, Columbia Inn, Dixie Grill, Garden Cafe, Havana Cabana, Indigo, Murphy's Bar & Grill, Palomino's, Shipley's Ale House and Sunset Grill. Other eateries are expected to join in along Pauahi Street near the Hawaii Theatre between Bethel and Nuuanu. All that, beverages and the show are included in the $75 donation to KHET-TV ...

THE lure of Hawaii has caused Joseph Randazzo to pull up stakes in New York, where he was art director for Vidal Sassoon on Fifth Avenue, and join the Paul Brown Salon at Ward Centre. Randazzo has been traveling to the islands for years, and has long wanted to move here. He cites the opportunity to work with the Paul Brown team as the deciding factor in his decision ... After the MasterCard Tournament on the Big Isle, Japan's Isao Aoki took time to offer some professional advice to appreciative junior golfers at the Waikoloa Kings Course ...

Gaselectric car

HOW would you like to fill up your 13.2 gallon gas tank only once every 850 miles. Impossible, you say? Not at all. As part of the Asia-Pacific Environmental Summit Conference here, Toyota will be showing off its new "hybrid" car, the Prius. Slated to be available to consumers next year, the Prius will be the world's first mass-produced hybrid auto using both a gas engine and an electric motor, which will reduce carbon monoxide emissions by 90 percent while doubling the fuel efficiency. And no need to "plug it in," due to the gas engine. Selected guests will be test-driving the Prius Monday at the Hilton Hawaiian Village ...

---




Dave Donnelly has been writing on happenings
in Hawaii for the Star-Bulletin since 1968.
His columns run Monday through Friday.

Contact Dave by e-mail: donnelly@kestrok.com.
E-mail to Features Editor
---
---
© 1999 Honolulu Star-Bulletin
https://archives.starbulletin.com