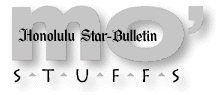 ---
Wednesday, January 27, 1999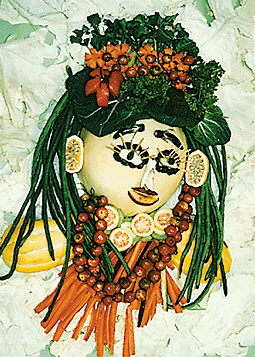 National 5 A Day Salad Head Competition
---
Young 'Salad Heads'
at Mokapu take first prize
in competition
They played with their food and it earned them a $400 reward.

Kindergarteners at Mokapu Elementary School built a "Salad Head Woman" out of fruits and vegetables and won first prize in the 1998 National 5 A Day Salad Head Competition.

The contest, sponsored by The Association for Dressings and Sauces, challenged school kids to build an edible sculpture with at least 15 fruits and veggies, and one or more dressings or sauces. Judging was based on photos.

Local entries were collected by the State Department of Health. The Mokapu team won first place (a bagel-and-pizza party) locally as well, in November.

Leading the team were teachers Bernie Leonard, Linda McCormick, Bernie Spencer and Rose Thompson. Their national first-place award was for the kindergarten-grade 2 division, South-west/West/Hawaii area.

Kalihi-uka School won an honorable mention award in the same age division for a salad-head clown; Pukalani Elementary won honorable mention in the division for grades 3-5 for rendering Winnie the Pooh in fruits and veggies.

Kalihi-Uka teacher Judith Tanaka said, "Prior to this project, many of the children were reluctant to eat or even taste their vegetables and fruits, but now more are willing to try."

The national grand-prize winner was Hollywood Elementary in Hollywood, Md., where students made a salad head of Harriet Tubman. They won $2,000.

For details on entering this year's contest, write: 1999 National 5 A Day Salad Head Competition, The Association for Dressings and Sauces, 5775 Peachtree-Dunwoody Road, Suite 500-G, Atlanta, Ga. 30342. Include a self-addressed, stamped, business-size envelope. Or log onto http://www.dressings-sauces.org.
---
Bowl parties without any fuss
Want to have a Super Bowl party but don't want the mess? Several restaurants will be lugging out their big screen TVs for football fanatics to enjoy Sunday. Super Bowl XXXIII kicks off around 1 p.m. but pre-game festivities begin at 7:30 a.m. on KHON-TV2.

At around 11 a.m. Ilikai Hotel will start the fun at Coconuts Nightclub. From 11 a.m. to noon, Bud girls will be available for autographs. The first 50 attendees will receive a free ticket to Bud Bowl 99, a cyber "stadium" where people can win prizes. There also will be a raffle, and food and drinks for purchase. Donation. Call 949-3811.

Other restaurants offering special pupus Sunday include: Havana Cabana, 2 p.m., call 524-4277; Rumours Nightclub, noon, reserve at 955-4811, ext. 4257 or 4235; and Ryan's Grill, 10 a.m..

Contest: Win a weekend for two at Kedron Valley Inn in Vermont by entering Kretschmer Wheat Germ's Easy & Delicious Recipe contest. There are three categories: 1) Muffins, Biscuits, Coffee Cakes and Other Breads; 2) Cookies and Other Desserts; and 3) Main Dishes. Each recipe must include at least one-half cup of wheat germ and no more than 12 ingredients (excluding water, salt and pepper). Recipes must be legibly written or typed on 8-1/2-by-11-inch paper with entrant's name, address, zip code and phone number with area code. Send recipe(s) and a cash register receipt or UPC from a Kretschmer wheat germ jar to: Kretschmer Wheat Germ Recipe Contest, P.O. Box 530, Barrington, Ill. 60011. Entries must be postmarked by midnight April 1 and received by April 8. Entries e-mailed to KWGContest@aol.com must be received by 11:59 p.m. April 1. For contest rules and prize winners recipe brochure, send a stamped, self-addressed business-size envelope to: Kretschmer Wheat Germ Contest Rules, P.O. Box 543, Barrington, Ill 60011 or e-mail a request to KWGContest@aol.com.


Click for online
calendars and events.
---
Send WatDat? questions, stories
or any other story ideas or comments to:
Features, Honolulu Star-Bulletin, P.O. Box 3080,
Honolulu, HI 96802 or send a fax to 523-8509
or E-mail to features@starbulletin.com.
Please include your phone number.
E-mail to Features Editor
---
---
© 1999 Honolulu Star-Bulletin
https://archives.starbulletin.com