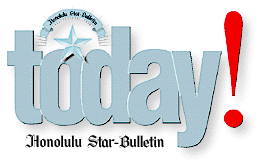 ---
Wednesday, January 27, 1999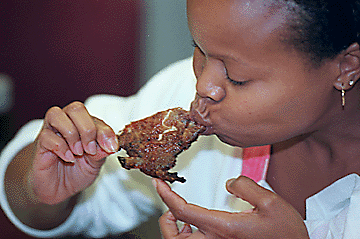 By Kathryn Bender, Star-Bulletin
Reader judge Rhonda Harrelle-Scott, is on a
mission to collect soul food recipes, and offered
up a recipe of her own.
---
Judge says her
recipe's as good as Deb's
winning secret

By Betty Shimabukuro
Star-Bulletin

Debra Hopkins wants to keep her first-place rib recipe to herself, but Rhonda Harrelle-Scott, a judge in our tasting competition, is more than willing to share hers.

Harrelle-Scott learned to cook from her grandmother in North Carolina and has been pursuing recipes for years. "I started out to recreate the dishes of my heritage. I started an odyssey to collect soul-food recipes."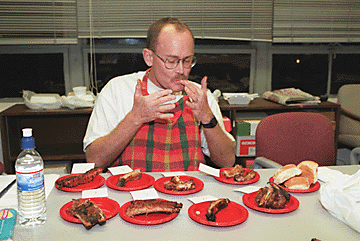 By Kathryn Bender, Star-Bulletin
Kent Davis found most of our rib entries finger-lickin' good.
---
She says these ribs are "sweet and spicy, jiggly-tender." Her hints: Choose ribs that are well-marbled but not excessively fatty and don't salt the ribs; salt pulls juice from the meat. Salt the sauce instead.

Ignore this advice and you'll have dry ribs. "Sauce can't save a dry rib," she says.


Rhonda's Ribs

2-4 pounds pork rib racks
3 tablespoons dark brown sugar or honey
1/2 teaspoon each black pepper, chile powder, paprika
1/4 teaspoon Tabasco
1/8 teaspoon cayenne
1 tablespoon finely minced garlic
Barbecue sauce (recipe follows)

Rinse and dry ribs; cut into singles or doubles. Rub spices and brown sugar into ribs and knead well.

Place ribs in a baking pan lined with two layers of foil. Cover with more foil and seal.

Cook in a 400-degree oven 40 minutes. Open foil to release steam. Remove ribs to a large bowl. Discard fat and used foil. Re-line pan with fresh foil.

Dip ribs in sauce and return to pan. Bake uncovered in a 450-degree oven for 5-7 minutes, until a crust begins to form.

Dip in sauce again and return to oven for another 5-7 minutes.

Barbecue Sauce

1 large onion, chopped
2 tablespoons vegetable oil
1 cup water
2 tablespoons cider vinegar
1 tablespoon worcestershire sauce
Juice of 1 large lemon
6 tablespoons dark brown sugar
1-1/4 cup ketchup
1/2 teaspoon each paprika, celery seeds, chile powder, fresh grated ginger, Dijon mustard
3 drops Tabasco, or more to taste
Pinch each cayenne, cumin, coriander
Salt and pepper to taste
1 garlic clove, minced

Saute onion in oil until opaque but not brown. Meanwhile, mix all other ingredients except garlic and stir until sugar melts.

Add garlic to onions, cook slightly, then add sauce mixture and stir well. Cook uncovered 30 minutes over low heat, stirring occasionally.

Nutritional information unavailable.




Click for online
calendars and events.
E-mail to Features Editor
---
---
© 1999 Honolulu Star-Bulletin
https://archives.starbulletin.com