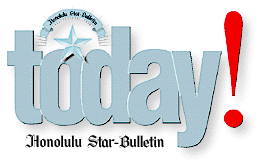 ---
Hawaii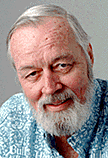 By Dave Donnelly
Wednesday, January 27, 1999
---
Bright forecast
for Gutierrez

WITH the weather being so much on the minds of people these days, it might be timely to note that casting Channel 4 weatherman Ben Gutierrez in the role of Orphan in Kennedy Theater's production of "Celebration," gives new meaning to his first song, "Orphan in the Storm." The musical opens Friday and runs through Feb. 7 ... And vocal stylist Loretta Ables will be orphaned, so to speak, as of Saturday when she ends a nine-year run at Lewers Lounge in the Halekulani. She's already looking for a new home ... And on a tragic note, at least 6,000 people were killed and 8,000 still missing following Hurricane Mitch in Honduras. Some 2 million people, a great many of them orphaned children, are living on the streets or in shelters. Three Oahu schools, Punahou, Iolani and Waipahu High held clothing drives to help the storm victims, but funds to send the clothes to Central America haven't materialized. That's why the Waldorf School is hosting a dinner with entertainment to raise funds to ship the donated clothes and see they reach the intended recipients. The dinner will be Saturday, Feb. 6 in Weaver Hall at Church of the Crossroads. Call the school for more info ...

Hungry for another

AFTER winning its 13th straight state football championship, sending the OIA off in a huff saying "We don't want to play you any more," the St. Louis Crusaders are still hungry for more. The team is in search of 17,547 pounds of food, the combined weight of the team. Not for them to nosh on, let me hasten to say, but to replenish food supplies for the Catholic Charities, Salvation Army and Hawaii Foodbank. In addition, for every dollar donated, the Foodbank will receive $20 worth of food. Donations are being accepted at the school through Feb. 5 -- if you'd like to help the Crusaders add a few pounds, call Nalani Bickson at 739-7777 ...

WHILE Byl Leonard is probably best known in town as an umpire of UH baseball games, he's also a composer, singer and musician who has a new CD out called "Traveling to the North." He's not talking Alaska, here, but the North Shore for surfing. The songs are an eclectic mix of Hawaiian, classical, rock and even Irish, the heritage of his dad. His trio performs Saturday nights at Murphy's Bar & Grill. As for Byl, wherever he may be, he's safe at home ...

WHEN Brew Moon opened in Ward Centre, it was a benefit for the Hawaii Theater. Now G.M. Danny Vasquez was quick to sign up as one of the restaurants which will be preparing food for the "Stir Fry" of Yours Truly on Feb. 3 at the same Hawaii Theater. This time, it's a benefit for KHET-TV ...

THE death of Hawaii sports legend Herman Wedemeyer this week sent Ron Jacobs scurrying to the Beckett magazine annual catalog which lists the value of cards from all sports. He discovered that a mint condition 1946 card of "Squirmin' Herman" in a St. Mary's uniform was valued at $500, highest price in the catalog ...

A Stone's ashes

AUTHOR Bob Stone, who with his artist wife Lola lived many years in Hawaii, died Jan. 8 of a heart attack in his new home in Thailand. As wife Lola put it, "My beloved Bob, having earned his right to leave, has gone on to the next phase of life." There was a Buddhist cremation ceremony presided over by their new Buddhist companions in Thailand. Stone, who authored nearly 100 books, left his wife with a last wish, that their be no funeral over his ashes after cremation. He did however, add a four-line verse: "When I die/A few should go where I lie/And, looking upward to the sky,/Wave goodbye." ...

---




Dave Donnelly has been writing on happenings
in Hawaii for the Star-Bulletin since 1968.
His columns run Monday through Friday.

Contact Dave by e-mail: donnelly@kestrok.com.
E-mail to Features Editor
---
---
© 1999 Honolulu Star-Bulletin
https://archives.starbulletin.com