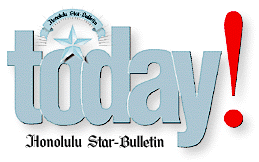 ---
Hawaii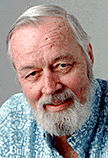 By Dave Donnelly
Monday, January 25, 1999
---
Boat Days all
over again

IT'S not likely to have a great effect on the airline industry, but judging from this weekend, luxury ship travel is booming. American Cruise Lines' Independence was in port as usual on Saturday, forcing the luxurious Crystal Symphony to dock at Piers 19 and 20. Then yesterday morning I watched the Queen Elizabeth II dock at around 7 a.m. It was to have come in an hour earlier, but it was still dark, and this way people got to see the grand ship arrive and dock at Pier 2. Shortly thereafter came the Vistafjord, which docked at Pier 9 adjacent to the Aloha Tower Marketplace, and in the afternoon, the Maxim Gorky docked at Piers 10 and 11 where the Indy normally stops when it's in town. Music greeted all the ships as did the fire boat and it was the closest thing to the Boat Days of old that we've had in some time. But try finding anyone to dive for quarters these days! You can thank City Councilwoman Rene Mansho for coordinating the efforts that went into making this Boat Day a success ...

THE prestigious Chaine des Rotisseurs had a big dinner dance Saturday night on the Crystal Symphony. As he was taking a stroll along decks in a light drizzle, Paul Klink of Klink Inc. ran into none other than Debbie Reynolds, and before he could stop himself blurted out, "Let's sing in the rain." I guess he could write it off to his ongoing "Live Aloha" campaign -- he's about to order another 100,000 stickers with that motto ...

A-maze-ing Howie

YOU'LL have to picture Howie Mandel's expression when he's outfoxed by a 5 year old, but come to think of it, that sounds right. Howie, who's far more successful a talk show host than I would ever have guessed -- much easier for me to take than, say, Rosie O'Donnell -- filmed part of his show at Dole Plantation Saturday. That's where the World's Largest Maze, so it is claimed, can be found. He enlisted as guides members of his audience, who turned out to be Neiman Marcus exec chef Doug Lum, wife Kelli, daughter Taylor and the scene-stealing Sean. Young Sean upstaged Howie plotting his escape route through the maze, leaving the crew in stitches. The scene they're calling "Howie Survives the Maze" will be aired on his show next month, along with other Hawaii segments ...

THEY must be serving country beef at Ruth's Chris Steak House in Lahaina, because singer Randy Travis came in for the second time in a week, and was followed by young country singer LeAnn Rimes -- at separate tables, if you don't mind ... Sony Open in Hawaii winner Jeff Sluman was a frequent diner at the Shorebird Beach Broiler along with pals Davis Love III, Lee Janzen and Mike Hurlbert. Small wonder -- Sluman stays with Shorebird owner Eric Horst when he's in the islands, and his very first PGA event was the 1983 Hawaiian Open ...

The story lives on

ONE of the most impressive services I've seen of late was Friday at Central Union Church when a full house of those whose lives Molly Lyman had touched came by to wish her aloha. What history! Her full name was Marion Pauahi Webster Lyman, and she was born on the original Kamehameha Campus where Bishop Museum is today. Renowned as a storyteller extraordinaire, Molly proved the adage about the acorn not falling far from the tree. All four of her children and one granddaughter gave moments of remembrance which were themselves memorable stories. It was obvious Molly had taught them well. And they'd learned from her. While she may be gone, her stories live on ...

---




Dave Donnelly has been writing on happenings
in Hawaii for the Star-Bulletin since 1968.
His columns run Monday through Friday.

Contact Dave by e-mail: donnelly@kestrok.com.
E-mail to Features Editor
---
---
© 1999 Honolulu Star-Bulletin
https://archives.starbulletin.com