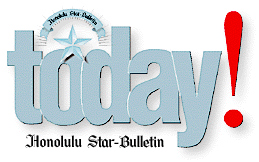 ---
Hawaii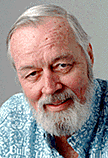 By Dave Donnelly
Friday, January 22, 1999
---
Abercrombie
needs a lift

CHECKERS, but no Pogo as yet: Rep. Neil Abercrombie promised to donate his beloved Checker cab to KHPR for auction, but at the last minute he had "donor's remorse." He went through with it anyway, and new Hawaii Public Radio chief Michael Titterton even posed for photos with Abercrombie as one of his first official acts. The winning bid on the cab was from a guy calling himself simply Dean-O, and he already owns another Checker cab and appears to be starting a fleet. The only proviso Abercrombie put on the auction was that whoever bought it paint out both his picture and name from the door. As if someone wouldn't? ...

LOOKS like Kathleen Sullivan Gaines has pull that extends beyond that of her dad, Honolulu soccer maven and Friendly Sons of St. Patrick recruiter "Uncle Jack" Sullivan. She and her husband, Seattle Westin manager Brent Gaines, were stuck for two days in Dallas over the holidays due to weather and there was nothing "Uncle Jack" could do about it. To the rescue came her father-in-law, Jack Gaines, who was frustrated that family plans were going awry. He called the two and told them to get to the Dallas-Fort Worth Airport where they found the Opryland corporate jet. Seems Gaines is president of Opryland USA and "Uncle Jack" is now a country music fan ...

Goings and comings

JOINING the ever-growing list of people heading back to the mainland after a virtual lifetime in Hawaii is Libby Boyes. Retired six years now from the Hawaii Visitors Bureau, Boyes has been occupying her time with volunteer work, but has decided to return to her roots in Northern California. She's sold her condo here and bought into the Rossmoor retirement complex in the old Dollar Estate in Walnut Creek ... And former isle writer David Butwin, now a contributing editor with Modern Maturity magazine, read the article about him here the other day and wrote, "I still wouldn't trade Honolulu for any city in the world." He adds, "Get me, my wife and daughter a shack by the beach and I'll come back." Butwin and his family have at least been discussing a trip out here this summer, his first since 1991, though he fears his 14-year-old daughter Kate will never want to leave ...

ALSO heading back this way are Teresa and Joe Webber, who'll take over as G.M. of Crown Pacific Hawaii, the international moving and shipping company. For the past seven years he's headed the company in Thailand. A recent houseguest of the Webbers was Honolulu Publishing photog Brett Uprichard, who was on a photo trip to Phi Phi Island in Thailand. While there he met former DJ Greg "Kukui" Nutt, who's now flying transport helicopters in the area ...

SUCH a deal! Oahu Country Club has a membership drive running through March with its initiation fee reduced to $10,000. It once was five times that ... Worried about the Internet's Y2K bug? The best way I've heard to take your mind off it is to convert to Judaism and start worrying about the Y10K bug ...

21st Century Fox

WITH new movie complexes going up all over town, it was particularly heartening to see Signature Theaters step up and break ground today for an 18-house theater complex (or 18-Plex, as they like to call it) at Dole Cannery, due to open in May '99. Downtown used to be chock-a-block with movie houses and it'll be nice to see this many choices popping up with plenty of free parking. And the seats have lift-up arm rests to create "love seats." You worried about the kids going to the movies before! ...

---




Dave Donnelly has been writing on happenings
in Hawaii for the Star-Bulletin since 1968.
His columns run Monday through Friday.

Contact Dave by e-mail: donnelly@kestrok.com.
E-mail to Features Editor
---
---
© 1999 Honolulu Star-Bulletin
https://archives.starbulletin.com