---
Saturday, January 16, 1999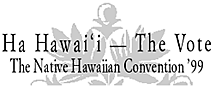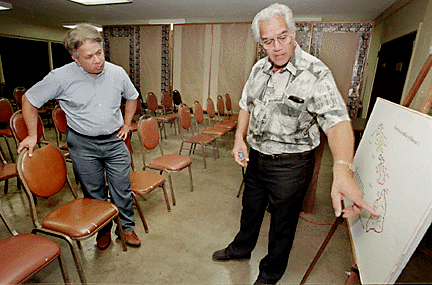 By Dennis Oda, Star-Bulletin
West Honolulu delegate Dante Keala Carpenter, right,
explains the voting districts to Robert Akau, a concerned
voter, at a public meeting last night.
---
Hawaiians
to elect 85 in
sovereignty search


Tomorrow's vote falls
106 years to the day of the
monarchy's overthrow

By Harold Morse
Star-Bulletin

One hundred and six years to the day after the overthrow of the Hawaiian monarchy, 85 Hawaiians will be elected tomorrow as delegates to a convention whose goal is forging an entity to truly represent all Hawaiians worldwide.

If a forum of Honolulu candidates last night at Kaumakapili Church typifies overall sentiment, no unanimity exists on how to bring this about. Eight candidates for convention seats and an equal number of noncandidates considered at length whether the Hawaiian electorate is ready for tomorrow's vote.

Most said the time has come, ready or not.

After preliminary explanation that Ha Hawaii, which organized tomorrow's election, is only a process facilitator to get on with the task of creating the noble ideal, it was reiterated that recommendations made by the convention must be ratified by Hawaiian voters.

"I believe in the people, and I believe that the people should be making the choices," said candidate Charles Rose. "I take offense to the fact that people believe the process is contaminated."

The approach now being taken is sound and fair, he said. "We include all people of Hawaiian ancestry," he said. "This is a people project ... If I am elected, I hope to go into the convention with an open mind."

Said Mahealani Kamauu: "My reason for standing before you as a candidate tonight is -- like I believe 99.9 percent of our people -- I recognize that there are many problems in our community that we can address. I can see how our lack of autonomy and self-determination has hurt our people."

Kamauu said the effect of Western law applied to Hawaii has been to dispossess Hawaiians of their land. She also saw education, the high rate of incarceration of Hawaiians and the health of Hawaiians as issues. "At least at this time, I'm for complete independence," she said.

From the time of Kamehameha I, all Hawaiians have had the inherent right to a home, said Louis Agard. "You're allowed to have a place to subsist," he said. "All of the ceded land should go to the heirs that live here."

Emil Muller regretted turmoil among Hawaiians over sovereignty. "The delegates have to approach this with an open mind," he said, adding that what comes out of the convention depends on the people. "The people will choose; the people will vote." Winston Tyau held up a brightly hued cloth he called royal yellow. He hopes this color will become a symbol of royal trust in a new and sovereign Hawaii.

Dante Carpenter, former state senator and Big Island mayor, believes native Hawaiians are short-changed on opportunities.

"Ironically, it seems to me that no other organization, certainly no state agency could fulfill the role that this particular convention tries to fulfill," he said. David Donn Maikai'i Hana'ike, a teacher, said: "I have an interest in this that is aimed toward education." He is willing to work the next 30 years to help educate his fellow Hawaiians in self-determination, he said.

C.J. Kaui Jochanan Amsterdam drew a parallel between restoration of the Hawaiian nation and creation of the state of Israel. "If we should have the Hawaiian nation is not the issue; it's how."

In a later discussion, Rose and Kamauu condemned the 1893 overthrow. Any subsequent evil was the fruit of a poisoned tree planted by the overthrow, Rose said. Carpenter reminded them that Hawaiians and others voted for Hawaii statehood in 1959.

Election opponents include Kupono Coalition and Ka Lahui Hawaii. They object to what they see as a process sponsored, created and financed by the state.

"Ka Lahui Hawaii calls upon the Hawaiian community to reject the Ha Hawaii election of delegates by boycotting the vote and becoming a citizen of Ka Lahui Hawaii, a native initiative for self-government," a Ka Lahui Hawaii statement said.

"I am not voting this Sunday," said former state Rep. Kinau Boyd Kamalii, chairwoman of Hoomalu Ma Kualoa, affiliated with Kupono Coalition. She said not enough is known about the Ha Hawaii process. "I don't know what the rush is. They picked the date of Jan. 17, and they just think they have to stay with it," she said.

"Many of us don't even know the people who are running, and I think it's unfair to all of us when we don't know who the candidates are." She foresaw a low voter turnout and said if fewer than 55,000 Hawaiians vote, the election should be null and void.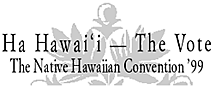 Candidates

More than 150 candidates are vying for 85 seats in tomorrow's 1999 Native Hawaiian Delegates Election, which selects representatives for a future Hawaiian convention. The contenders:

MOKU HAWAII

Moku delegates (4 seats)
Bentosino, Laurette P.
Berard, Andy
Bowman, Lani L.
Keanaaina-McDonald, Ruby P.
Kawaihae-Rodriquez, Becky
Victor, Walter Jr.
Young, Moku G.M.

Hilo (3 seats)
Ha'o, Joseph Kamai
Wendekier, Bernie Akoni

Puna (1 seat)
None

Ka'u (1 seat)
None

Kona (1 seat)
Chun, Kaliko

Kohala (1 seat)
Clark, Jimmy
Dela Cruz, Stewart

Hamakua (1 seat)
Kamakawiwoole, Reynolds N. Jr.

MOKU MAUI, MOLOKAI, LANAI

Moku delegates (2 seats)
Armitage, Nelson K.
Correa, Eloise (Kaulana)
Kaho'ohalahala, Sol P.
Kama, Natalie A. (Tahsa)
Keliikoa, Glen K.H.
Maxwell, Charles Kauluwehi
Uwekoolani, Moanaliha
Naki, Leimana Kaiwi
Ritte, Walter
Sousa, Keoki Hana (1 seat)
Lind, Daisy M. Makawao (1 seat)
Feiteira, Blossom P.
Kaimiola, George M.
Kanahuna, Joseph K. Wailuku (2 seats)
Filimoe'atu, Kehaulani
Kamai, Clarence K., Sr.
Kiili, Keoki M. (Abihai)
Pahia, Robert (Bobby)
Soloman, C. Keli'ionamoku Lahaina (1 seat)
Lindsey, Mary Helen
Waiohu, William, Jr. Molokai, Kalawao (1 seat)
Harris, Alberta L. (Bert)
Kahalehoe, Jeanette L.
Ramos, Martin Kaipo Lanai (1 seat)
Kaho'ohalahala, Gaylien K., Sr.

MOKU KAUAI AND NIIHAU

Hanalei (1 seat)
Ham Young, Cathy Kalehua

Anahola (1 seat)
Kauihana, Keohokui A.
Loo, Audrey K.
Smith, Henry E., Jr. Kawaihau (1 seat)
Albao, Liberta Lilia Hussey
Makanani, Attwood M.
Oclit, Fendel (Ding) Lihue (1 seat)
Fyfe, Kai'opua Koloa (1 seat)
Kealoha, Christobel Kauahi
Perry, Warren C.R. (Kahaka) Waimea/Niihau (1 seat)
Flores, E. Kalani
Fukino, R. Wayne
Naumu-Stewart, Judy

MOKU HONOLULU

Moku delegates (4 seats)
Agard, Louis K. (Buzzy)
Akana, Stanley Leialoha, Jr.
Ayau, Edward Halealoha
Cazimero, M. Momi W.
De Lude, William J. (Willie)
Kamau, Bill K., III
Keppeler, H.K. Bruss
Rose, Charles (Kale Loke)
Tyau, Winston (Aikapa) East Honolulu (3 seats)
Benham, Roy Ilikea
Chong, Rebecca M.
Lemke, Bill
Lindsey, Vernal Pe'a
Low, John L.
Muller, Emil Max
Naho'opi'i, Daniel K.
Paresa, Leonard Pomaikai, Sr.
Smith, Kamealoha
Thompson, Myron (Pinky) Central Honolulu (3 seats)
Among, Les A.
Amsterdam, CJ Kaui Jochanan
Hana'ike, David Donn Maikai'i
Ha'o-Ross, Peggy K.
Kaai, Elmer Ka'ilikole, Jr.
Rowland, Gwendolyn Pua'nani
Tenn, Maikahikinapamaikala
Vaughan, Kilipaki K.F. (Paki)
Wilson, Kalaniakea N. West Honolulu (4 seats)
Bongo, L. Lehua
Carpenter, Dante Keala
Kamauu, Mahealani
Moepono, Sesnita A.D.

MOKU EWA

Moku delegates (4 seats)
Ching, Claude Keli'i
Clark, Kauila
Hubbard, Lela Malina
Oamilda, Glenn J. Makalapa, Halawa, Aiea (1 seat)
NONE

Pearl City (1 seat)
NONE

Waipahu (2 seats)
NONE

Ewa (1 seat)
Akaka, Kanani Leigh

MOKU WAHIAWA, WAIALUA, KOOLAULOA

Moku delegates (4 seats)
Beirne, D. Ululani
Chun, Ian Nui
Meatoga, Pane, Jr. (P.J.)
Wasson, Dawn Kahalaomapuana
Woolsey, James K., Jr. Wahiawa, Mililani (2 seats)
Kiyohiro, Larry Joy
Mokuau, Allan L.K. Waialua (1 seat)
Awai, James L., Jr.
Kamauoha, Laakea D. Koolauloa (1 seat)
Havre, Abbie Waiwaiole
Logan, Roland A. (Bulla)
Nihipali, Kunani

MOKU WAIANAE

Moku delegates (4 seats)
Akaka, Kanani Leigh
Cachola, Julie-Ann
DeLude, Clarence Ha'o Kupahu
Drake, Hoaliku L.
Hanohano, Kehau
Hayghe, Kaliko (Kaahaaina)
II Lunalilo, Peter Sellers
Iokua, Moses Kahaulelani
Kamai, Larry Ka'ili
Kila, Glen Makakaualii
Laenui, Poka (Hayden Burgess)
Lucero, Aireen Lauaeomakana
Mole, Robert K. (Bob) Nanakuli, Lualualei (2 seats)
Kanahele, Kamaki A.
Lenchanko, Tony
O'Connell, E. Haalilio Maili, Waianae (2 seats)
Hew Len, Herbert Makaha to Kaena (1 seat)
Hikalea, Michael H., Jr.

MOKU KOOLAUPOKO

Moku delegates (4 seats)
Alau, Henry D.K. (Hank)
Aluli, Kapuaihooleiiai Kapono
Aweau, Norman E.P.
DeMello, Lee Ann
Gerona, Vincent C. Kaleohano
Hussey, Ikaika M.L.
Jarrett, Ron K.
Kaaihili, Michael AK (Tiki)
Kalahiki, Melvin
Kanahele, Dennis (Bumpy)
Kapuniai, Daniel H., Jr.
Kawa'a, Earl
Keohokalole, Dennis Ka'imi
Lau, William K. (Bill)
Mossman, Paul L.
Richardson-Olsen, Anna
Rodenhurst, R. A'oPohaku Ku
Tripp, Henry K.J. Kualoa to Kahaluu (1 seat)
Hoe, Kelikokauaikekai R. Kaneohe (2 seats)
Nalua'i, Solomon D.K.
Tavares, Wesley L.K.
Wong, Jimmy K. Kailua (2 seats)
Agard, Keoni Kealoha
Lyons, T.B., III
Pa Martin, Liz Ho'oipo Nakea
Prejean, Nakoa Waimanalo (2 seats)
Hikalea, Michael Hale
Kalima, Leona Mapuana
Maukele, Kau'ionalani P.A.

MOKU KAMA'AINA

Moku delegates (4 seats)
Akima, Chalmers L.
Crawford, Dolly Keahiolalo
Hose', Ray
Kalani, J.B.
Smith, Reidar Ku'uipo
West, David R. Continental U.S., Alaska (3 seats)
Clark, Dewey K., Jr.
Pang, Victor Kaiwi
Shellabarger, Mahealani B.
Wong, Dana J. Kehaulani
Oahu polling sites

Polls for the 1999 Native Hawaiian Delegates Election will be open 7 a.m. to 6 p.m. tomorrow. For information, call 597-1889 (Oahu); 959-8862 (Big Island); 242-9774 (Maui/Lanai); 567-6682 (Molokai); or 822-5685 (Kauai). Information also is available on the Web at www.ha-hawaii.com. Here are the polling precincts for Oahu:

NO.	LOCATION 	ADDRESS
34	Kamiloiki Community Park	7750 Hawaii Kai Drive, Honolulu
35	Aina Haina Community Park 	827 W. Hind Drive, Honolulu 
36-37	Aliiolani Elementary		1240 7th Ave., Honolulu
38 	Waialae Elementary 		1045 19th Ave., Honolulu
39 	Jefferson Elementary 		CANCELED
40	Kaimuku High 			2705 Kaimuki Ave., Honolulu
41 	Kaahumanu Elementary 		1141 Kinau St., Honolulu
42 	Mid Pacific Institute 		2445 Kaala St., Honolulu
43 	Stevenson Intermediate 		1202 Prospect St., Honolulu
44 	Central Intermediate 		1302 Queen Emma, Honolulu
45 	Pauoa Elementary 		2301 Pauoa Road, Honolulu
46 	Papakolea Playground	 	2150 Tantalus Drive, Honolulu
47 	Kauluwela Elementary 		1486 Aala St., Honolulu
48 	Kapalama Elementary 		1601 N. School St., Honolulu
49 	Fern Elementary 		CANCELED
50 	Puuhale Elementary	 	345 Puuhale Road, Honolulu
51 	Aliamanu Elementary 		3265 Salt Lake Blvd., Honolulu
52 	Aiea High School 		98-1276 Ulune St., Aiea
53 	Highlands Intermediate	 	1460 Hoolaulaa St., Pearl City
54 	Waiau Elementary 		98-450 Hookanike St., Pearl City
55 	Crestview Community Park	94-1220 Lumikula St., Waipahu 
56 	Waipahu High	 		94-1211 Farrington Hwy., Waipahu
57&59 	Kaleiopuu Elementary 		94-665 Kaaholo St., Waipahu
58 	Campbell High 			91-980 North Road, Ewa Beach
60 	Nanakuli Elementary 		89-778 Haleakala Ave., Waianae
61 	Ma'ili Elementary	 	87-360 Kulaaupuni St. Waianae
62 	Waianae Elementary		85-220 Mc Arthur St., Waianae
63 	Makaha Elementary 		84-200 Ala Naauao Pl., Waianae
64 	Mililani High		 	95-1200 Meheula Pkwy., Mililani
65	Kipapa Elementary 		95-076 Kipapa Drive, Mililani
66 	Leilehua High 			1515 California Ave., Wahiawa
67 	Haleiwa Elementary	 	66-505 Haleiwa Road, Haleiwa
68 	Kahuku Intermediate/High	Kamehameha Highway, Kahuku
69 	Hauula Elementary 		54-046 Kamehameha Hwy. Hauula
70 	Kaneohe District Park	 	45-660 Keaahala Road, Kaneohe
71 	Heeia Elementary 		46-202 Haiku Road, Kaneohe
72 	Castle High School 		45-386 Kaneohe Bay Drive, Kaneohe
73 	Kapunahala Elementary 		45-828 Anoi Road, Kaneohe
74 	Kailua Elementary 		315 Kuulei Road, Kailua
75 	Enchanted Lake Elementary 	770 Keolu Drive, Kailua
76 	Kaelepulu Elementary		530 Keolu Drive, Kailua
77 	Waimanalo Beach Park		Kalanianaole Highway
78 	Waimanalo Hmst. Assn.		Across beach park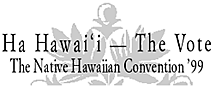 Q&A

Here are answers from Ha Hawai'i to oft-asked questions about tomorrow's election of delegates for a future native Hawaiian convention:

Q: Where does Ha Hawai'i get its authority?

A: For most groups, authority stems from its membership. Ha Hawai'i has a board of directors, an executive committee and general membership body of about 200 people. However, Ha Hawai'i does not require a person to be a member in order to participate in its initiatives. All other organizations require membership for direct participation in their groups. Not so with Ha Hawai'i.

Ha Hawai'i is an all-inclusive process meant for all Hawaiians, living in or out of Hawai'i. Q: Who supports Ha Hawai'i?

A: Authority also comes from those who support it. Here are some of its supporters: Administration for Native Americans, Association of Hawaiian Civic Clubs, Council of Hawaiian Organizations, Hawai'i Community Foundation, Hui Kalai'aina, The Nation of Hawai'i, The Nation of Ku, Native Hawaiian Bar Association, Native Hawaiian Chamber of Commerce, Native Hawaiian Legal Corporation, Pa Kui a Holo, Pu'a Foundation, State Council of Hawaiian Homestead Associations. These organizations represent thousands of Hawaiians.

Q: Is Ha Hawai'i a state-controlled/state-manipulated group?

A: Detractors of Ha Hawai'i used to say it was a state agency. Ha Hawai'i is a 501(c)(3) corporation registered in the state of Hawaii. This makes Ha Hawai'i eligible for grants from government and private sources in order to realize its mission. If Ha Hawai'i were a state agency, it could not apply to the Office of Hawaiian Affairs for a grant.

Q: What is the intention of the Native Hawaiian Convention?

A: The Ha Hawai'i mission is to hold a delegate convention to determine a form of self-determination. The delegates at the convention must first determine whether Hawaiians should adopt a form of self-determination independent from the state of Hawaii. Next, it must determine what form self-determination should take, i.e., constitutional monarchy, nation within a nation, state within a state, etc. In order to accomplish this the delegation needs to read, review and analyze various forms of government. This will require the delegates to look at items such as constitutions, by-laws and bills of rights. The job of the delegates will be to determine a form of self-determination that they will bring to the Hawaiian people for a ratification vote.

Q: The results of the 1996 Native Hawaiian Vote did not support the efforts of Ha Hawai'i.

A: A total of 81,507 ballots were mailed out in 1996. A total of 30,783 ballots were returned: 8,129 were "no" and 22,294 were "yes." Seventy percent voted to have the convention. We are obligated to those 22,294 Hawaiians to hold this convention.

Detractors of Ha Hawai'i have maintained that the 50,000 ballots not returned in the 1996 election represent 50,000 Hawaiians who did not want to have the election in the first place and so protested by not voting and returning the ballot. This argument cannot be supported.

Q: After the convention, what guarantee is there that we will be recognized?

A: There are no guarantees that the state or federal government will recognize anything that results from the convention. However, it is highly unlikely that the results of a successful convention will go unnoticed by government.

Recognition has to start with ourselves. If the majority of Hawaiians participate in the Native Hawaiian Delegate Election, by their very participation they acknowledge their commitment and involvement to the establishment of a new Hawaiian government. The state and federal governments would be foolish not to recognize these efforts.
E-mail to City Desk
---
---
© 1999 Honolulu Star-Bulletin
https://archives.starbulletin.com