---
Friday, January 15, 1999
Master navigator
asks his students
to take him home


Mau Piailug's 8,340-mile
canoe voyage will be the first
to Micronesia in modern times

By Susan Kreifels
Star-Bulletin

MORE than two decades ago, he taught Hawaiians about the wind, the waves, the clouds -- and most importantly, the stars.

Now his students, who are teaching a second generation of students, are paying tribute to the man who returned to them one of their ancestors' greatest accomplishments: navigating by the stars.

Master navigator Mau Piailug, 66, will set sail with his first students on the double-hulled voyaging canoe Makali'i during the first week of February. They will leave the Big Island and make several stops in Micronesia before arriving at Piailug's home on Satawal in late March.

The voyage has been named "E Mau," meaning to continue or preserve, in honor of the teacher.

Clay Bertelmann, one of Piailug's first students and skipper of the voyage, said Piailug asked Hawaiians to sail him to his home.

"He's never been honored properly in his islands," Bertelmann said. "It's a small price to pay for the years he put in to help us, real small. It's an honor to be the ones to take him home."

This will be the first time a voyaging canoe has sailed from Hawaii to Micronesia in modern times. It will also be the longest voyage by a Hawaii voyaging canoe, totaling 8,340 miles and going as far as Guam before heading back to Hawaii.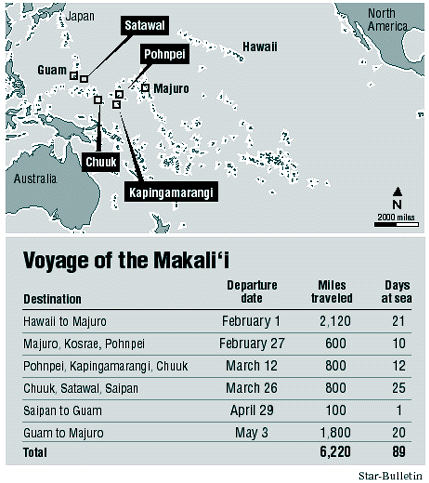 Satawal is part of Yap, one of the most traditional island groups in Micronesia, and lies more than 300 miles south of Guam in the western Pacific. About 300 people live there.

The ancient Polynesians were known for their navigational skills aboard double-hulled voyaging canoes, and for using stars rather than navigational equipment. But the skills were lost to native Hawaiians for probably hundreds of years, Bertelmann said.

Piailug brought celestial navigation back when he started teaching students here 22 years ago.

The master navigator also taught Nainoa Thompson, navigator of the voyaging canoe Hokule'a, who will sail with Piailug. A third student, Shorty Bertelmann, will navigate the 54-foot Makali'i.

Forty-six crew members, about half of them students, will swap out on various legs of the trip, Clay Bertelmann said. Stops include the Marshall Islands, Kosrae, Pohnpei, Chuuk, Satawal, Saipan and finally Guam. A celebration will be held in Saipan.

Following construction of the Hokule'a and formation of the Polynesian Voyaging Society in 1973, Piailug helped train the crew for its voyage to Tahiti in 1976. Later the vessels Hawai'iloa, Makali'i, E'ala and Mau Loa were built.

Clay Bertelmann said Piailug has spoken at every school on the Big Island and to people all across the Pacific Ocean. "He's the one who really made this whole thing come alive," he said.
E-mail to City Desk
---
---
© 1999 Honolulu Star-Bulletin
https://archives.starbulletin.com