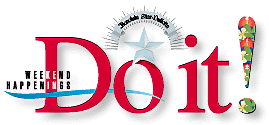 ---
Hawaii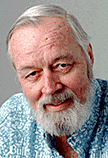 By Dave Donnelly
Thursday, January 14, 1999 9
---
Council can't
duck duct tape

WE can solemnly report there's a concerted effort at City Hall to patch things up. Oh, not differences of opinion, perhaps, but at least the skylight 50-feet above Honolulu Hale. With money being alotted to programs all over the place, the mayor and City Council seem prepared to go the cheepie route where broken glass is concerned. Clearly visible at the inauguration ceremonies for the Council was duct tape on the big sky light. Asked about it, Council chairman Mufi Hannemann deadpanned, "It's going to be rough times ahead, and duct tape is in." Hannemann also added a dollop of showbiz to the proceedings, and in what could be interpreted as a slap at Gov. Ben Cayetano and those who oppose fireworks, Mufi said man has the choice to make noise or not. And with that, he showed where he stood by breaking into song: "I Believe," which is the theme he's chosen to highlight his next four years on the Council. In the meantime, he might get a glazier over there to fix the skylight, even if it upsets duct tape salesmen ...

DID anyone else notice the story about the break-in at the office of Greenberg Quinlan Research in Washington? Greenberg is working to help oust Israeli Prime Minister Benjamin Netanyahu from office and the police officer investigating the case is named Joe Gentile ... And if you watched the Michael Jordan news conference in which he announced his retirement, you'll know he set another record unlikely to be topped: Most references to himself in the third person ...

Open-ness

YOU'VE got to hand it to Sony CEO Norio Ohga. Here's a guy who managed to combine his two passions - golf and music - into a single trip to Hawaii and a one-week stay. Not only is his company sponsoring the Sony Open in Hawaii, the new corporate title of the old Hawaiian Open, but he's also rehearsing with the Honolulu Symphony to conduct the orchestra playing Beethoven's Ninth Symphony Sunday and Monday. The Sunday performance is at 7:30 p.m. rather than a matinee, so it won't conflict with the Open at Waialae. And in a fitting bit of Far Eastern glastnos, or "openness," performing in collaboration will be the National Chorus of Korea and the Sony Philharmonic Choir. The concerts are being billed as the first public performance between the nations of Japan and Korea, which have not always had the best of relationships, to say the least ...

READER John Kalani Wilcox came across Newline Cinema's website for "The Corruptor," co-starring isle actress Elizabeth Lindsey. The site contains some interviews with the cast conducted by Newline personnel, which is fine. What amazed Wilcox was that in answering one question, Lindsey accidentally gave away the ending to the movie. Check it out at www.corruptor.com ...

Domestic strife

WHAT is it with bars that insist on serving only one nonalcoholic brew, always domestic? Would they serve only Budweiser and not Heineken or some other imported beer? On a trek through Aloha Tower Marketplace Tuesday night we visited Don Ho's (O'Doul's only), the Pier Bar (O'Doul's only) and finally, Chai's Island Bistro. They had O'Doul's, too, but also Clausthaler for those who prefer its hoppy taste and are prepared to pay a bit more for it - just like imported beer. So thanks to Chai Sawasaree, who not only puts out first class food (just as he does at his Singha Restaurant), but realizes his nondrinking clientele might opt for something a bit more satisfying than, say, O'Doul's ...

---




Dave Donnelly has been writing on happenings
in Hawaii for the Star-Bulletin since 1968.
His columns run Monday through Friday.

Contact Dave by e-mail: donnelly@kestrok.com.
E-mail to Features Editor
---
---
© 1999 Honolulu Star-Bulletin
https://archives.starbulletin.com