[News] [Business] [Features][Sports]
[Editorial]
[Do It Electric!]
[Info] [Stylebook]
[Classified Ads]
[Home]



OBITUARIES in the news section daily.



To March 18, 1996






Same-sex marriage:
Past articles


1998 General Election Results
[Stylebook]
Island names, word usage and writing style




Phone numbers, e-mail addresses, subscription info



American Journalism Review NewsLink
'Best of the Web'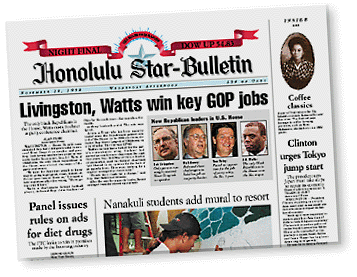 Online movie & theater database
| | | |
| --- | --- | --- |
| | | |
---
This site is designed for use with a frames-capable browser
like Netscape Navigator or Microsoft Internet Explorer and a larger screen.
If you use a different browser or have a smaller screen, you'll probably be happier
with our No-Frames Directory. The content is the same.
Download: [Netscape] [Microsoft]

---
Starbulletin.com publishes online editions Monday through Saturday.
Starbulletin.com publishes articles written by our staff and
selected articles of particular interest to our readers.
Entire contents of this Web site © copyright 1998 by
Honolulu Star-Bulletin. All rights reserved.

---
Featured on:




'Cadaver dogs'; Observer honored; Stender at bat; Prison opposed; Natatorium; Smokeout; Marcos award reversed; Say for speaker; Housing approvals; Asia trip; Impeachment tie-in; Police settlement; Whatever happened



Kona celebrations: Farm pioneers; Cooking with Kona; Preparing for millennium; Opera in schools; Hawaii's Kitchen; Hawaii; Honolulu Lite; By Request



Tiger vs. Vijay; Bown tops Pac division; Course crosses coaches; Slate rates 'Bows; An Honest Day's Word; Hawaii Sumotori



Judge rules against gas station rent caps; BancWest rated a 'buy'; Hawaii's Hot Stock contest



Criticism of repression could cause a backlash; Tobacco proposal; Pay raises for judges; Capitol View



What's happening in Honolulu? Event calendars including reunions, movies and nightlife.
Updated every Thursday