[News] [Business] [Features][Sports]
[Editorial]
[Do It Electric!]
[Info] [Stylebook]
[Classified Ads]
[Home]




To March 18, 1996






Same-sex marriage:
Past articles
Locked-Out:
Acclaimed series
Animal Quarantine
Status of the law
[Stylebook]
Island names, word usage and writing style




Phone numbers, e-mail addresses, subscription info



American Journalism Review NewsLink
'Best of the Web'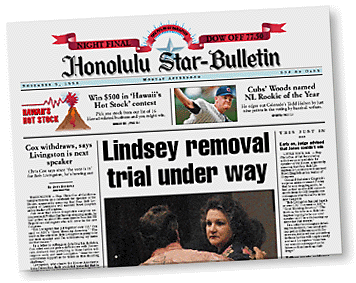 ---
Going to the movies? Check our database first!


| | | |
| --- | --- | --- |
| | | |
---
This site is designed for use with a frames-capable browser
like Netscape Navigator or Microsoft Internet Explorer and a larger screen.
If you use a different browser or have a smaller screen, you'll probably be happier
with our No-Frames Directory. The content is the same.
Download: [Netscape] [Microsoft]

---
Starbulletin.com publishes online editions Monday through Saturday.
Starbulletin.com publishes articles written by our staff and
selected articles of particular interest to our readers.
Entire contents of this Web site © copyright 1998 by
Honolulu Star-Bulletin. All rights reserved.

---
Featured on:




Lindsey removal trial begins; Election problems; Cayetano losing 2; Sea debris; Feary arrested; UH winter term; Home of kings; Alii Highway; Murder arrest; Ocean Watch; Newsmaker; Political File



Inspiration from the Philippines; 'My Noodle Shop'; 'Mele' reviewed; High def, low-tech; Film violence; World Art Bazaar; Honolulu Lite; Dave Donnelly's Hawaii; Crossword of the Pacific



VonAppen not ready to quit; Barreling to victory at Xcel Pro; No minor talent; BYUH has something to prove; Grand Slam invites; Hawaii's Sumotori; Sports Watch



Texaco dealers try to block sale; A&B buys Amfac land; Rainbow Financial sold; Isle hotels make AAA guide; Hot stocks contest; Lanai resorts in 'Luxury Collection'; Executive Profile



Gingrich's decision to quit as speaker; French Festival; Protect the parks; Changing Hawaii



What's happening in Honolulu? Event calendars including reunions, movies and nightlife.
Updated every Thursday