---
Monday, November 2, 1998
Saying goodbye to a Manoa landmark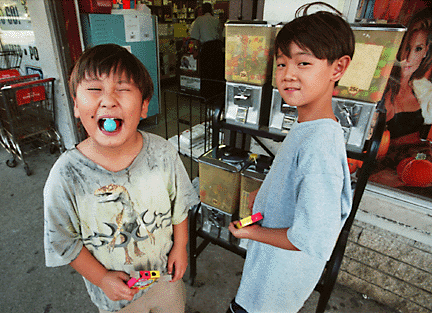 By Dennis Oda, Star-Bulletin
Blake Tsutsui, 7, shows off a gumball he bought
from a machine outside Toyo Superette.
He's with Jordan Okamura, 9.
---
Toyo's falls victim
to the times


Founded in 1918,
Competition and higher rent
are forcing the Okamuras to close
their family-style store

By Rod Ohira
Star-Bulletin

Yoshiji Aoki, who has shopped at Toyo's Superette for more than 40 years, will miss the friendly service provided by the Okamura family when Manoa's oldest "mom-and-pop" store closes this month.

"You can't beat the friendship," Aoki said. "Toshi has been so good to us."

"Once, when my freezer at home died, he let us store everything in his freezer until we got another one. You can always count on him to do things like that."

Many customers come to shop and talk story daily with Toshio "Toshi" Okamura; his wife, Gladys; sons Glenn, 44, and Grant, 34; daughter-in-law Wendy; sister Namiko Hirota; and cousin Wini Ito at the market located at East Manoa Road and Keama Place.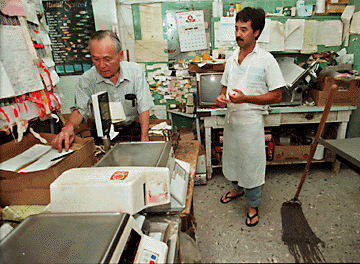 By Dennis Oda, Star-Bulletin
Toshio Okamura and his son, Glenn, work in the meat
section of the store. "We were hoping for better times, but
there's just too much competition with wholesale outlets and
bigger supermarkets around," Toshio says. "We expect to
be pau by the end of the month."
---
Betty Wilder has been a loyal customer since the market opened in 1954.

"I'm just heartsick," Wilder said about the announced closing. "I've been coming here for so many years that I know where everything is.

"Toyo's has the best papayas, and all the fresh produce is individually wrapped so I know it hasn't been touched by others. The friendliness of all the employees, especially Toshi, makes it special."

Toshio, 75, has been running the market since 1968. It was built by his late brother, Toyokazu, on property their father, Ichiroye, had purchased.

The original Okamura family store, founded in 1918, was located across the street from Toyo's Superette on a lot currently occupied by a gas station.

Judy Cochrane was a child when her mother, Phyllis Parker, began shopping at Toyo's. They still shop there because of the service and convenience.

"They take our groceries to the car, and if we can't find an item, Mr. Okamura will order it for us," Cochrane said. "And they're so dear to children. My son comes here to buy snacks, just as I did.

"I'm so sad they're closing. It just makes me sick. I'm going to miss them all."

The special relationship, perhaps, is best described in a letter mailed last Dec. 22 to Toyo's that is posted on the Icee machine at the entrance to the store.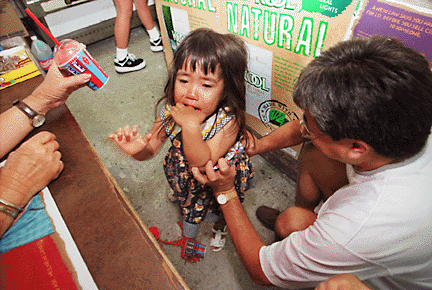 By Dennis Oda, Star-Bulletin
Glenn Okazaki comforted his 3-year-old daughter, Courtney,
as she cried after dropping her Icee. She was immediately
given another one.
---
The anonymous writer confesses to stealing an Icee 30 years ago and notes that he's reminded of the incident every time he drives by the market.

A dime was taped to the letter. The writer also included a $100 bill.

"It shows Toyo's has always been a part of people's lives," said Wendy Okamura, Glenn's wife, who began working at Toyo's 10 years ago.

Dorothy Matsuoka, who has lived in Manoa for 47 years ago, says the Okamuras are like family.

"They sell things like block-cut sashimi and sliced pork cutlets that's hard to find," Matsuoka said. "They've always accommodated little people."

The timing of Toyo's closure forces Matsuoka to look elsewhere for traditional Japanese New Year's items such mochi and kadomatsu, the bamboo branch and pine ornament displayed for good luck.

Lois Yoshimura, a barber in Manoa for 40 years and high school classmate of Gladys Okamura, recalls that Toyo's used to deliver groceries free to the homes of its elderly customers.

"They even took IOUs from customers when times were hard," Yoshimura said. "They have a personal feeling for customers.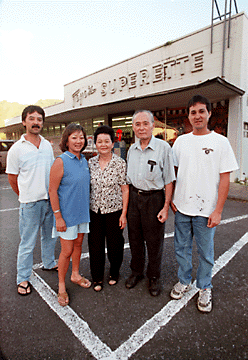 By Dennis Oda, Star-Bulletin
The Okamura family has operated the Toyo Superette
since 1968. From left are Glenn and his wife, Wendy;
Gladys and her husband, Toshio; and their son, Grant.
---
"Toyo's is a Manoa landmark. It's sad for me because I also saw the Manoa Grill close, too."

Toshio and Gladys Okamura, who worked long hours to keep Toyo's open for all but a few days a year, decided to close the market after failing to reach agreement with a relative on a new lease.

"We were hoping for better times, but there's just too much competition with wholesale outlets and bigger supermarkets around," Toshio said. "We expect to be pau by the end of the month.

"The trend for us has been dropping steadily for the last seven or eight years. Getting to know nice people has been the best part for me."

Wendy Okamura says the family cannot afford to stay in business under the lease agreement being proposed.

"We've lost money since it doubled three years ago," she said of the rent, "and it's going up again.

"We tried to negotiate but were told (Oct. 22) that we have to vacate."

Ayano Okamura, Toyokazu's wife, who owns the property, plans to renovate the building and rent it out.

"Times have changed," Ayano Okamura said, wiping away tears. "I cannot help that."

Toshio and Gladys Okamura will retire.

"We worked so hard to build up the store, working from 8 a.m. to 9 p.m.," Gladys Okamura said. "Now, I worry about my sons."

Glenn and Grant have no immediate plans beyond overseeing the closing.

"I always feel like I'm serving a friend, not a customer, so I'm going to miss that," Grant Okamura said.
E-mail to City Desk
---
---
© 1998 Honolulu Star-Bulletin
http://starbulletin.com