[News] [Business] [Features][Sports]
[Editorial]
[Do It Electric!]
[Info] [Stylebook]
[Classified Ads]
[Home]




To March 18, 1996






Same-sex marriage:
Past articles
Locked-Out:
Acclaimed series
Animal Quarantine
Status of the law
[Stylebook]
Island names, word usage and writing style




Phone numbers, e-mail addresses, subscription info



American Journalism Review NewsLink
'Best of the Web'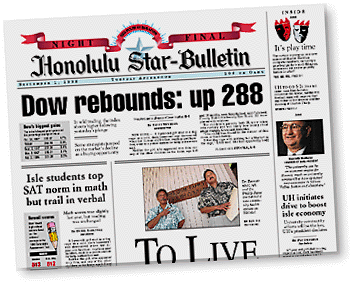 ---
| | | |
| --- | --- | --- |
| --- | | --- |
---
This site is designed for use with a frames-capable browser
like Netscape Navigator or Microsoft Internet Explorer and a larger screen.
If you use a different browser or have a smaller screen, you'll probably be happier
with our No-Frames Directory. The content is the same.
Download: [Netscape] [Microsoft]

---
starbulletin.com publishes online editions Monday through Friday.
Entire contents of this Web site © copyright 1998 by
Honolulu Star-Bulletin. All rights reserved.

---
Featured on:




UH economy drive; SAT math, verbal scores; Live and die on Molokai; $1.47 on the dollar; LeMahieu on the job; Maui airport plan; Tourist seeing-eye dogs; Vote Gizmo!



Opening Acts: Politics and theater; Directors' notes on season; Curtain rises on season; Hawaii; Rant and Rave; Danja Dog


Red Raider alert!; Wildcats doubly dangerous; Sports Watch; The Way I See It



Isle tourism drops again; Businesses pessimistic; Chaney, Brooks Web listings; Northwest delays layoffs; Kakaako store in limbo



Completion of AJA reparations program; Dollars for organs; North Korean Missile; Hawaii's World



What's happening in Honolulu? Calendars and lists including reunions, movies and nightlife.
Updated every Thursday