[News] [Business] [Features][Sports]
[Editorial]
[Do It Electric!]
[Info] [Stylebook]
[Classified Ads]
[Home]




To March 18, 1996






Same-sex marriage:
Past articles
Locked-Out:
Acclaimed series
Animal Quarantine
Status of the law
[Stylebook]
Island names, word usage and writing style




Phone numbers, e-mail addresses, subscription info



American Journalism Review NewsLink
'Best of the Web'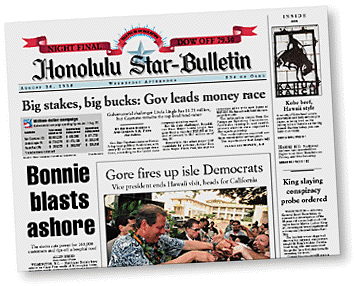 ---
| | | |
| --- | --- | --- |
| --- | | --- |
---
This site is designed for use with a frames-capable browser
like Netscape Navigator or Microsoft Internet Explorer and a larger screen.
If you use a different browser or have a smaller screen, you'll probably be happier
with our No-Frames Directory. The content is the same.
Download: [Netscape] [Microsoft]

---
starbulletin.com publishes online editions Monday through Friday.
Entire contents of this Web site © copyright 1998 by
Honolulu Star-Bulletin. All rights reserved.

---
Featured on:




Gov leads money race; Gore fires up Dems; Estate denies Chun rumor; Weed & Seed; Molokai brushfire; Wastewater health dispute; Streamlining city hall; Haleakala park to grow?



Kobe beef from Kahua Ranch; Food Network coming; Hawaii's Kitchen; Aloha beer at Aloha Stadium; Dave Donnelly's Hawaii; Honolulu Lite; Dolmas By Request



NFL's Hawaii players; UH stacked with backers; WAC defectors make it official; Wahine to play alums; An Honest Day's Word


Marriott wins right to buy Maui resort; Restaurant Row up for auction; Bookstore's last chapter; Northwest cuts hit isles; A&B buys Calif. office building; Executive Profile



Hanalei boating ban could kill industry; Louis F. Powell; AFSCME convention; Corky; Capitol View



What's happening in Honolulu? Calendars and lists including reunions, movies and nightlife.
Updated every Thursday