[News] [Business] [Features][Sports]
[Editorial]
[Do It Electric!]
[Info] [Stylebook]
[Classified Ads]
[Home]




To March 18, 1996






Same-sex marriage:
Past articles
Locked-Out:
Acclaimed series
Animal Quarantine
Status of the law
[Stylebook]
Island names, word usage and writing style




Phone numbers, e-mail addresses, subscription info



American Journalism Review NewsLink
'Best of the Web'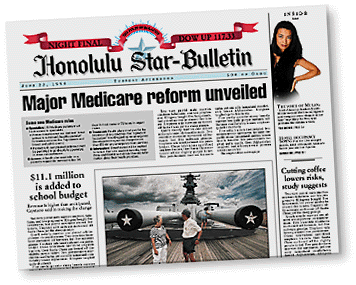 ---
---
This site is designed for use with a frames-capable browser
like Netscape Navigator or Microsoft Internet Explorer and a larger screen.
If you use a different browser or have a smaller screen, you'll probably be happier
with our No-Frames Directory. The content is the same.
Download: [Netscape] [Microsoft]

---
starbulletin.com publishes online editions Monday through Friday.
Entire contents of this Web site © copyright 1998 by
Honolulu Star-Bulletin. All rights reserved.

---
Featured on:




Missouri a dream come true; $11.1 million for schools; Coffee stroke risk; Half of Hawaii reefs endangered; Lingle would continue probe; Cops see 'Auntie Rose'; Island Images: More Mo!



Hey buddy, use your blinkers!; Kitty and company Hawaii musical; Asian-American perspectives; Rant & Rave; Danja Dog



Amemiya HHSAA boss; NBA draft may hold surprises; Sports Watch; As I See It



Waikiki hotel occupancy below 70%; Travel agency leaves customers hanging; Hotel union funds suing brokerage



Shielding two valleys from development; Burial of Marcos; China's MFN status; Hawaii's World



What's happening in Honolulu? Calendars and lists including reunions, movies and nightlife.
Updated every Thursday