To March 18, 1996




POP Account-
ability report:
Campaign promises Same-sex marriage:
Past articles
Locked-Out:
Acclaimed series
Animal Quarantine
Status of the law
[Stylebook]
Island names, word usage and writing style



Phone numbers, e-mail addresses, subscription info



[News] [Business] [Features][Sports]
[Editorial]
[Do It Electric!]
[Info] [Stylebook]
[Classified Ads]
[Home]


American Journalism Review NewsLink
'Best of the Web'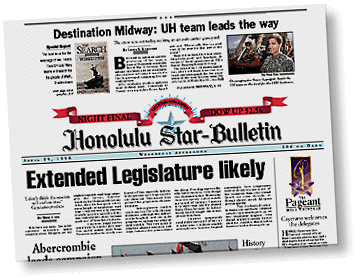 CLASSIFIED ADS NOW ONLINE!
---
This site is designed for use with a frames-capable browser
like Netscape Navigator or Microsoft Internet Explorer and a larger screen.
If you use a different browser or have a smaller screen, you'll probably be happier
with our No-Frames Directory. The content is the same.
Download: [Netscape] [Microsoft]

---
starbulletin.com publishes online editions Monday through Friday.
Entire contents of this Web site © copyright 1998 by
Honolulu Star-Bulletin. All rights reserved.

---
Featured on:




Extended Legislature likely; Cayetano supports trustee salary cap; Gov. welcomes Miss U; Congressional race funding; City challenges Kunitake; UH leads Midway team; Kihano cites heart; Legislature: UH autonomy; Date rape drug; Con Con



Office-hours snack attack!; Snack attack recipes; Hawaii's Kitchen recipes; By Request



Dunphy: Volleyball on way up; Cockett ponders future; An Honest Day's Word



College sports mean big bucks; Health insurers suing tobacco; Flat Feb. for Oahu malls; Turtle Bay owner arrested



Legislature must close child protection gaps; New ABM agreements; Niihau's support; Richard Borreca



What's happening in Honolulu? Calendars and lists including reunions, movies and nightlife.
Updated every Thursday



From HNA