To March 18, 1996




POP Account-
ability report:
Campaign promises Same-sex marriage:
Past articles
Locked-Out:
Acclaimed series
Animal Quarantine
Status of the law
[Stylebook]
Island names, word usage and writing style



Phone numbers, e-mail addresses, subscription info



[News] [Business] [Features]
[Sports] [Editorial] [Do It Electric!]
[Info] [Stylebook]
[Home]


American Journalism Review NewsLink
'Best of the Web'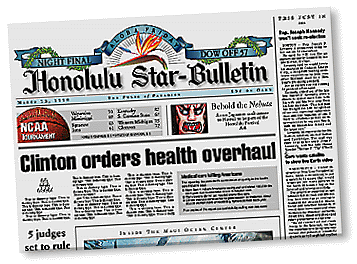 ---
This site is designed for use with a frames-capable browser
like Netscape Navigator or Microsoft Internet Explorer and a larger screen.
If you use a different browser or have a smaller screen, you'll probably be happier
with our No-Frames Directory. The content is the same.
Download: [Netscape] [Microsoft]

---
starbulletin.com publishes online editions Monday through Friday.
Entire contents of this Web site © copyright 1998 by
Honolulu Star-Bulletin. All rights reserved.

---
Featured on:




Judges named for Bishop cases; Underwater adventure on Maui; Schools chief, librarian wanted; Keck finds most-distant galaxy; Lawmaker questions budget priorities; Behold the Nebuta



Just medaling around; Look to the kumu hula; Volunteers get down and dirty



Wahine look to the perimeter; 'Bows seek home-court advantage



Audit says state overcharged businesses; City wants road realigned for convention traffic; Offshore bank plan may get beached; More Asia woes to hit isles?



Bishop Estate decision was unavoidable; Kauai boating; European languages



What's happening in Honolulu? Calendars and lists including reunions, movies and nighlife.
Updated every Thursday