To March 18, 1996




POP Account-
ability report:
Campaign promises Same-sex marriage:
Past articles
Locked-Out:
Acclaimed series
Animal Quarantine
Status of the law
[Stylebook]
Island names, word usage and writing style



Phone numbers, e-mail addresses, subscription info

No-Frames Directory:
[News] [Business] [Features]
[Sports] [Editorial] [Do It Electric!]
[Info] [Stylebook] [Feedback]
[Home]


Finalist, 1998
1998 EPpy Awards


American Journalism Review NewsLink
'Best of the Web'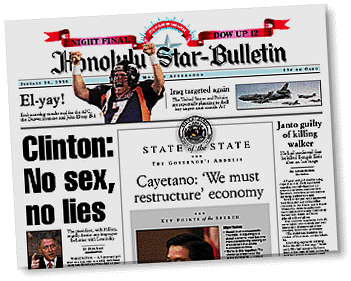 ---
This site is designed for use with a frames-capable browser
like Netscape Navigator or Microsoft Internet Explorer and a larger screen.
If you use a different browser or have a smaller screen, you'll probably be happier
with our No-Frames Directory. The content is the same.
Download: [Netscape] [Microsoft]

---
starbulletin.com publishes online editions Monday through Friday.
Entire contents of this Web site © copyright 1998 by
Honolulu Star-Bulletin. All rights reserved.

---
Featured on:




State of the State Address; Billie Beamer dies; Janto guilty; McVeigh ouster stayed; Moanalua band



The Stones: How does it feel; You're lost? Her gain!



Rainbows drop out of AP poll; Wahine complete WAC sweep; Senior Skins



Slaying the beast of credit burden; Outrigger Surf adds Best Western name



Washington should aid ailing Asian economies; The marrying kind; Bougainville cease-fire
Plus: Letters, Clay Jones, Diane Chang, Bud Smyser, Richard Borreca, David Shapiro, John Flanagan and guest writers



What's happening in Honolulu? Calendars and lists including reunions, movies and nighlife.
Updated every Thursday