To March 18, 1996




POP Account-
ability report:
Campaign promises Same-sex marriage:
Past articles
Locked-Out:
Acclaimed series
Animal Quarantine
Status of the law
[Stylebook]
Island names, word usage and writing style



Phone numbers, e-mail addresses, subscription info

No-Frames Directory:
[News] [Business] [Features]
[Sports] [Editorial] [Do It Electric!]
[Info] [Stylebook] [Feedback]
[Home]


American Journalism Review NewsLink
'Best of the Web'
Wednesday, December 10, 1997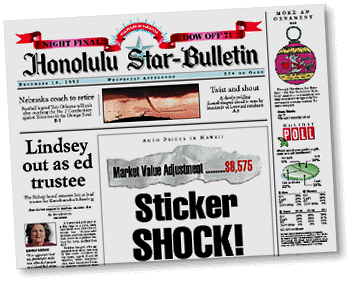 ---
This site is designed for use with a frames-capable browser
like Netscape Navigator or Microsoft Internet Explorer and a larger screen.
If you use a different browser or have a smaller screen, you'll probably be happier
with our No-Frames Directory. The content is the same.
Download: [Netscape] [Microsoft]

---
starbulletin.com publishes online editions Monday through Friday.
Entire contents of this Web site © copyright 1997 by
Honolulu Star-Bulletin. All rights reserved.

---
Featured on:


Highlights of the
current edition:


Lindsey removed as 'lead trustee' for education; Auto sticker shock; Bronster eyeing OHA; Kauai testing for flesh-eating bacteria; Waianae funnel cloud; Modafferi arrested over 'bad blood'?



Samoan market bears fruit; By Request; Dave Donnelly and Charley Memminger



Punahou's co-athletic directors retire; Waikiki Mile: Jacobs, Radcliffe in, Slaney, Thorsett out



Aloha Air $2.4 million promotion; Auto-buying club draws scrutiny; Union opposes PUC nominee; Queen's labor settlement; State nonbid ceiling; Hawaii's Hot Stock scoreboard



Korean War peace negotiations open; No on a lottery; Campaign donations
Plus: Letters, Clay Jones, Diane Chang, Bud Smyser, Richard Borreca, David Shapiro, John Flanagan and guest writers



What's happening in Honolulu? Calendars and lists including reunions, movies and nighlife.
Thursday is calendar
update day