To March 18, 1996



Same-sex marriage:
Past articles
Locked-Out:
Acclaimed series
Animal Quarantine
Status of the law
[Stylebook]
Island names, word usage and writing style



Phone numbers, e-mail addresses, subscription info




No-Frames Directory:
[News] [Business] [Features]
[Sports] [Editorial] [Community]
[Info] [Stylebook] [Feedback]
[Home]


American Journalism Review NewsLink
'Best of the Web'

---
Honolulu Star-Bulletin Online - Vol. 2, No. 137

---
Thursday, July 10, 1997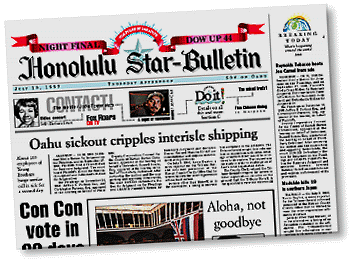 ---
This site is designed for use with a frames-capable browser
like Netscape Navigator or Microsoft Internet Explorer and a larger screen.
If you use a different browser or have a smaller screen, you'll probably be happier
with our No-Frames Directory. The content is the same.
Download: [Netscape] [Microsoft]

---
starbulletin.com publishes online editions Monday through Friday.
Entire contents of this Web site © copyright 1997 by
Honolulu Star-Bulletin. All rights reserved.

---
Highlights of the current edition:


Judge: Con Con re-ballot in 60 days; Sickout cripples shipping; Aloha Iz; Contest winner declines



Actors tell naked truth; Hello, stranger; Assistant director smooths way



2.0 rule debated: Economic discrimination?



Bank buyout to close 16 branches; Flight attendants in talks; Myers loses bid



Editorial: Changing Hawaiians' category in the census
Plus: Letters, Clay Jones, Diane Chang, Bud Smyser, Richard Borreca, David Shapiro, John Flanagan and guest writers



Frequently updated lists and calendars of events including reunions, movies and the obituary notices.
Thursday is calendar
update day