To March 18, 1996



Same-sex marriage:
A collection of links to our past articles.
[Stylebook]
Island names, word usage and writing style



Phone numbers, e-mail addresses, subscription info




No-Frames Directory:
[News] [Business] [Features]
[Sports] [Editorial] [Community]
[Info] [Stylebook] [Feedback]
[Home]


American Journalism Review NewsLink
ëBest of the Webí

---
Honolulu Star-Bulletin Online - Vol. 2, No. 77

---
Thursday, April 17, 1997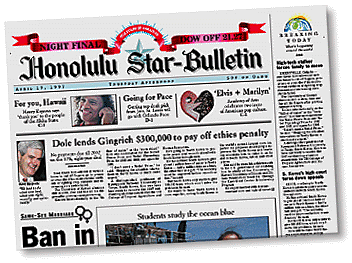 ---
This site is designed for use with a frames-capable browser
like Netscape Navigator or Microsoft Internet Explorer and a larger screen.
If you use a different browser or have a smaller screen, you'll probably be happier
with this Text Site Directory. The content is the same.
Download: [Netscape] [Microsoft]

---
starbulletin.com publishes online editions Monday through Friday.
Entire contents of this Web site © copyright 1997 by
Honolulu Star-Bulletin. All rights reserved.

---
Highlights of the current edition:


Same-sex ban in voters hands; Kealoha to Koolau; SHOPO suit blocked



Henry Kapono; Elvis + Marilyn; 'Radar' Burghoff at Hawaii Theatre



Two days until real baseball!



Earnings reports from First Hawaiian, Bancorp, A&B



Line-item veto could curb federal spending; letters, Diane Chang, Bud Smyser, Richard Borreca, David Shapiro, John Flanagan and guest writers



Frequently updated lists and calendars of events including reunions, movies and the obituary notices.
Thursday is calendar
update day