H A W A I I _ S P O R T S
---
Tatsuno has
no regrets in baseball

Unlike Hideki Irabu,
he was trying to be a 'Yankee' in Japan,
not in New York
By Rod Ohira
Star-Bulletin

For the second time since 1979, a Japanese pitcher is saying no to the San Diego Padres. But unlike Hideki Irabu, Derek Tatsuno was trying to become a "Yankee" player in Tokyo, not New York.

A 1966 "gentleman's agreement" that recognizes the domain of Japanese and American professional baseball clubs in their respective countries -- basically to prevent raiding each other's national talent pool -- presents a hurdle neither was able to clear.

"I think what's going on now with Irabu, in a way, parallels what happened to me," said Tatsuno, a sales representative for Webco Hawaii Inc.

"If his thing goes through, others are going to do the same thing."

Irabu, whose 2.40 earned run average was the best in Japan's Pacific League last season, is challenging his country's reserve system, which requires a player to complete 10 pro seasons before he is eligible for free agency.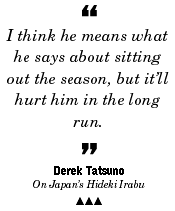 The Padres acquired exclusive negotiating rights to Irabu from his Japanese team -- the Chiba Lotte Marines. But Irabu, 27, remains steadfast in his demand to pitch for the New York Yankees or not at all this season.
Japan's reserve system is full of loopholes -- Anaheim Angels rookie Shigetoshi Hasegawa and Hideo Nomo of the Dodgers are among those who found an early way out -- and major league executives are being cautious about luring talent from the Japanese leagues.
Tatsuno was caught in a similar situation 18 years ago, only the shoe was on the other foot.
He emerged in 1979 as major college baseball's first 20-game winner.
Tatsuno's charisma was as appealing to the Japanese as his tailing fastball.
So much so that Seibu worked out a deal for Tatsuno with its Prince Hotel affiliate, an amateur team in Japan that feeds players to the company's professional club -- the Lions -- following the left-hander's junior season at the University of Hawaii.
The thinking was that Tatsuno could play amateur ball in Japan if he were selected in the major league draft draft and could eventually turn pro, possibly in 1980, if he were not drafted again.
Despite expressing a desire to play professionally in Japan, Japanese pro clubs could not negotiate directly with Tatsuno as long as major-league clubs were interested in him because he was a U.S. citizen.
Interest was expressed in the subsequent drafts by the Chicago White Sox, Cincinnati Reds, New York Mets and Milwaukee Brewers.
"By drafting me over and over, they prevented me from becoming a free agent," Tatsuno said. "But I've never had any regrets."
At age 39, Tatsuno hasn't played baseball for five years.
As the 40th player selected in the 1979 June free-agent draft, Tatsuno was offered $100,000 as the Padres' second-round pick.
"I was leaning toward Japan but waiting for a counteroffer but the Padres never countered after I said no," Tatsuno said. "Maybe $200,000 would have been comparable to the security I was going to get in Japan -- a no-trade, no-cut contract."
By the time Tatsuno signed with the Brewers in 1982, he had injured his arm in Japan and was no longer a big-league prospect. He did, however, make it to Triple-A.
Irabu is fighting a losing battle, Tatsuno says.
"I think he means what he says about sitting out the season," Tatsuno said, "but it'll hurt him in the long run.
"It's like the Curt Flood situation. He could sit out, but who's going to sign him in Japan knowing that he wants to leave," he added.
"And there's no guarantees playing in America."
Although the money is good in Japan, Tatsuno says pitchers want to play in America to get away from the rigors of a practice system built on repetition and obedience.
"They want the freedom to do what they want," Tatsuno said. "In America, you don't have to practice every day and there's more privacy. The media isn't hounding you all the time.
"You've got to remember that Japanese pitchers are taught from an early age to throw hard with accurate control so there's interest in them," he added.
---
---
© 1997 Honolulu Star-Bulletin
http://starbulletin.com