Newswatch


By Star-Bulletin Staff
Tuesday, November 5, 1996
---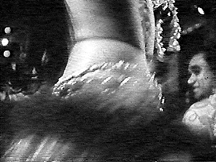 Helen Kuoha-Torco, below, received $150 for her dancing as a member of Sterling Mossman's Barefoot Bar Gang. Above, her famous hips. Today she is a college professor.
Photo by George F. Lee, Star-Bulletin
---
'Five-O' dancer steps forward
Even if the trail grows cold after a quarter-century, those dedicated sleuths from "Hawaii Five-O" never give up. You never know when there will be a lucky break.

The suspect this time was identified only as a pair of swinging hips during the credit sequence of the long-running TV series. It's a brief flash of a Tahitian number, with appreciative bar patrons leering on. Hubba hubba, as McGarrett might not say. The identity of the dancer remained a mystery all these years. Those hips were sealed.
Until recently, when a relative of a friend of Helen Kuoha-Torco's daughter claimed to be the dancer. Wrong, thought Kuoha-Torco, I KNOW that's incorrect.
She came clean under questioning. Yes, those hips belong to Kuoha-Torco.
Kuoha-Torco, who's now a professor of business technology at Windward Community College, was a featured dancer with Sterling Mossman's Barefoot Bar Gang during the 1960s. It's the Barefoot Bar Gang playing the Tahitian number and "Ain't No Big Thing" during the scene.
While filming "Cocoon," the pilot film for "Hawaii Five-O," the Outrigger Canoe Club was dressed to resemble the notorious Barefoot Bar, which was too small to accommodate both patrons and a camera crew.
For her part, Kuoha-Torco got $150. She was 25 years old at the time, and her dancing was featured in other "Five-O" episodes.
Would we recognize those hips today? "Well, I've had six children since then," she said, diplomatically.
Kuoha-Torco attended the "Five-O" reunion in Hawaii last weekend, and Rose Freeman, widow of "Five-O" creator Leonard Freeman," recognized her immediately.
---
Pilot in air crash lost license for a year
The pilot of the airplane that crashed Friday night killing all five aboard had his license revoked six years ago for falsifying a document.

Robert McCarthy, Maui's Democratic Party Chairman, lost his pilot's license for a year in 1990 for falsifying his airman's certificate to indicate he was commercially rated, said Federal Aviation Administration spokesman Tom Rea.

A commercial rating would have allowed him to fly passengers on a for-hire basis, he said.

Federal investigators say McCarthy, 38, might have been disoriented when he flew into the east Molokai mountain. The twin-engine Piper Seneca appears to have been in a cruising position when it crashed, said Richard Parker, an air safety investigator with the National Transportation Safety Board. Visibility at the time was reportedly low because of heavy rain.

The NTSB has shipped the plane's two engines to Maui for further study.

McCarthy and four other Maui County community and Democratic Party leaders died when the small plane crashed above Halawa Valley on the return flight to Maui after a political rally on Molokai.

Killed were Maui Councilman Thomas Morrow, Council candidate Alfred Deloso, Maui's Democratic Party corresponding secretary Mitchell Katz and his wife, Suzanne.
---
Bainum proposes tax credits for hotels
City Councilman Duke Bainum is trying to entice Waikiki landowners to rebuild their aging hotels by offering property tax credits of between 15 percent and 30 percent.

For years, those landowners have been reluctant to redevelop their nonconforming hotels because doing so would result generally in fewer rooms and floor space.

Bainum's bill is part of a package designed to counter a controversial feature of Mayor Jeremy Harris' proposed amendments to the Waikiki Special District Plan of 1976.

Harris' plan, now before the City Council, allows Waikiki landowners to rebuild at their current floor area, even if their hotels are nonconforming under the district plan. In some cases, they may be permitted to have more density in exchange for more open space and other considerations.

Bainum, who represents Waikiki, opposes the mayor's plan.
---
For expanded versions of these and other stories,
see today's Honolulu Star-Bulletin.
---
Police/Fire




By Star-Bulletin staff


---
Youth in crosswalk
hit by car, injured
A 15-year-old Honolulu youth was in critical condition today at Queen's Hospital after being struck by a car while crossing Date Street at Laau Street.

The boy was in a crosswalk when the accident occurred shortly before 4 p.m. yesterday, police said.

Police said the driver was a 20-year-old Honolulu man.
---
Jewelry stolen at Joy Square
A woman was robbed of her rings and Hawaiian jewelry by a man at Joy Square in Waikiki yesterday.

The woman was leaving a restroom at 2255 Kuhio Ave. just before 5 p.m. when she was accosted by a man in his 20s brandishing a butterfly knife, police said. He forced her to give up her jewelry then fled, police said.
---
Bicycle ride ends in alleged assault
Charges are being sought against an 18-year-old Waipahu man who allegedly sexually assaulted a woman who accepted a ride on his bicycle Sunday night.

The woman, 29, and a friend had gone to Diner's Drive-In on Farrington Highway in Waipahu to meet a friend when she agreed to go with him.

He allegedly took her to an abandoned building on nearby Awanei Street where he sexually assaulted her, police said.

Police said the suspect, of Awanei Street, is known as a member of a gang called Stoney Boyz.
---
Other Police/Fire headlines
in today's Star-Bulletin:
Homeless man says gang stabbed him

Robber flees after Waipahu bank heist

Attempted murder charge in beating
See expanded versions in today's Honolulu Star-Bulletin.
---
---