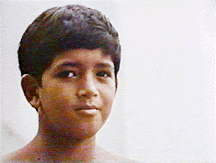 Who's that boy?
Now we know

The youngster in the opening sequence
of 'Five-O' finally nabbed
By Burl Burlingame
Star-Bulletin
---



Beep beep! Beep beep! Mel Kinney's pager made like the Roadrunner yesterday, right about the time the Star-Bulletin hit the streets.

All his friends wanted to tell him he was in the paper. Twenty-eight years late.

It started one bright morning, early in 1968, when 13-year-old Kinney was walking to the beach with cousin Kurt Bruhn. They spotted "some old guy with a really old movie camera" by the fountain at the end of Kalakaua Avenue.

"He was filming a black car zooming around Kapiolani Park," recalled Kinney. "We watched him for a while, and he saw us and asked Kurt if he'd pose for the camera."

Bruhn, however, got an attack of the shys and Kinney said, heck, I'll do it. So the cameraman filmed the boy for a minute, gave him five bucks, and said: Thanks, kid.

"We went and ate lunch on that five dollars," said Kinney. "We figured he was a tourist or something."

Shortly afterward, the Kinneys moved to Maui, and nearly a year later, the other kids in school started teasing Kinney, calling him movie star.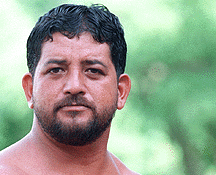 Photo by Dennis Oda, Star-Bulletin

"I didn't know what they were talking about - until I saw 'Hawaii Five-O,'" said Kinney.

You guessed it. Mel Kinney is the boy in the opening sequence of the show. Since then, he's become a respected surfer, a crewman on Hokule'a and now works at Local Motion.

After the initial teasing died down, Kinney didn't think about the show again until a couple of years later, when, "like a typical kid, I wondered if I could get more money than that five dollars." He talked to the show's producers, who assured him that since he was on-screen less than three seconds, he wasn't entitled to any residuals.

"But they did say they'd cast me in a bit part where I spoke, and I could get paid for that," said Kinney. This time, however, it was Kinney who had an attack of the shys, and he backed off.

"I haven't thought about the show much since then," said Kinney. "But now, looking back, I'm proud to be a little part of it, my two seconds of fame."

Any regrets?

"The other kids who teased me, what they really wanted to know was: who's that girl?" - referring to beautiful Elizabeth Logue - "and I'd say, hey, she's my SISTER. What's it to ya?"
---
Yesterday's Five-0 Story
---
---