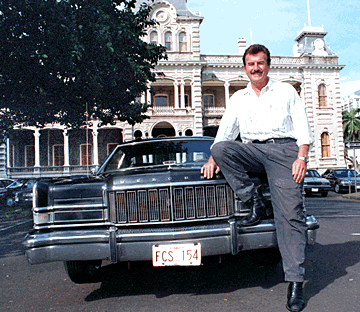 John Nordlum is selling McGarrett's car. By Ken Sakamoto, Star-Bulletin
---
For sale: Used car
driven by 'Five-0' chief
McGarrett's Mercury Marquis is for sale by the man who
was Jack Lord's stand-in and stunt double
By Tim Ryan
Star-Bulletin
---

STEVE McGarrett loved it, but abused it constantly, at least on the TV screen.

He drove that jet black 1974 four-door Mercury Marquis over humps and bumps, into ditches and cane fields, slammed on the brakes, slid to axle-busting stops and pushed the door open so hard it seemed a certainty its hinges would break.

But, like the popularity of "Hawaii Five-0," the car has survived.

Sixteen years after "Five-0" and McGarrett booked his last crook, the black Merc with 250,000 miles on it is for sale by John Nordlum, Jack Lord's stand-in and stunt double.

The "Hawaii Five-0" star gave the vehicle to Nordlum when the show ended its 12-year run in 1980. Nordlum asked Lord if he could have it and "Jack gave it to me," Nordlum said.

This Mercury was used on "Five-0" from 1976-80 and since has been Nordlum's one and only car.

"I've driven it every day since," he said.

The engine's compression remains at factory specifications without any major work ever being done on it, said Nordlum who has not determined a sale price.

The car will go up for sale next fall when the "Hawaii Five-0 Reunion Convention" is scheduled to be held in Honolulu Oct. 28-Nov. 3.

"The car ... was a stunt car," Nordlum said. "It went over jumps and even had bullet holes in it." Those have been repaired, he said.

The car also was used to transport Lord back and forth between his Kahala home and the Diamond Head film studio.

Nordlum, who was also Tom Selleck's stand-in on "Magnum, P.I." and several of his films, hopes a collector will buy the car to restore it.

"It's a part of television and Hawaii history."




---
---